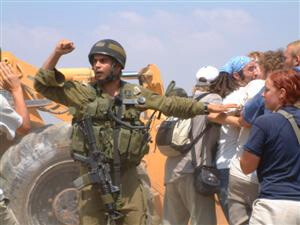 Nablus, 10 July 2003 —
Six international peaceworkers participating in The
ISM
Freedom Summer in Palestine campaign were arrested this afternoon in the city of Nablus, on the West Bank.
The arrested are:
Daniel Knutsson from Sweden
Avi Zer-Aviv from Canada
Aviv Kruglanski from Israel
Alex Perry from the UK
Thomas Pellas from France
Saul Reid from UK
The group had removed 2 earthen roadblocks in the Nablus area and were working on removing the 3rd today when Israeli soldiers suddenly drove army jeeps toward them at high rates of speed. The soldiers chased after a bulldozer, driven by a Palestinian and containing 2 internationals as passengers, which had been participating in the road block removal. One soldier entered the cab of the bulldozer and remained there while a jeep followed the bulldozer en route to a nearby military base, as ordered by the soldiers. International volunteers blocked the road to the military base in an effort to prevent the confiscation of the bulldozer by the Israeli military. Other internationals surrounded the driver and started to walk him step by step back toward Nablus. At this point the soldiers threatened to start shooting people if they continued to move.
The group negotiated with the DCO and agreed to replace the 2 roadblocks that had been removed in exchange for allowing the driver, the bulldozer, and the internationals to return to Nablus.
After one roadblock had been replaced and the second was being rebuilt, the deal suddenly altered and the soldiers declared that the internationals would not be permitted to return to Nablus after all since he suspected that they were with the ISM. Another deal was negotiated whereby 11 internationals would remain outside the city and 6 others would return to Nablus to collect the personal belongings of all the volunteers, then they would all leave the city.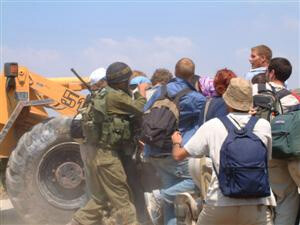 Suddenly the soldiers declared that they were going to arrest the bulldozer driver and take the bulldozer. The internationals again moved to surround the bulldozer. At that point Daniel, Aviv and Alex were arrested and taken away in a jeep. Soldiers declared that they would arrest all of the internationals. Avi, Thomas and Saul tried to block the path to the rest of the internationals and they too were arrested.
All 6 were handcuffed and transported by Israeli bus to Ariel police station.
For more information call
Kelly: +972-55-735-158
Seif: +972-59-335-271