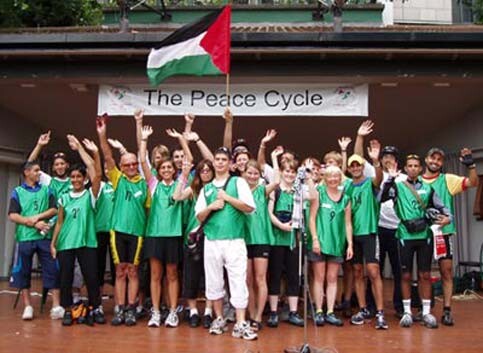 The Peace Cycle has completed the European leg of its epic journey from London to Jerusalem. On August 30th the cyclists reached Rome, exhausted from a tough ride through northern Italy, but with their spirits high and looking forward to the next stage of the ride in the Middle East.
The 25 men and women taking part, from varied backgrounds, faiths and nationalities, have showed remarkable strength and determination to overcome the physical challenges of cycling from London to Rome. Once over the Alps, they faced some of the highest and steepest hills Italy had to offer on the mountain roads from Bologne to Florence. But once defeated, the hills gave them an exhilarating descent with speeds reaching up to 70km/hr.
The Mayor of Florence received the cyclists as his guests, and the Italian people all along the route have welcomed the ride with appreciation and admiration.
The media throughout Europe has followed the ride with enthusiasm, and the cyclists were shadowed for 3 days by a German TV documentary crew, who had heard of the ride and wanted to make a programme about the cyclists for a major German tv show titled "People Who Change the World".
The cyclists will now prepare themselves and their bikes for the next challenge - the ride in the Middle East. However, the strain of cycling through this part of the world will be more emotional than physical, with visits to the Palestinian refugee camps in Syria and Jordan before finally becoming witness to life under military occupation in the Palestinian West Bank.
Among the cyclists is a 70 year old man and a young Palestinian graduate who trained for the ride under the restrictions of occupation, but every cyclist has overcome pain and exhaustion and they have all now arrived in Rome, united as a group, united in a passion for human justice.
The 25 cyclists will arrive in the Syrian capitol Damascus, on Thursday 31st August, and will cycle through Syria into Jordan where they will reach Amman on Tuesday 5th September.
Related Links