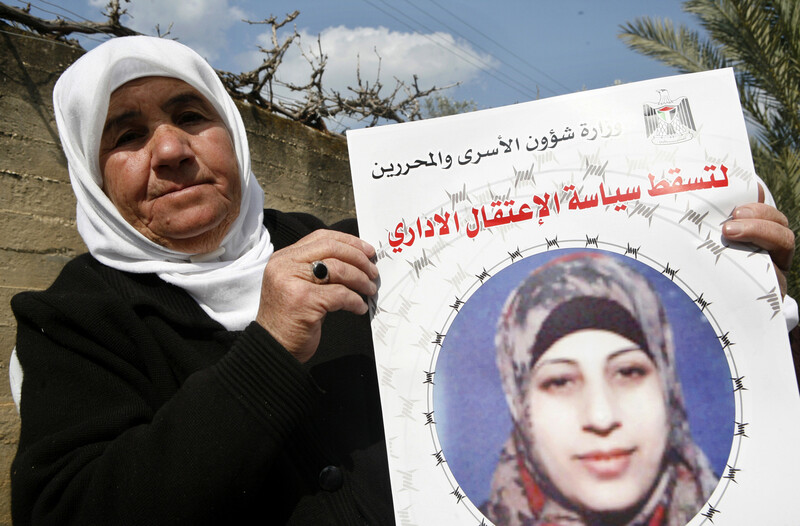 Hana al-Shalabi is on day 23 of an open-ended hunger strike she has undertaken to protest the violent and degrading treatment meted out by Israeli forces throughout her arrest and administrative detention, which began on 16 February.
Israeli authorities have refused al-Shalabi's parents visiting rights, leaving them to suffer in the dark as her fate is decided. Bereft of opportunities to offer Hana support in person, her parents began a hunger strike of their own two days after her.
This is not the al-Shalabi family's first experience of losing their daughter to Israeli authorities. Hana has previously spent 30 months in Israel's HaSharon prison, only returning to her village of Burqin in the northern West Bank last October. She was one of the 1,027 prisoners released by Israel, in exchange for a captured Israeli soldier, in a deal with Hamas.
Less than four months later, the al-Shalabi home was ransacked a second time by an Israeli military unit that hauled Hana off to the Salem detention center, near Jenin. The next day — in protest against the brutality of her interrogators — she began her strike. On 23 February the military court at Ofer prison issued her a six-month administrative detention order.
While Ofer military court agreed on 4 March to shave two months off al-Shalabi's detention order, she refuses to break her strike until free. Her lawyers sought to broker a deal for her release at the military court of appeals on Wednesday, on which the judge said he would give a decision by Monday.
The al-Shalabi family have been trying tirelessly to hasten Hana's release, erecting a tent beside their home where they receive well-wishers and the press, holding aloft posters of a smiling Hana. They hope to muster enough awareness of her plight in the international corridors of power to pressure Israel into conceding to their daughter's release.
Beaten and brutalized by soldiers
"Israel put Hana in jail without any accusation," her father, Yahya, 67, told the Electronic Intifada. "We're asking the Palestinian Authority, and authorities all over the world, to save my daughter."
Yahya and his wife, Badia, 65, looked worn and exhausted, recalling the shock of Hana's violent arrest and their powerlessness to help her. "My feeling at that moment, I was very scared for my daughter. The only thing I wanted to do was to hold her to me," Badia recalled.
"When they came to arrest her she was crying and saying, please mother, don't surrender me to the Israelis," Badia added. "She was very afraid … she said, 'please don't open the door to the army.'"
When the commanding officer attempted to take Hana by force, she struggled away from him. "The officer started beating her," recalled Omar, Hana's older brother. "I tried to protect her but the soldiers began beating me too." Omar recounted that when he demanded a reason for his sister's arrest, the officer responded, "Hana must die and never see the sun."
Lack of substantive evidence
Hana was first arrested in September 2009 and held under administrative detention, a law introduced in the 1940s under the British Mandate and appropriated by Israel in the '70s for use in the newly-occupied West Bank and Gaza Strip.
Israel uses it to imprison people indefinitely without presenting charges or conducting trials, explained Abed Aal of the Palestinian Prisoners Club, the legal advocacy group representing Hana al-Shalabi. Aal has experienced this first-hand, held under administrative detention for 18 months during the second intifada.
People are detained based on "secret files," off limits to detainees and their lawyers, which allow judges to use vague allegations to incriminate people. "Our lawyers have no information on why any of those held in administrative detention have been put there," Aal said. "There is no explanation."
The only clarification offered to detainees, Aal explained, is that they are "dangerous for the security of the area." Al-Shalabi's case is no different; the court contends she began planning an attack against Israel upon her release.
Her father believes the state used administrative detention against his daughter for lack of substantive evidence. "They have no clear evidence and no ability to make a solid case against her so they use this policy," he said. "If they have anything they can present it to the world."
International law allows administrative detention as a last resort in emergency situations. But Israel has normalized the practice, now a crucial feature of the occupation's apparatus.
Rights groups condemn the practice for failure of due process. By not revealing evidence or even the purported crime, producing a genuine defense is rendered impossible. "These courts are a joke," Aal argued.
Israeli leaders, on the other hand, insist it "helps secure the well-being of Israelis," as Israeli parliament member Danny Danon of the Likud party put it ("Palestinian Khader Adnan tests limits of Israel's system of military detention," JTA (12 February 2012).
Abeer Baker, who runs a prisoner rights clinic at Haifa University, has argued that Israel seeks to criminalize political activity in the occupied West Bank and Gaza Strip in order to safeguard the occupation.
"Prison is used as a tool to hinder [Palestinians'] struggle and silence their voices," she told the International Middle East Media Center last month. "Criminalizing Palestinians … turns them into 'terrorists' " ("Under-reported Palestinian political prisoners: An urgent matter for peace," 23 February 2012).
"Near psychological collapse"
Before her arrest last month, al-Shalabi was beginning to recover from her stint in Hasharon, where she endured the abuses that most Palestinian political prisoners face in Israeli prisons.
Yahya recalled that she was "near psychological collapse" on her return home. "I wanted to take her to Mecca with me after her release," he said, "but when we got to Allenby Bridge [border crossing with Jordan] the authorities would not let her leave."
For a long time she did not leave her home but gradually "she came back to life," said her sister, Zahara. She was interested in enrolling in Nablus' An-Najah National University, to study either nursing or law.
"It was a great happiness to have her back with the family," Badia said, "she is very dear to us." But "the Israelis didn't allow us to have happiness or enjoy this period with her," added Ahmar, Hana's brother.
These days, Israeli prison authorities have tried to coerce al-Shalabi into ending her strike, according to Aal. "First they put her in solitary confinement to punish her … They have removed the blankets from her room. It is part of the psychological war they use on all detainees," he said. "They are trying to break her psychologically."
As al-Shalabi's health deteriorates, her family are increasingly anxious for her well-being. "This is a very hard moment for us," Zahara noted. "We're praying she will be able to survive and be safe."
"We are suffering," said her mother. "We are afraid for her life."
Sophie Crowe is a journalist based in the West Bank. She can be reached at croweso [at] tcd [dot] ie.
Tags