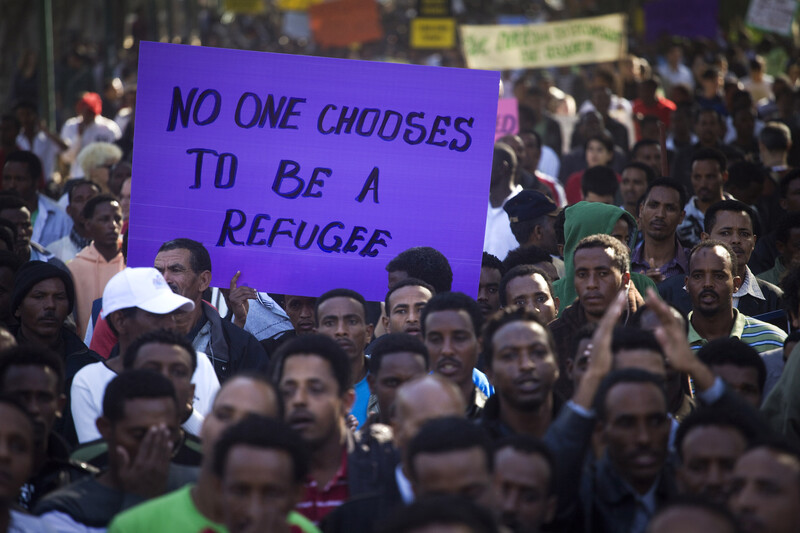 Levinsky Park sits just across from Tel Aviv's central bus station, a rundown, bustling neighborhood in the city's south known for its large migrant worker community and municipal neglect.
For years Levinsky Park itself has been a hub for homeless asylum seekers. On any given day there can be up to 250 persons living in the park, according to Nick Schlagman, program manager at the African Refugee Development Center.
The African asylum-seekers, hoping for a solution to their limbo status, have fled impossible situations at home — mostly Eritrea and Sudan. They were greeted upon arrival in Israel with a hostile government that offers them no support or protection and wants them out.
Indefinite detention
The climate in Israel for refugees has grown increasingly harsh. The border with Egypt is heavily patrolled by soldiers who pounce on new arrivals, shuttling them to a detention center, where they are registered, held for a number of weeks, then left to fend for themselves. Most receive a month-long visa, which must be renewed on a rolling basis, Schlagman explained.
The trend was cemented in January, when the 1954 Prevention of Infiltration law was amended. The amendment allows the state to detain refugees without trial for three years, or indefinitely if they are from an "enemy" country such as Sudan.
This puts Israel at first place among western states for the longest jail time for asylum seekers, according to Amnesty International ("Israel: new detention law violates rights of asylum seekers," 10 January 2012).
To help realize this provision, a refugee detention center is being planned that will hold 10,000 persons. Those that offer support to refugees, the law says, may face up to 15 years in prison.
The Infiltration Law was originally intended to block the efforts of Palestinians uprooted during the Nakba, the ethnic cleansing leading to Israel's foundation in 1948, who might try to return and lay claim to their homes. It allowed the state to imprison "infiltrators" — anyone, namely Palestinians, who crossed Israel's boundaries without official permission.
The law was imagined as part of the Zionist project of keeping Israel Jewish by excluding Palestinians. Today it has the same purpose, this time targeting people fleeing an oppressive dictatorship in Eritrea, and Sudan, where large scale human rights abuses have occurred in the province of Darfur and in fighting between the north and south.
The Israeli government has described its anti-refugee policies as "deterrence." If the state's 50,000 refugees relay to their families and friends the awful treatment meted out to them in Israel others like them will go elsewhere, the logic goes.
Israel cannot deport the refugees due to its signing of the 1951 Refugee Convention, according to which states must provide refuge to those fleeing danger in their home country. Israel manages to circumvent this obligation by refusing to acknowledge people as refugees, instead labeling them "migrant workers."
The conditional release visa that refugees receive does not allow them to work. "We went to the high court to fight this," explained Yohanes Bayu, director of ARDC, "which decided the state could not fine businesses that employed asylum seekers."
Denying right to work
In reality it is still extremely difficult for refugees to find work. While the government cannot overturn the court's decision, Prime Minister Benjamin Netanyahu and Interior Minister Eli Yishai are saying on television that employers of refugees will be punished, Bayu said.
In January, it was reported that contractors employed by the Tel Aviv municipality fired 800 asylum seekers working as street cleaners, under orders from municipal authorities ("Tel Aviv orders subcontractors to stop employing asylum seekers," Haaretz, 23 January 2012).
Blankets confiscated
Conditions in Levinsky Park this year, with a particularly cold winter, were tough. One man sleeping there told The Electronic Intifada that municipal authorities had been making rounds of the park each morning, clearing away blankets donated by locals to help the homeless men through the cold nights.
One 40-year-old Eritrean, Yohanes Barko, did not survive the experience. Barko had lived in a tent in the park during the summer's "tent protests" but was made homeless again when his tent was torn down by municipal authorities last October. In mid-January he was found in the park, having died from the cold ("Tel Aviv refugee froze to death. 'Go back to Africa, it's warmer,'" +972 Magazine, 22 January 2012).
"It was this man's death that galvanized the community to take immediate action," Schlagman noted. Tel Aviv locals, shocked by the state's total apathy, began bringing bags of clothes and blankets to the park. Some came every night with warm meals.
In late January, Sons of Darfur, a group of Darfuri refugees, set up a small shelter for the refugees in an old bar, meters away from the park's boundaries. The space can fit about 150 individuals. The organizers cannot afford to maintain the shelter, which costs 12,000 shekels ($3,200) a month to rent, but worry what might befall their lodgers should they close down.
The group, along with the Israeli emergency service Magen David Adom, managed recently to find temporary housing for all of Levinsky Park's refugees. This is the first time since 2006 that the park is empty at night, Schlagman said.
Preserving apartheid
Once again, demography is being wielded by the establishment with great bluster and urgency. If Israel offers sanctuary to downtrodden Africans, soon its Jewish majority will be jeopardized, the argument goes.
Israel's demographic fear has already fueled much racially-biased legislation, most recently the high court's upholding of a law denying citizenship to West Bank and Gaza spouses of Israeli citizens and nationals of Arab "enemy" states.
While the security line is often employed to buttress policies denounced as racist and discriminatory, Israeli leaders are not attempting to disguise the amendment to the Infiltration Law as anything but another means of ensuring ethnic homogeneity — or, in other words, Jewish supremacy.
In December, Netanyahu spoke of a forthcoming trip to Africa and planned discussions with African leaders about how to stem the continuing stream of their citizens into Israel. "These are very important steps to ensure the future of the State of Israel as a Jewish and democratic state," he said. "If we do not act to stop this illegal flood, we will simply be inundated" ("Netanyahu to go to Africa to return infiltrators," Israel National News, 11 December 2011).
The Infiltration Law, in its criminalization of asylum seekers, is just another example of racism and apartheid motivating Israeli legislation.
Sophie Crowe is a journalist based in the West Bank. She can be reached at croweso [at] tcd [dot] ie.
Tags