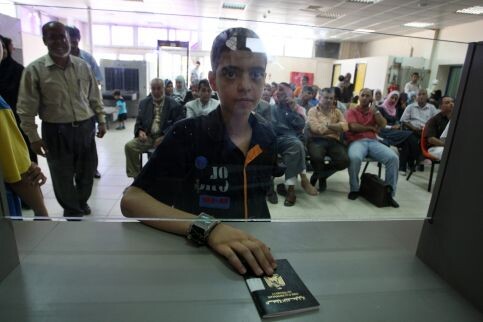 Nidal Abdo lives in Nuseirat refugee camp in the central Gaza Strip. Four years ago he was at a friend's house in the nearby al-Bureij refugee camp when Israeli tanks moved in. When Abdo tried to escape the area, Israeli soldiers shot him in his left foot. Due to the injury, Abdo still can't walk or stand for long periods of time. He needs a metal rod inserted into his foot and because the surgery can't be performed in Gaza, his doctors have referred him abroad.

Amid all the obstacles preventing Palestinians in Gaza from traveling outside the besieged territory, Abdo faces an additional one. He needs a passport and despite five attempts to obtain one, he has so far failed.

"After three weeks, another travel agent phoned me and told me that officials refused to issue me a passport for security reasons," Abdo told The Electronic Intifada after just returning from a visit to a doctor in Gaza City. "I am a member of the Nuseirat Camp handball club and, thank God, most of the team members are considered to be Fatah supporters." This is significant for Abdo because many Palestinians believe that passports are now being issued based on political affiliation.

However, the Fatah-controlled Palestinian Authority (PA) in Ramallah says that it does not issue or restrict passports based on political affiliation.

Ghassan Khatib, director of the PA media center in Ramallah, explained the issue to EI by telephone: "The right to obtain a passport is a given right. Yet recently, the interior ministry has observed some cases in which the passports are used illegally, therefore, applications for passports from Gaza are scrutinized. So there could be some delay in releasing a passport, but absolutely there is no intention to refuse some passports on political or intellectual grounds."

The Gaza Strip, home to 1.5 million Palestinians, has been under a tight Israeli blockade imposed after Hamas won Palestinian legislative elections in 2006. In 2007, PA leader Mahmoud Abbas summarily dismissed the Hamas-led national unity government of Prime Minister Ismail Haniyeh after Hamas routed in bloody fighting militias loyal to Abbas which had been attempting to undermine the Hamas-led government.

Israel tightened the blockade even further. Abbas appointed his own "caretaker" prime minister in Ramallah who enjoys recognition from Western governments even though he has never been confirmed by the Palestinian Legislative Council as required by law. Despite this split, the Hamas-controlled Gaza Strip wing and the Fatah-controlled West Bank wing of the PA must still cooperate on several matters, including issuance of passports. These are now issued in Ramallah and shipped to the interior ministry in Gaza for distribution to their recipients.

The interior ministry in Ramallah recently said that it is expediting the processing of applications and that it issues 500 to 800 passports for Gaza residents on a daily basis and expects to send 15,000 passports to Gaza by the end of this month.

But officials of the Hamas government in Gaza claim that the PA in Ramallah is withholding or denying passports to anyone affiliated with Hamas and that the Gaza Strip still needs tens of thousands more passports.

"Unfortunately, what is going on is a consequence of the current division between the Palestinians, and the Palestinian citizen seems to be the victim," said Ihab al-Ghussein, spokesperson for the interior ministry in Gaza. "Most of those deprived of passports include students or patients. Monthly, we need in Gaza at least 10,000 passports and since August 2008, only 18,000 passports have been issued."

Recently, the Gaza-based human rights group Al Mezan stated that the "general intelligence apparatus" of the PA in Ramallah "has confiscated passports of Gazans in the West Bank, even after issuing them, or has prevented Gazans from obtaining new passports for security reasons." But A -Mezan also alleged that the Gaza government's "internal security apparatus confiscated the passports from several Gazans."

"The problem lies in two things," Samir Zaqout, an Al Mezan researcher in Gaza, told The Electronic Intifada, "first the Ramallah-based government has turned down Gaza residents' applications for renewal of passports or obtaining new ones. The Palestinian Intelligence Service in the West Bank turned out to be behind such refusals on alleged security considerations. Meanwhile, we were surprised that the Gaza-based Internal Security Service has confiscated passports of 45 Gaza residents, who have already submitted complaints to us."

In response to these charges, the Gaza interior ministry's al-Ghussein said, "If we wanted to deal with the Ramallah government in a reciprocal way, we would have taken a series of steps in Gaza. Supposedly, confiscation of passports has taken place. If it has, this surely would have taken place according to the Palestinian law."

Al Mezan called on the authorities in both the West Bank and Gaza Strip to halt all such abuses and ensure "that every Palestinian enjoys his constitutional right to obtain a passport."

After the PA was created during the 1993 Oslo accords signed by Israel and the Palestine Liberation Organization, it began to issue passports to Palestinian residents in the occupied West Bank and Gaza Strip. These passports are not recognized by all countries in the world, and any Palestinian traveling on one still usually requires Israeli permission to leave or return home since the PA does not control any external borders. Nevertheless, for many Palestinians they represent the only possibility of foreign travel.

Students, patients seeking medical treatment and those with residency permits in neighboring Arab countries can leave Gaza through the Egyptian-controlled Rafah crossing terminal when it is open, but only if they have a passport.

"Denying me my right to a passport is inconsistent with our Palestinian social or religious values," said Nidal Abdo. But like thousands of other Palestinians, he is still waiting for one.

Rami Almeghari is a journalist and university lecturer based in the Gaza Strip.