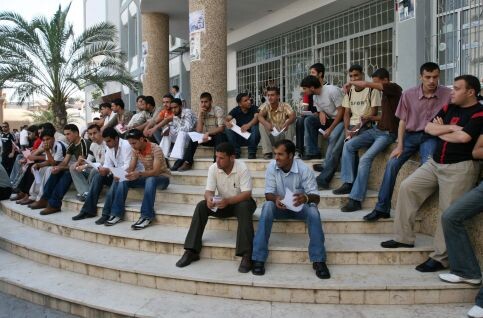 Israel's siege has had a disproportionate effect on Gaza's youth. Over half of the Gaza Strip's 1.5 million residents are under the age of 18, and thousands of young Gazans are unemployed. Hamas authorities in Gaza recently announced a voluntary employment program for Palestinian youth to get involved in their communities.

The UN Office for the Coordination of Humanitarian affairs (OCHA) recently reported that unemployment in Gaza has reached over 40 percent ("Gaza is a man-made crisis"). Two-thirds of Gaza's population are "food insecure" according to UN figures and are reliant on aid agencies such as UNRWA, the UN agency for Palestine refugees, for basic subsistence.

UNRWA provides a job creation programs for thousands of university graduates. Others accept employment in various non-governmental institutions on a voluntary basis, hoping they may get some experience.

Jobless and with few opportunities for extra-curricular activities, Gaza's youth sit idle in coffee shops or in front of their houses. Eight months ago, the Hamas-run interior ministry in Gaza announced a recruitment drive for several hundred police personnel. These new and replacement positions were created after Israel's winter invasion of Gaza in 2008-2009, which killed over 1,400 Palestinians, including more than two hundred civilian police officers and recruits, and wounded thousands. Roughly 14,000 men, including university graduates, applied for the positions.

"We have noticed that the energy of Gaza's youth is being depleted by useless things, so we thought that their energy should be directed into useful activities. Hopefully by allowing those youth to work for the various security bodies for a period of six to twelve months, youth will be able to serve their community," explained Ihab al-Ghussein, the spokesperson for the Hamas-run interior ministry in Gaza.

The new volunteer program has yet to be implemented. "The matter is under deliberations by high-ranking officials within the security bodies. If the plan is approved, then it will be submitted for approval by the parliament and the cabinet," added al-Ghussein.

Al-Ghussein said that the "voluntary draft" would not create a financial burden for Hamas. Although he admitted that there would be "some financial responsibility," al-Ghussein explained that the youth volunteers would be "engaged in community service tasks, rather than actual security work."

According to the Hamas-run interior ministry in Gaza, there are roughly 18,000 formal security personnel within the different security branches, including the police, the civil defense, the intelligence division and the national security forces.

Al-Ghussein explained that prior to Hamas's takeover of Gaza amidst factional fighting with the rival Fatah faction in June 2007, "There were more than 45,000 recruits within the Palestinian Authority's security services." He added that "We need more personnel to do the job properly, yet we are unable to add more forces to our current numbers."

Al-Ghussein insisted that "The recent draft announcement is not meant to increase the number [of security personnel] in order to preempt any unity agreement with the Fatah party." Fatah is led by Mahmoud Abbas, the president of the Ramallah-based Palestinian Authority, and has been in negotiations with Hamas to re-establish a national unity government for over four years. Abbas was elected in 2005 and his term in office expired in January 2009, however, he continues to rule under controversial emergency powers.

Rami Almeghari is a journalist and university lecturer based in the Gaza Strip.