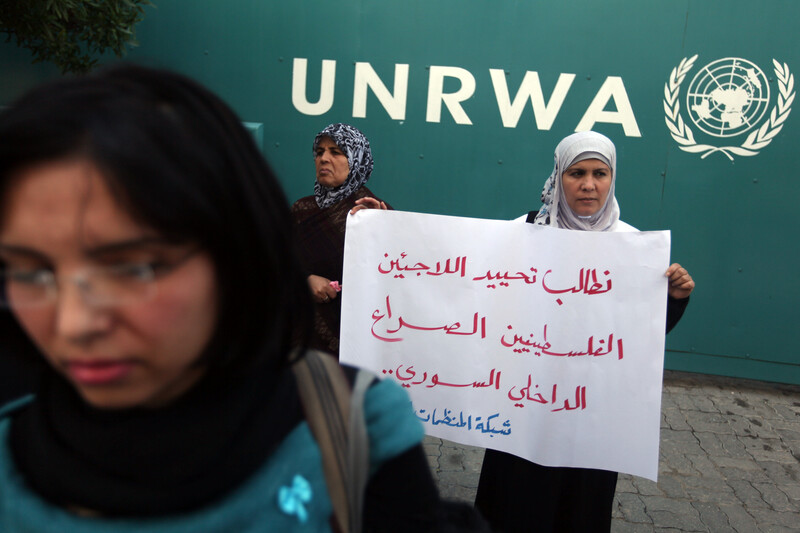 GAZA CITY (IRIN) - Ahmed Dweik's family knows a thing or two about the refugee experience.
Theirs started in 1948, when his father fled his Palestinian hometown as Zionist forces captured the village of West Batani near Ashdod in what is now present-day Israel.
From there, he settled in a refugee camp in the Gaza Strip, further south, until the 1967 War pushed him to search for an easier life abroad. He went first to Egypt to study, then to Yemen to find work.
That is where Dweik was born. But like his father, he too sought better opportunities, migrating to Syria to look for a better paying job and settling close to Damascus' Yarmouk camp, the largest community of Palestinian refugees in Syria.
"But what happened to my father after the 1967 War happened to me in 2012," Dweik said.
"Time to leave"
In mid-2011, Dweik was in Yarmouk when the authorities opened fire on demonstrations and he was forced to take shelter for a few hours until it was safe to be on the street.
"I knew it was time for me to leave, but where to?"
Yemen, where he grew up, was facing its own unrest, and other Arab countries have made it harder for Palestinians to enter.
That left Gaza, the tiny strip of land under an internationally-enforced siege, and where living conditions are difficult and expected to worsen, according to a recent UN report ("Gaza in 2020: a liveable place?" August 2012 [PDF]).
More than 60 percent of the population does not have secure access to food, 39 percent live under the poverty line and 29 percent are unemployed.
Dweik, his wife and child are among some 150 families who have returned to Gaza from Syria, according to the Action Group for Palestinians of Syria, which was begun by a number of Palestinian figures and organizations in response to the flight of refugees from Syria. Of those, 154 persons have registered with the UN agency for Palestine refugees (UNRWA).
Syria is home to more than half a million Palestinian refugees who were driven from their homes in 1948 and 1967.
The Action Group had documented the deaths of 990 Palestinian refugees since the beginning of the conflict in Syria, while many others are missing.
Tens of thousands have sought refuge from the violence with host families in Syria and in government or UNRWA facilities in Syria. Another 20,000 and 5,500 have fled to Lebanon and Jordan, respectively. However, Tariq Hamoud, who coordinates the Action Group and recently published a study on the impact of the Syrian crisis on Palestinian refugees, said the number of Palestinians who have fled Syria, including to Turkey, Egypt and Libya, may be as high as 50,000 ("Palestinian refugees of Syria in light of the Syrian revolution," Palestinian Return Centre, October 2012).
"Nothing changed"
But the return to Gaza is particularly challenging, according to UNRWA's head of operations in Gaza, Robert Turner.
"We don't expect a significant number of returning refugees because of the difficulties reaching the Strip," he said.
In December, following a heavy round of shelling in Yarmouk, Palestinian Authority leader Mahmoud Abbas urged the US and its allies to help Palestinian refugees in Syria to move to the West Bank and Gaza.
But "nothing changed," Adnan Abu Hasna, of UNRWA's communication division in Gaza, said.
Palestinians in Gaza who wish to cross through the Egyptian border require proper travel documents, and Egyptian officials are subjecting Gazans returning from Syria through Egypt to "profound security examinations," according to Hamoud's report.
When Faragallah Abu Jarad, who lived in a Palestinian camp in Deraa for more than three decades, was forced to leave Syria with his family of 11, he and his two sons ended up in an Egyptian prison for one month where he was subjected to questioning before he was allowed to return to Gaza, he said.
Egyptian authorities at the Rafah border crossing also denied Dweik entrance to Gaza because he did not have a proper visa or permission. The only way in was through a network of underground tunnels connecting Gaza and Egypt.
"It was risky," Dweik said. "But here I am."
"Everything was shaking"
But these Palestinians are returning to a place that can offer little in the form of security or opportunity.
After Dweik's tortuous journey and an attempt to rebuild a life in Gaza, war hit again — and right next door.
The eight-day Israeli offensive on Gaza in November 2012 brought memories of violence flooding back. Dweik lives near a government building that was pounded in an Israeli attack.
"Everything was shaking: windows, doors, even the building, but thank God that my family wasn't hurt," he said.
He was afraid once more, "but what can I do about it? I suffered a lot to come back here, and I'm afraid that the Egyptians will arrest me if I leave to Egypt, because I entered Gaza via a tunnel."
Abu Jarad said he is glad his family is safe, but finds it hard to cope with Gaza's high unemployment and poverty levels.
"It's not only safety we want," he said, "but we also want to rebuild our lives, which have been stolen by war … We left almost everything."
He is now fixing an old house that his parents inhabited for decades. The walls are cracked and some windows broken because of the Israeli bombardment in November.
Many, though not all, of those fleeing Syria have extended families in Gaza that offer some support.
Refugees coming to Gaza also have access to the same UNRWA-provided services as all other Palestinian refugees in Gaza: food, education, health care.
They can also apply to UNRWA's job creation project for six months or one year of employment to get them started, UNRWA's Abu Hasna said. "More than that we cannot offer them."
A Gaza government official, speaking on condition of anonymity, said those coming to Gaza can seek social assistance from the government, as can any other resident of Gaza. But he said it would be very difficult, not only politically, but also logistically and financially, for Gaza to take in a large number of Palestinian refugees from Syria who were not originally residents of Gaza.
Dweik called for more attention, including financial and housing assistance, to those who fled their countries of refuge, "because they left with nothing in hand but themselves, looking for a safer place where they can live, not to be refugees all over again."
This item comes to you via IRIN, a UN humanitarian news and information service, but may not necessarily reflect the views of the United Nations or its agencies. All IRIN material may be reposted or reprinted free-of-charge; refer to the copyright page for conditions of use. IRIN is a project of the UN Office for the Coordination of Humanitarian Affairs.
Tags