"I just want to be able to give birth at a hospital and provide my child with an identity," 25-year-old Alaa pleaded with a frozen and detached look in her eyes, putting her pale, thin hand on her belly.
Alaa, a Palestinian whose family hails from the city of Jaffa, was born and raised in Deraa refugee camp in the south of Syria.
On 28 August 2012, when the fighting intensified, Alaa made the terrifying decision to flee to the closest Syrian border with her husband.
Much to Alaa's dismay, her Syrian husband was allowed to cross safely into Jordan but she was refused entry because of her father's birthplace: Palestine.
Despite their failed attempts to enter together, Alaa knew her only hope of getting into Jordan with her husband was by obtaining a Syrian identity card. She decided to risk posing as her sister-in-law by using her Syrian identity card and hiding half her face with her headscarf.
Questioned by Jordanian border control, Alaa replied: "We are siblings." They were then taken to Zaatari camp, the largest Syrian refugee camp in Jordan. Alaa's husband feared for his wife's safety if her true identity were to be revealed.
After ten long, painstaking days trapped inside Zaatari camp in the north of Jordan, they opted to escape rather than continuously look over their shoulders.
The consequences of being caught falsifying documentation could include imprisonment or deportation. Entering her last trimester of pregnancy, Alaa was overcome with mixed emotions.
What should have been one of her happiest moments quickly turned to guilt and sorrow. Alaa, incapable of registering her unborn child and giving birth in a Jordanian hospital, would need to continue using her sister-in-law's identity in Jordan.
Conflict
Prior to the protests and conflict that broke out in March 2011, an estimated 530,000 Palestinian refugees lived in Syria, waiting to return to their Palestinian homeland.
For more than 40 years, the governments of late Syrian President Hafiz al-Assad, and his son Bashar al-Assad who succeeded him in 2000, claimed to be protectors of Palestinian refugees.
Nonetheless, in the course of the civil war, government forces did not refrain from shelling Palestinian refugee camps in Syria where rebel forces had infiltrated, with virtually all residential areas experiencing armed engagements or the use of heavy weapons or starvation as a weapon of war.
UNRWA, the UN agency for Palestine refugees, has stated that more than 70 percent of the Palestine refugees in Syria are in need of emergency humanitarian assistance, while more than 50 percent are internally displaced ("The UNRWA Syria regional crisis response plan 2014: A briefing on recent developments," 23 January 2014).
As a result, thousands of terrified families have fled to safety with nothing but the clothes on their backs. They left for countries with established refugee camps for Syrians, including Turkey, Lebanon and Jordan.
However, unlike the rest of the Syrian population, this was not Palestinian refugees' first exodus to neighboring countries. For some Palestinians, this was their second or third displacement since their initial expulsion from Palestine in 1948.
The most vulnerable refugee group in the Middle East, Palestinian refugees have been caught in a limbo of regional politics and the blind spots of international law.
Jordanian authorities in mid-2012 began denying entry to many Palestinian-Syrian families who tried in vain to seek safe haven in Jordan.
Human Rights Watch reported in 2012 that "the Jordanian authorities have forcibly returned some newly arriving Palestinians from Syria and threatened others with deportation.
Since April 2012, the authorities have also arbitrarily detained Palestinians fleeing Syria in a refugee holding center without any options for release other than return to Syria."
Sadly, a year later, Jordan adopted and enforced the policy of non-entry to all Palestinian citizens fleeing the Syrian conflict — and to those who have already sought safety within Jordan, aggravating the extreme vulnerability of Palestinians seeking safety in that country.
Most recently, Palestinians fleeing the besieged refugee camps in Yarmouk and Deraa were turned back at the border.
Caught in limbo
Jordanian authorities have been responsive toward Syrian refugees, granting them humanitarian services and allowing the UN High Commissioner for Refugees to support them, whereas Palestinian refugees from Syria refugees are rarely eligible for such services.
Furthermore, the Jordanian government has been known to deport Palestinian refugees who have managed to enter Jordan, back to Syria, robbing them of their right to survival.
Such a policy violates the international law principle of non-refoulement, which protects refugees from being sent back to places where their lives or freedoms could be threatened.
As of February 2014, more than 11,000 Palestine refugees fleeing Syria sought support from UNRWA in Jordan. UNRWA is expecting the numbers in Jordan to approach 20,000 by the end of 2014.
UNRWA acknowledges that "the irregular status of Palestinian Refugees from Syria in Jordan means they endure a considerable degree of insecurity. They face difficulties in civil processes such as registration of births and in access to government services, and are at constant risk of refoulement."
The longer the Syrian civil war lasts, the harder it becomes for Palestinian refugees from Syria to maneuver into Jordan. Palestine refugees face a systematic witch-hunt as Jordanian authorities crack down on civilians fleeing a devastating war.
This pursuit of Palestinian-Syrians in Jordan is directly linked to the US-brokered "peace talks." While the Ramallah-based Palestinian Authority leader Mahmoud Abbas has repeatedly indicated he is prepared to give up Palestinian refugees' right of return, some Jordanians do not want their country to be the permanent alternative for some two million Palestinian refugees — thus any "new" Palestinian to the country is seen as one too many.
One week ago, Jordanian Prime Minister Abdullah Ensour said: "We have to take all measures to ensure that Jordan does not become a substitute homeland for the Palestinians," disregarding the fact that these Palestinians fleeing the Syrian war are humans before being Palestinians ("PM: Jordan will not be a substitute homeland for Palestinians," Jordan News Agency (Petra), 26 February 2014).
Palestinians from Syria are treated with suspicion and resentment in Jordan, and are perceived as a security threat in a country where at least half the population is of Palestinian descent.
On an international level, Jordan has addressed the crisis by establishing monitored refugee facilities to accommodate the growing number of displaced persons.
The infamous Cyber City is an industrial zone in the north of Jordan that houses approximately 400 Syrian and Palestinian refugees from Syria in one of its six-story buildings situated in a remote area known to house migrant workers.
Mistreatment
Jordanian authorities have erected a fence around the entire compound; however, within the confines where the Syrian refugees are detained, a higher level of security is enforced. A second checkpoint surrounding the refugees restricts their freedom of movement to the building and the immediate vicinity.
Such conditions amount to arbitrary detention. At times, security forces prohibit non-governmental organizations and humanitarian workers with valid permits from moving beyond the main entrance, making it difficult to ensure refugee rights are upheld and proper protocol is followed.
Complaints about the mistreatment of detained refugees continue to emerge from Cyber City.
Ali, 20, whose family is originally from Bir al-Saba in the south of historic Palestine, speaks of his continuous ordeal since birth.
Born and raised in Yarmouk refugee camp on the outskirts of Damascus, to a Palestinian father with a temporary Jordanian passport and a Palestinian mother who carries a refugee travel document from Lebanon, Ali's grandfather was deported from Jordan to Syria following Black September in 1970 (the war in Jordan against the PLO, which resulted in the killing of thousands of Palestinians).
Ali was not yet then born, but his entire family is now blacklisted and prevented from seeking refuge in Jordan — despite Ali's father holding Jordanian documents.
Ali lacks any official documents proving his nationality. He was not able to inherit his father's Jordanian passport, nor to be added to his mother's Lebanese UNRWA family card, nor able to obtain any Syrian documentation, leaving him an embodiment of the eternally stateless Palestinian refugee.
Fleeing their besieged Yarmouk home, Ali's family was caught along the Jordanian border and transferred to Cyber City. For the past 18 months, Ali's family has been confined within the parameters of the detention camp, isolated from the outside world.
A young man with bright eyes that reflect his ambitions and dreams, Ali managed to break free and seek assistance from local communities in the capital Amman.
He paid the ultimate price for wanting to continue his studies by being isolated from his family, as he cannot risk visiting them. If he were caught, he could be detained and subject to deportation and further humiliation.
Ali's eyes welled up with anguish as he described the suffering and ongoing mental torture to which families inside Cyber City are subjected on a daily basis.
"They are detained but they are not criminals," he said. "They are humans even if they were born with the wrong nationality. What did we do? Aren't we entitled to flee the same bombs and shelling Syrians are fleeing from? Why do I have to hide as if I committed a crime, while all I did is flee a war that has no mercy on anyone?"
Extreme poverty
Some two million registered Palestine refugees live in Jordan. About 370,000 live in ten recognized refugee camps served by UNRWA. The vast majority of Palestinian refugees in Jordan have full citizenship, though in recent years some Palestinians holding Jordanian passports have seen their citizenship arbitrarily revoked.
As Palestinian from Syria were banned entry to established refugee camps for Syrians, the overcrowded Palestinian camps in Jordan opened their doors to them — and to Syrian refugees as well.
Even though the Palestinian camps are overwhelmed with poverty and unemployment, for Palestinians from Syria, the alternatives are far worse: either die under siege or be detained and deported while being stripped of dignity and rights.
Dr. Malik, a compassionate physician with his stethoscope hanging around his collar, spoke of the heartache he encounters on a daily basis. A Jordanian neurosurgeon, Dr. Malik has been treating Palestinian refugees from Syria for the past 18 months free of charge and with extreme discretion.
He has become a trusted ally to Palestinian refugees from Syria who are prohibited from using UNHCR's medical aid services or Jordan's hospitals.
I accompanied Dr. Malik on field visits across the country for ten days. We witnessed Palestinian refugees from Syria suffering severely from amputations and shrapnel wounds, and visited with orphaned infants, traumatized children and victims of life-threatening diseases (such as cancer) who were left to die because of high treatment costs.
The most prevalent cases of human suffering were due to extreme poverty, as fathers had no money to feed their wives and children.
We absorbed one story after the other, one misery after the other, witnessing so much pain that at the end of the day one could hardly breathe from the despair.
Intimidation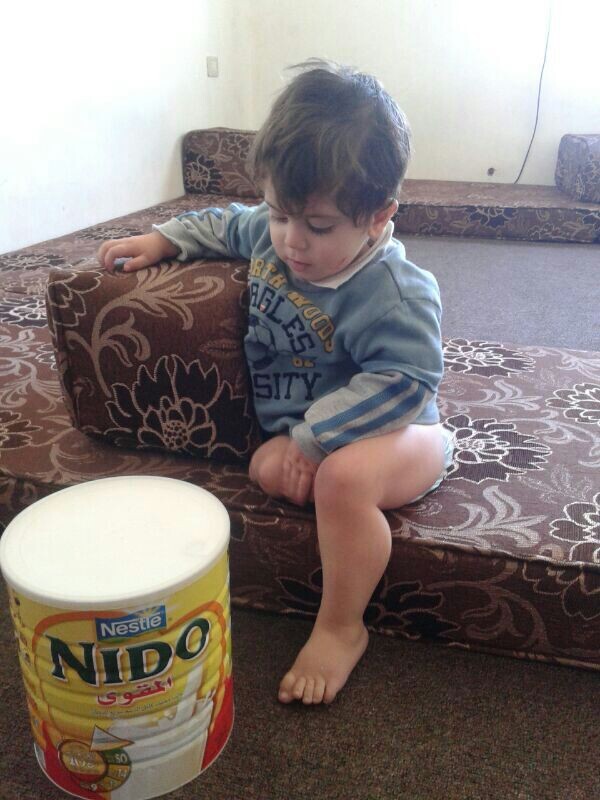 Despite the continuous intimidation Dr. Malik says he encounters from the Jordanian intelligence services, who suspect him of helping a group of "illegal refugees," he cares very little what happens within the realms of the political arena.
He said that he simply wishes to "treat patients and enrich their quality of life by allowing them to live in a dignified manner without being caught up with politicians' bureaucracy and in a state of war."
But his tone of voice dropped and his smile quickly disappeared when we walked into the one-bedroom home of one-year-old Obaida.
His house in Deraa was bombed and Obaida's entire leg was shredded, leaving him disabled for the rest of his life.
The same bomb injured his Syrian mother, who still has shrapnel in her body. She lost three toes. Obaida and his mother's injuries were so severe that Jordan allowed them in for emergency treatment, but his Palestinian father and two sisters were sent back at the border.
Obaida and his mother are now recovering from their trauma, but for the past two months they have not seen the rest of their family. As we were asking Obaida's mother about his recovery, she answered, "Obaida is much better now, he'll laugh and play, but at times, he will pause, look at his leg and ask: 'Where is it?'"
Once Obaida's treatment is completed, he will be deported to Syria. His Syrian mother will be allowed to stay in Jordan.
Some names have been changed to protect identities.
Hanine Hassan is a researcher and doctoral student studying aspects of mental torture and humiliation under occupation. Her family fled Jaffa, Palestine, in 1948 and is waiting to return. She tweets at @hanine09.
Tags