When National Geographic Abu Dhabi in April posted a seemingly benign image of Nubian ibex climbing cliffs on its Facebook and Twitter accounts, its social media pages quickly blew up.
The problem? A caption referred to the location as the "Judean Desert" and as "Ein Gedi," which overlook the Dead Sea. The item caught the attention of Palestinian social media activists who swung into action to insist upon the Palestinian connection to the region.
They voiced their opinions on National Geographic Abu Dhabi's Facebook page. The comment of Hasan Aldawoudi, one of the founders of the social media group Ihbid, received the most reactions.
Aldawoudi argued that the administrator of the Facebook page lacked historical and basic knowledge regarding Palestine.
The general reaction, according to Aldawoudi, surpassed 30,000 Facebook comments and led the publication's Facebook and Twitter administrator to delete the respective posts and replace them with ones referencing "the desert of Ein Gedi in Palestine."
Remarkably, all of this happened from one day to the next.
And it helped highlight that while the United Arab Emirates does not recognize Israel, Prince Mohammed bin Zayed appears to be moving the country in that direction while trying to maneuver the Palestinian Authority into the Trump administration's peace plan.
The oft-delayed proposal is widely expected to strip Palestinians of their rights.
Expanding campaign
The successful campaign against National Geographic Abu Dhabi encouraged the group to refute other misleading posts and tweets attempting to advance narratives preferred by the Israeli government.
Aldawoudi, who is 24 and from Rafah in southern Gaza, has been joined by 26-year-old Ahmed Maher Jouda from Jabaliya refugee camp in the north of the Strip and a group of friends all intent on challenging anti-Palestinian social media posts.
Ihbid is the result of their common effort.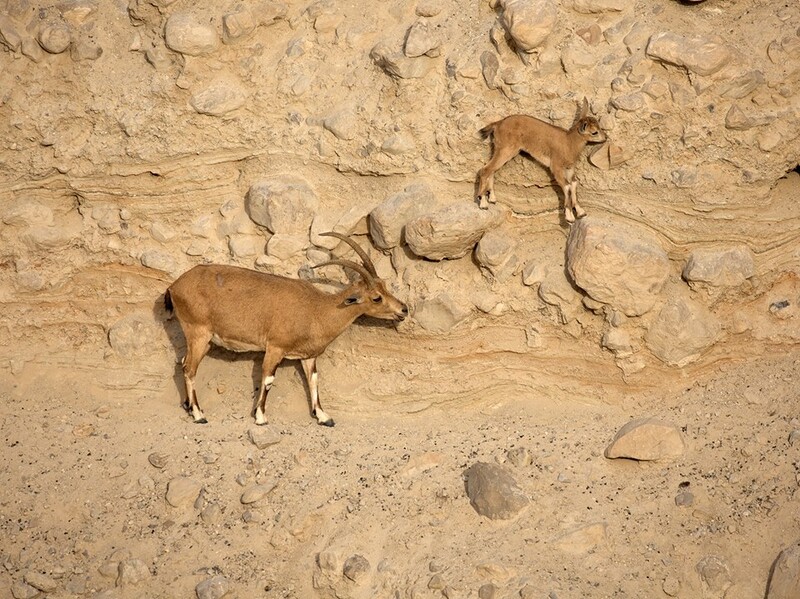 The grassroots campaign led by youths under the age of 30 was particularly busy during Israel's military escalation against Gaza in early May. Leaders of the effort have plans to challenge future Israeli propaganda promoting its military assaults on the occupied and besieged coastal territory.
As Israel sought to put its spin on the assault, Ihbid activists pushed back with photographs documenting human rights violations in Gaza and factual counter-posts exposing Israel's misrepresentations and outright lies.
Some of the work was very basic in making clear that Palestinians as an occupied people are the ones being oppressed and facing a far superior military force.
For example, activists pushed back against a Facebook post made by the European Union that insisted "rocket fire from Gaza towards Israel must stop immediately." The EU failed to cite Israeli violence against Palestinians or comment on Israel's overwhelming responsibility for the situation.
Aldawoudi says Ihbid means "to talk nonsense." He says the organization's name challenges him to confront misleading speech or posts related to the Palestinian cause, particularly those opinions voiced by international leaders or major media. The social media activists focus on outlets that defer to the viewpoint of the Israeli military rather than actual realities on the ground.
One of the most troubling areas, Aldawoudi says, comes in comparing how violence against Israeli and Palestinian children is treated.
Aldawoudi notes, "The aim of the campaign is to let the world witness the reality of the Israeli-Palestinian conflict. When an Israeli child cries, all media attention is directed on that child. Israeli propaganda promotes the crying child."
Yet, he says, "When Palestinian children are killed no one pays those children any attention. Our role is to spell out the difference in coverage in the comments connected to the photo and source."
As a translator of Arabic to English and a researcher in digital diplomacy in Gaza, Aldawoudi says the group is able to use 25 languages to convey the Palestinian narrative in replying to posts.
Ihbid does this with the help of volunteers. They help translate social media pages conveying misrepresentations about Israel's actions against Palestinians.
Participants often add #ihbid194 next to their Twitter comments – 194 refers to the United Nations resolution regarding Palestinian refugees' right to return to their homeland from which they were forced to leave by Zionist militias in 1948. The handle also signifies Palestine being the 194th member of the UN.
Taking on propaganda
Ihbid's work in early May included waging a campaign against an Israeli military Facebook post. The post shows a group of young Israeli football players lying on a pitch after hearing the sound of a siren alerting them to incoming rockets from Gaza.

Activists with Ihbid posted the photo and asked Palestinians to comment. Respondents took action by uploading photos of Palestinian victims of recent Israeli bombing runs.

Even US President Donald Trump was challenged over his Gaza-related tweeting that promoted Israeli belligerence and displayed his indifference to Palestinians under attack.

Aldawoudi says of the group's efforts: "The ones who reply back to our comments describe us as electronic bees. We don't insult; our goals are defined."

He adds, "Those who think that Israel is democratic are wrong. We provide proof regarding Israel as the harm it causes is inflicted on us. Sometimes, we get support and some foreigners even send us messages on our accounts to get more details and clarification about what we post."

The campaign isn't supported by any political faction. Civil engineer and activist Ahmed Maher Jouda says it is completely based on Palestinian youth and their efforts to revive the Palestinian narrative.

Activists are proud of their achievements, with thousands of Palestinians in Gaza, the West Bank and the diaspora joining the campaign to fight back online.
"They lost control over us"
The campaign also took on Israeli officials. According to Jouda, some even deleted posts due to the backlash activists managed to generate.
Referring to the deletions, Jouda says, "They lost control over us. We became an electronic army defending our homeland with honest accounts. They don't want their followers to see Palestinian responses so they deleted whole posts in order that their followers wouldn't question their content."
Jouda says activists in May also directed their attention to performers participating in the Eurovision music contest, highlighting Israel's ongoing violations of Palestinian rights. They found this to be an effective means of countering Israeli accounts praising the competition in Tel Aviv.
The group pushed back on a video trumpeted by Eduardo Bolsonaro, a politician in the Brazilian parliament and a son of that country's president. In the video, he expresses concern about rocket fire out of Gaza and says Israel will defend itself and already is doing so.
Those Israeli attacks are what Ihbid aims to highlight.
Activist Amin Abed, who is 30, sums up the efforts of the group: "We got huge sympathy from all around the world. They have found the Palestinian content to be convincing and some have started researching the reasons behind the Israeli-Palestinian conflict."
For all the international solidarity, however, Abed notes that he has noticed that "Many foreigners think that Israel has always been there and Palestinians are intruders fighting Israel."
It is precisely such misconceptions that motivate Ihbid in its efforts to challenge the false narratives that spread so quickly via social media.
Amjad Ayman Yaghi is a journalist based in Gaza.
Tags