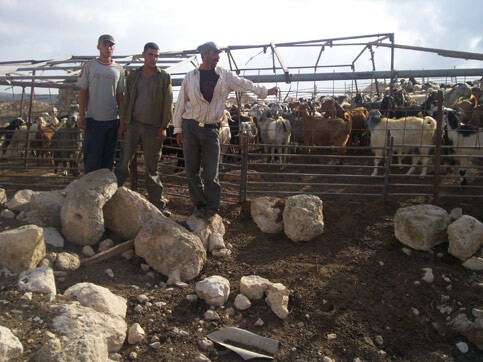 IDHNA, SOUTHERN WEST BANK, 19 December 2007 (IRIN) - "The best thing about Khirbet Qassa was the grazing land. We had open spaces. Now we've become dependent on other people and their land," said Abdel Halim Nattah, a shepherd in the southern West Bank.
Several weeks earlier he and all his fellow villagers, 37 families numbering 272 people, were evacuated by the Israeli military from Qassa and told to find a new home somewhere else.
The Israel Civil Administration said the land the Palestinians were living on was an archaeological site under state auspices, and the villagers had been given warnings about the impending evacuation.
"They came at 7:30 in the morning," one villager told IRIN. "We sent away the women, children and sheep. An old man pleaded with the soldiers saying 'we will move ourselves'. They gave us until the next afternoon, and said anyone remaining would be arrested and anything left confiscated."
When the villagers told the soldiers they had nowhere to go, the response was: "That's not our problem. This is state land."
Some villagers noted that Qassa sits between Israel's separation barrier and the pre-1967 Green Line border, and felt this was a factor in the eviction.
For most of Khirbet Qassa's inhabitants, this was not the first time their families had been forcibly moved, as 29 of the 37 families are registered refugees with UNRWA, the UN agency for Palestinian refugees. The older members of these families came to Qassa from Beit Jubrin, in what is now Israel, during the 1948 Arab-Israeli war.
"Starting all over again in the winter of 2007 is not easy," said Abdel Halim, aged 63.
Lost fodder
"We had food for a year for our sheep, but all of a sudden it's gone. It's a shock," Khaled al Aghberiya, a 37-year-old father of five, told IRIN.
When the Israeli military came in late October to remove the villagers, many of their belongings, including 240 tonnes of fodder, 180 feeding devices and several water tanks were destroyed.
"The fodder is the main issue. We bought so much and we lost it. We will have to sell some of our sheep to replace it," Khaled said. With the increasing cost of fodder, the economic burden will be extensive.
Costly water
They also miss the water well in their old village. For now, aid agencies like the International Committee of the Red Cross (ICRC) and Action Against Hunger have provided water and tanks, but eventually they will have to buy water, something they rarely did in the past.
"The community has been on that land since 1948 and they are totally dependent on the land and water resources there," said Manuel Bessler, head of the UN Office for the Coordination of Humanitarian Affairs in the occupied Palestinian territories. "Having been moved, they will be in increased poverty and hardship as they don't have any alternative sources to make a living except herding."
After their evictions, most of the villagers went to nearby Idhna village where they have friends and family.
"This is my home for now. All of us, 29 people, sleep here at night," said Abdel Halim, standing inside a half built building he accesses using a wooden plank which goes through what will one day be a window frame. All the other gaping holes are covered by plastic, and the only source of heat is a coal grill.
Some of the evicted sleep in tents provided by the ICRC on agricultural land outside Idhna.
Stressed children
The impact of the forced move has affected many children.
"My daughter, she is nine, all of sudden now she wakes up in the middle of the night. My other children started to wet their bed," said a concerned father. His wife, three months pregnant at the time of the eviction, miscarried the next day, he said.
For the proud shepherds, having to ask for help is not easy. "Since 1948 we never asked for anything from the [UN and aid] agencies. Now we need help," said Khaled.
"But we don't want any charity. Give us job creation programs. If we have to we'll sell our sheep and contribute to funding for education programs. If they train us, we will make sure it becomes a sustainable source of income," he said, worried that he and his fellow herders will never find another suitable grazing area to call home.
This item comes to you via IRIN, a UN humanitarian news and information service, but may not necessarily reflect the views of the United Nations or its agencies. All IRIN material may be reposted or reprinted free-of-charge; refer to the copyright page for conditions of use. IRIN is a project of the UN Office for the Coordination of Humanitarian Affairs.
Related Links