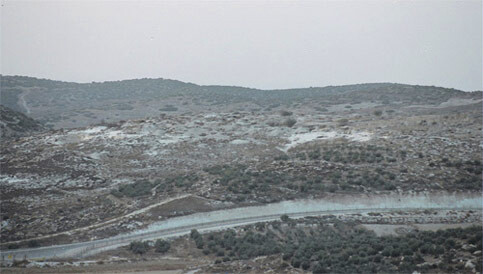 Standing on a hill at the edge of Idhna with the displaced farmers Muhammad Talab and Muhammad Ibrahim Natah, the only visible remnants of their destroyed village is a patch of white dust just on the other side of Israel's wall. Despite being part of the occupied West Bank, the Israeli military destroyed the 267-person farming village of tents and tin houses west of Hebron on 29 October and allegedly ordered villagers to relocate to Idhna.

According to Talab, the village was comprised of Palestinian refugees who had lived there as shepherds since 1948. "We are refugees from '48 and after 60 years they've displaced us again. We don't know where our children will go in another 60 years," he says. Both Talab and Natah say the village was given no formal notice of the eviction and that soldiers in jeeps showed up two days before to tell the villagers they had to leave. "There was no formal notice, no letters or anything. Then [two days later] the army came and destroyed everything," says Natah.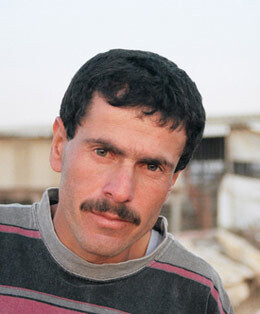 Villagers say that 500 armed soldiers and police took part in the demolition, using jeeps and two large bulldozers. They contend that the army killed part of their herds, destroyed all of their personal belongings and acted violently towards the residents. "They beat a lot of the men and they arrested one man and fined him 5,000 shekels [approximately $1,250

USD

] for refusing to leave his house," says Talab. He adds that the army has a history of being brutal with the community, saying that long before the eviction they raided the town nightly and broke into peoples' homes where they would destroy furniture, beat the men and scare the women and children.

Both Talab and Natah look wiry, exhausted and still somewhat in a state of shock from the previous week's events. They say they've been left with nothing and are being forced to sell off the rest of their herd in order to survive, describing how they can't continue farming because they no longer own land to graze the sheep on. "Now we are renting houses in Idhna … [The army] left us with nothing," says Talab.

The villagers say that the army told them they were being evicted for security reasons, because the homes and farms were located on the western side of Israel's wall, which has been erected in the occupied West Bank. However, according to local Idhna farmers this eviction is simply the latest stage in a sustained attack by the Israeli military on the Palestinian agricultural economy.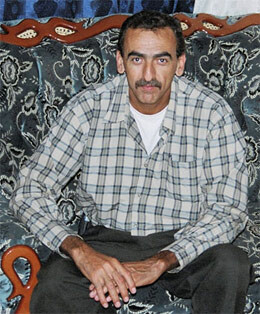 Dairy farmer Mohammad Shehada's farm was finally destroyed on 25 May 2007 after delaying military demolition orders in court for several years. The farm was built in 1996 and Shehada started receiving demolition orders from the Israeli administration in 2001. At first, they told him it was because he didn't have a permit. Yet when Israel started to build the wall in the area, he says officials told him the farm was a security issue because it blocked their view. "It's not a matter of security, because they keep demolishing farms after they built the wall. They are doing this to destroy the Palestinian economy," he says. "Now we produce milk and meat ourselves and they don't what that, they want us to be dependent on them."

Since the demolition of his farm Shehada says that he and his family have been left in a difficult financial situation and that the continuation of farming is costly. "I used to own the land but since the demolition I have to rent land and am losing lots of money," he says. Similar to the shepherds from the recently destroyed village, he highlights that his entire farming infrastructure was also ruined in the demolition. "They destroyed our milking equipment and farming tools. It cost me one million shekels [$225,000 USD], and since then I have had to sell my car," he says.

While in Idhna, Layth Farajallah, the son of a dairy and beef farmer, offers to drive my colleague and photographer and I around to the local farms. He too explains that the Israeli military has been consistently harassing and demolishing farms. Farajallah takes us to his family's dairy farm near the wall and points to the area of an adjacent field where he says farmers used to stay in huts so that they could be close to their land. He describes how in 2006, the army destroyed the huts, claiming they were too close to the wall. Like the village destroyed last week, there is now no evidence that they ever existed.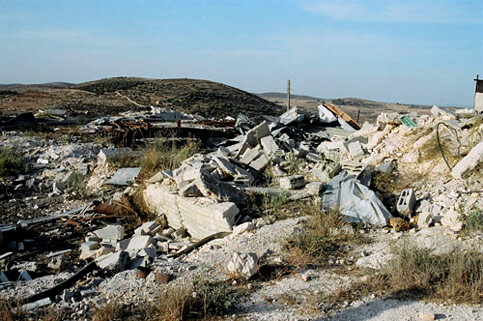 Farajallah then shows us around the dairy farm. It's a modern farm fully equipped with milking machines, piping, and a barn to hold the cattle about half a kilometer from the wall. He says it too has been facing a demolition order since 2006 and the army routinely enters the farm, forcing family members to guard it from the soldiers. He adds that on one occasion soldiers stole two bulls from the barn. Like Shehada, Farajallah also says that these demolitions and confiscations of property are part of a systematic Israeli attempt to destroy any independent Palestinian economy.

After all they've been though in the past week, and with the Israeli military harassment before it, Talab and Natah say that all they want is for the army to let them return to their land and leave them in peace so they can start farming again. A similar sentiment is being expressed by Idhna farmers who simply want to continue their work.

Jesse Rosenfeld is a freelance journalist based in Ramallah. This article was originally published by Palestine Monitor and is republished with permission. All photos by Hindi Mesleh.