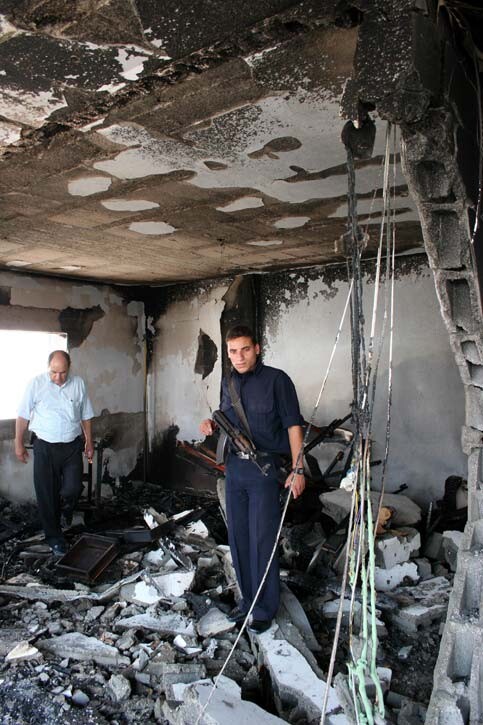 Dr. Mustafa Barghouthi, medical doctor, member of the Palestinian Legislative Council, and head of the Palestinian National Initiative, today warned of the public health and humanitarian disaster facing the Gaza Strip following an Israeli military bombardment that began on Wednesday night.
He was speaking from Gaza City, where he has been stranded for 12 days since Israel sealed off Gaza's borders.
Dr. Barghouthi reported that Israel's destruction of Gaza's only electrical power station has left 80 percent of Strip without electricity. A water plant was also bombed by Israel today in the southern city of Rafah.
As a result, water supplies and the sewage system have been critically affected in that they depend entirely on electricity to power water and sewage pumps.
The electricity, water and sewage systems in the Gaza Strip are now currently depending on insufficient local generators to remain partially functional, yet Israel's closure of Gaza's borders has meant that there is only enough fuel to last a further 4 days.
Once this fuel runs out, the population of Gaza faces a severe humanitarian disaster, exacerbated by high summer temperatures and overcrowded living conditions. Gaza will find itself without potable water and literally sinking in sewage, which would lead to a severe public health disaster.
In addition, 300,000 of Gaza's 1.4 million inhabitants live in high-rise apartment buildings which do not have the necessary generators to pump water up, and are therefore completely without water supplies.
The dependence on generators also has negative environmental implications as they produce high levels of pollution.
Dr. Barghouthi appealed to the international community to urgently call on Israel to end its bombardment, to stop the targeting of civilian infrastructure, and to allow for immediate repairs to begin on Gaza's electricity plant.
He also urged the international community to intervene in order to ensure the immediate supply of fuel, food, and other essential items to the Gaza Strip in order to avert an imminent humanitarian and public health catastrophe.
Related Links