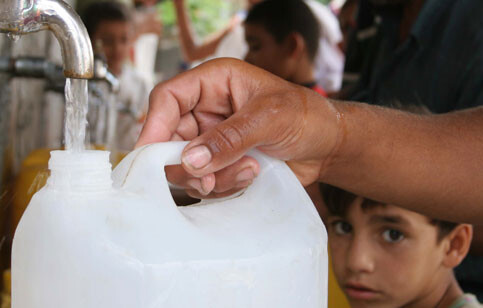 The following report was issued by Al Mezan on 28 February 2008:
Gaza's drinking water crisis was aggravated over the past three days. In addition to the shortage of water supplies to households, the municipal authorities in the Gaza Strip ran out of materials essential for the treatment of water. Yesterday, the Palestinian Water Authority instructed Gaza's people to boil the water at their homes before using it for cooking or drinking. This includes filtered water, which is widely used in households all over the Strip.
Israel's restrictions on movement, which were tightened since 14 June 2007, caused a shortage in hypochlorite, a substance that is commonly used to clean drinking water. As a result, the 52 out of 140 water wells had to stop pumping. Water from these wells is too polluted and cannot be safe for human consumption, even after boiling it.
This comes as the Israeli Occupation Forces (IOF) continue to reduce fuel and electrical supplies to Gaza, which disrupts the operation of many water wells, thus affecting the authorities' ability to pump water to the population. People living in tall apartment buildings particularly lack water supplies since they depend heavily on energy to pump it to their homes. Certain areas in Gaza have not had any water for days.
IOF's blockade has also disrupted the emergency construction of an alternative sewage treatment plant in north Gaza, an area that lives at the verge of a disaster that could occur at any time. This emergency project is necessary to spare the Bedouin villages and the entire north Gaza area a direct threat to their lives and well-being. One of the existing treatment plant's basins flooded in March 2007, claiming the lives of five people and causing wide-scale destruction to property in the area.
Al Mezan Center for Human Rights warns about the deterioration of public health and environmental conditions in the Gaza Strip due to IOF's movement restrictions, which prevent entry of materials necessary for water treatment. Also, IOF frequently fire at municipal and Water Authority workers who approach solid waste dumps or the sewage treatment plant project in the east of Jabalia, preventing them from performing works necessary for public health. These problems are exacerbated by the weakened capacity of the health sector in Gaza due to the blockade.
Al Mezan renews its call upon the international community to act effectively to protect the civilian population from imminent threats to their lives in Gaza under the Israeli siege. The Israeli measures represent a flagrant form of collective punishment of civilians under occupation in breach of international law.
Al Mezan warns of the consequences of the failure of the international community to uphold its international legal obligations, which would risk the lives of thousands of Palestinians from the unprecedented blockade and the daily acts of killing by IOF.
Related Links