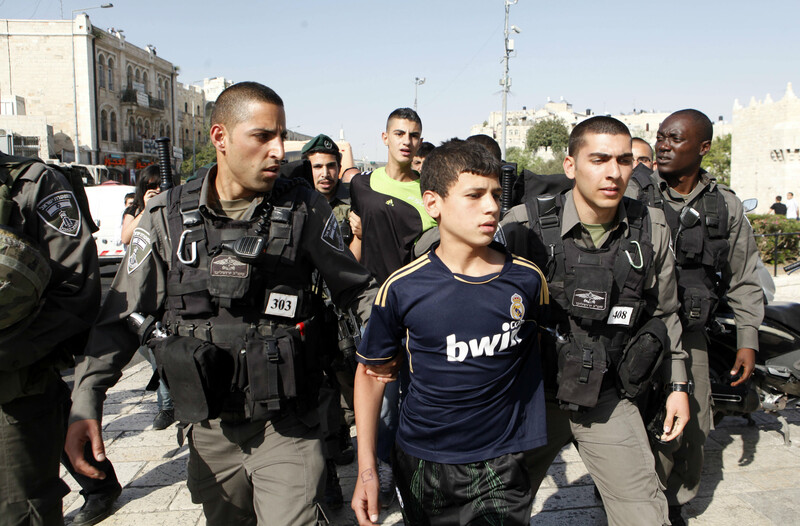 Palestinians in an occupied East Jerusalem neighborhood are demanding that Israeli police cease harassing schoolchildren.
The Parents Council of al-Tur organized a protest against the harrassment at the Israeli-controlled Jerusalem Municipality on Sunday.
"Our message to the government is that it is very dangerous to leave the police here [in al-Tur outside of schools]," said Mufid Abu Ghannam, a father of two children, ages eight and nine.
"The border police don't bring security to al-Tur; they bring terrorism against small children," he added.
Abu Ghannam told The Electronic Intifada that the presence of so many Israeli police, "hundreds, stationed near the schools from morning until night," provokes confrontations with youth. The police often use the confrontations as a pretext to fire tear gas and stun grenades.
On 21 January, police had fired a stun grenade into a crowd of students outside an elementary school on the main street in al-Tur. When he asked the police why they had thrown the grenade, Abu Ghannam was given a typical answer: the children were throwing stones.
"But I had been standing there and I saw with my own eyes that these eight-year-old students had done nothing," he said. "Afterwards the boys were just standing there crying."
The policy of arresting and harassing youth is not unique to al-Tur. Defence for Children International-Palestine (DCI-Palestine) reported that in last October 2014, 163 Palestinian children were imprisoned and prosecuted in the Israeli military court system. DCI-Palestine says that the majority of Palestinian children detained by Israeli forces "are held on charges of throwing stones."
On 24 January, Israeli police shot a young man in the face with a rubber bullet while he was outside his home in al-Tur. No clashes were reported at the time, and a relative of the young man said that Israeli forces were firing "randomly."
The next day Ma'an News Agency reported that Israeli forces assaulted and detained Muhammad Afeef Khweis, a ten-year-old boy, in al-Tur. Muhammad's uncle tried to protect him and "was pepper-sprayed and arrested, despite suffering from shortness of breath," Ma'an added.
Some locals suspect that the crackdown on al-Tur may be related to Israel's planned construction of the so-called Eastern Slopes National Park on Palestinian land in the surrounding area.
The Alternative Information Center, a watchdog on Israeli human rights abuses, has reported that the park is designed to achieve "territorial continuity" between Jerusalem and Maale Adumim, a major Israeli settlement in the occupied West Bank.
Skunk water attack
In addition to firing tear gas and grenades, on multiple occasions police have blasted the neighborhood and schools in particular with "skunk water" — a liquid that smells like a mix of dead animal carcasses and feces and leaves an odor that is extremely difficult to eliminate. In November, a police "skunk truck" was filmed rolling through two East Jerusalem neighborhoods and spraying its foul liquid on schools and homes.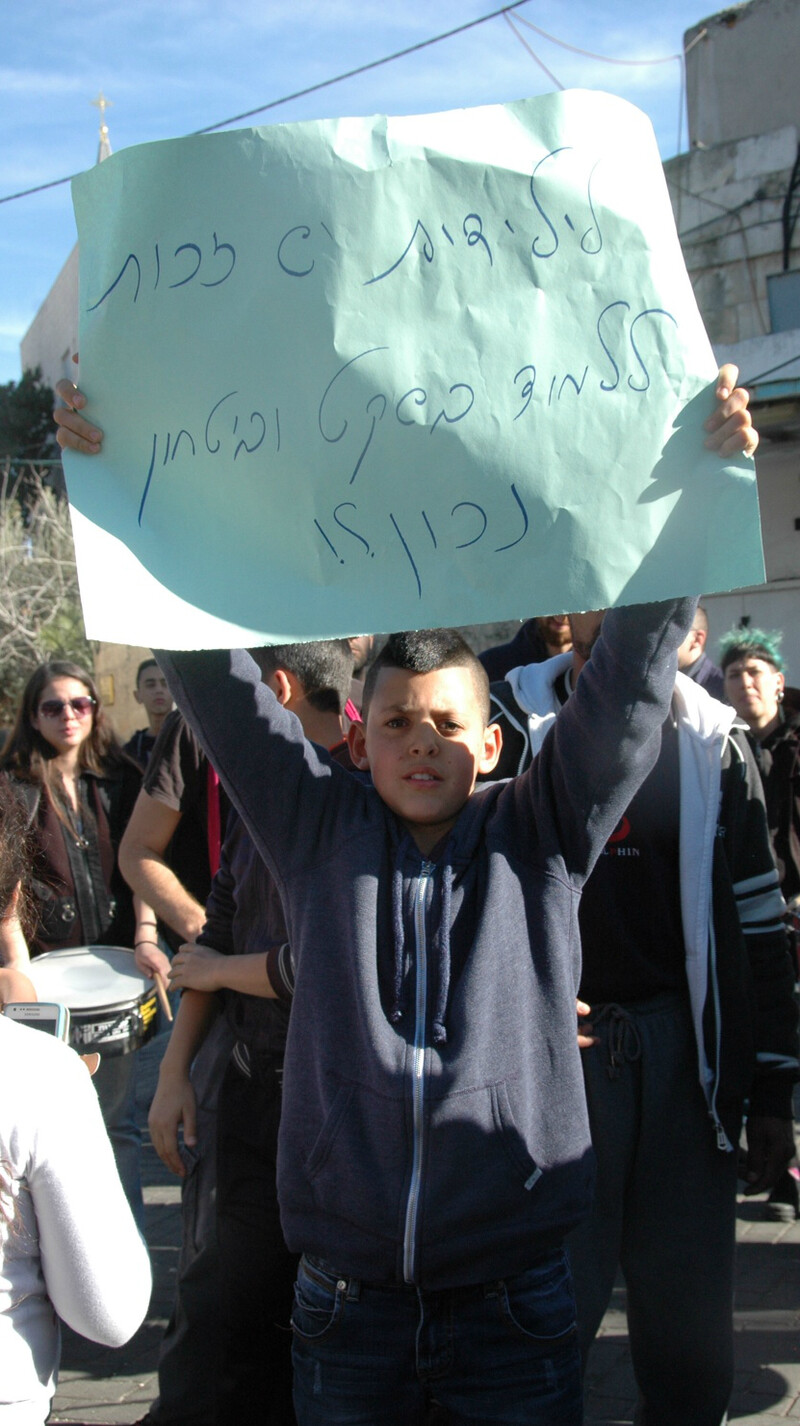 No clashes had occurred prior to the truck's arrival.

In al-Tur, four of the neighborhood's five schools — all located on the same street — were sprayed in one incident, forcing 4,500 students to stay home for several days due to the intolerable smell.

Since the beginning of the current school year, border police have been stationed outside many schools in East Jerusalem without explanation. The school year began shortly after Israel's summertime attack on Gaza.

Since then, two children each lost an eye in separate instances of police firing sponge bullets in the East Jerusalem neighborhoods of Issawiyeh and Shuafat.
State violence overlooked
The Israeli government has recently approved a plan to bring one thousand additional police officers into East Jerusalem. It was approved following some isolated incidents of violence by Palestinians against Israelis in the last few months of 2014.
Although those incidents received considerable attention, attacks against Palestinians have largely been ignored by the Western media.
Since the brutal July 2014 murder of Muhammad Abu Khudair, a Palestinian boy from Shuafat, attacks by Jewish extremists against Palestinians have become a common occurrence across Jerusalem.
The attacks have continued into this year. On 28 January, a Palestinian teenager from the al-Thuri neighborhood near Silwan in East Jerusalem was assaulted by an Israeli settler while the boy was walking to school.
Underfunding of schools
Besides the physical threats from both police and Jewish extremists, students in East Jerusalem also suffer from the underfunding of schools, especially compared to the education system to which their Jewish counterparts have access just a few kilometers away in West Jerusalem.
Palestinian schools in East Jerusalem have 3,000 classrooms less than they need and at least 8,000 children cannot be accounted for, meaning it is uncertain whether they are in school at all. Some teachers have complained of serious overcrowding in classrooms.
Israel annexed East Jerusalem in 1967 in a move that remains unrecognized by governments around the world.
East Jerusalem is nominally protected by the Fourth Geneva Convention. The convention requires Israel, the occupying power, to "facilitate the proper working of all institutions devoted to the care and education of children."
Israel's refusal to honor that obligation amounts to a war crime.
Sarah Levy is an independent journalist living in the West Bank. Follow her on Twitter: @levysarahm.
Shai Barash and Mohamed Kabha helped with translation for this article.
Tags