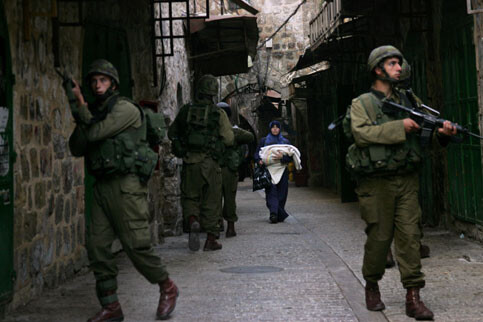 In October 2009 Palestinian photojournalist Nayef Hashlamoun traveled to Jordan to collect a lifetime achievement award from the Arab Youth Media Forum, a Dubai-based press project. The award recognized Hashlamoun for his "professionalism and skill and for his service in the media, and courage to work despite being wounded several times by Israeli soldiers and settlers," according to Forum president Haitham Yousif.

Hashlamoun, who until December worked for Reuters in Hebron, had also been feted during the 2006 China International Press Photo Contest in Shenzhen. His work documenting the incessant persecution of Hebron's Palestinian residents by Israeli soldiers and settlers has appeared in newspapers around the world.

"But I am especially happy about this latest award," says Hashlamoun, "because this is not just about one photograph. It's about the whole package — my body of work, my professionalism, my ethics. Because of that it's something special."
Nayef Hashlamoun's father, a sculptor, taught him different ways to see the world, and he learned to draw and paint as a schoolboy. At the age of 16 he borrowed a camera from a studio in Hebron. "After that I went to study journalism and took special courses in photography," he says. "The camera became my shadow. People know now that I always have my camera; they joke that I take pictures of my dreams while I sleep."

But just two months after receiving his Arab Youth Media Forum prize, Hashlamoun ended almost two decades of work with news agency Reuters. Instead, he has taken up a role with the al-Watan center, a nongovernmental organization based in his hometown of Hebron which intends to operate as a small, freelance news agency.

"I feel more independent and free doing this," he says. "I can give training for people in journalism and photography, and at al-Watan we will start a media program, to train young people and professionals. Journalism is always connected to new technologies and new skills and information, so professionals have to be able to update their skills and experience. Photojournalism under conditions of war and violence is dangerous, but we have to do our job under the umbrella of ethics and credibility, always."

Despite having run a series of successful training courses, both in Palestine and in Turkey, Hashlamoun must now start over professionally; his international supporters have run a fundraising campaign via Facebook to buy him his own camera.

"But al-Watan has been well known as a conflict resolution center for many years," he says, "and for that I'm happy to be working with them. They say a picture tells a thousand words, and I like pictures because they are the best international language, everybody can read them. A camera can be a peacemaker; many times I've seen soldiers stop shooting or the police or settlers stop beating people because the cameras are there. I've been a victim of that violence, and I want my camera to be a peacemaker as well."

But as Hashlamoun's citation at the award ceremony highlighted, a Palestinian photojournalist is rarely safe at work, and international prizes are no guarantee that journalists will be respected by the Israeli security forces. In November 2009, for example, writer Mohammed Omer was stripped, humiliated and severely beaten on his way home from collecting Norwegian PEN's Ossietzky prize for "outstanding achievements within the field of free expression." And in 2008, Martha Gellhorn Prize recipient Omer al-Mughaier was beaten unconscious by Shin Bet agents at the Allenby Bridge crossing between Jordan and the occupied West Bank.

Hashlamoun has also been attacked on at least seven occasions. Last year, Israeli workers from the civil administration attempted to attack him as he tried to photograph their destruction of water pipes belonging to Palestinian farmers; the farmers successfully protected him. In May 2008, he wasn't so lucky. Hashlamoun's family home was raided at 3am by Israeli soldiers, just days after he and his son had been denied Israeli security clearance to travel to the US to participate in a media production course. Two months later, Hashlamoun and colleagues from Agence France Presse and the Associated Press were attacked by Palestinian Preventive Security officers in Beit Jala, while trying to cover an al-Tahrir party meeting. In October 2008, Nayef, his brother Abdel Hafiz Hashlamoun and a British human rights observer were beaten by Israeli settlers in Hebron, while covering the olive harvest in Tel Rumeida.

"Being a journalist is the most dangerous work in the world," says Hashlamoun, "especially being a photojournalist or a photographer. We work under risk every day, especially in conflict areas like Palestine or Iraq, especially if you have soldiers who feel that you are from the other side, not from their side. We are professionals, we are doing our job, we are not part of any story, we are working as journalists, but because you are Palestinian and the soldiers are Israeli or settlers they come, they try to stop us, they try to attack us, to beat us, to shoot us."

According to Riham Abu Aita of the Palestinian Center for Development and Media Freedoms (MADA), based in Ramallah, Palestinian journalists currently encounter harassment and interference in their work from both the Israeli and Palestinian security forces in the occupied West Bank and Gaza. A March 2009 MADA report identified a whole range of problems, from the overt violence of the Israeli military to more subtle forms of distortion, such as self-censorship, implemented by journalists themselves.

The report identified 257 separate violations of media freedoms during 2008, 147 of them committed by Israeli occupation forces and settlers and 110 by Palestinian security services and armed groups in the occupied West Bank and Gaza. "The kinds of violations we see from the Israeli occupation forces are more serious than those from the Palestinian Authority or Hamas," says Riham Abu Aita, "because they not only attack or arrest journalists, they shoot and kill them."

MADA says that in 2009 four journalists were killed by Israeli forces in Gaza, and many had their homes demolished. "We noticed that in 2009 there were fewer violations of press freedom in absolute number, but the kinds of violations were more serious, especially the killing of four journalists in the aggression against Gaza," continues Abu Aita.

In January 2009, Aidan White, General Secretary of the International Federation of Journalists, led a delegation to Gaza just days after the end of Israel's invasion. White called Israel's targeting of the media "premeditated and precise … reckless intimidation of media on a shocking scale."

The subtitle of the Israel section of Reporters' Without Borders worldwide roundup of infringements of press freedoms in 2009 was "Operation Media Crackdown." The Paris-based organization noted that the killing of several journalists and the injuring of 20 more during Israel's invasion of Gaza last winter, as well as several "completely illegal" arrests of dissenting journalists within Israel itself. Reporters Without Borders' index of press freedoms placed Israel itself at 93, below other countries in the region stereotyped as repressive of the media, including the United Arab Emirates (86), Kuwait (60) and Lebanon (61). Moreover, the Israeli-occupied Palestinian territories were ranked at 150, below the authoritarian regimes of Egypt (143) and Jordan (112).

"Palestinian journalists can't work freely or safely," says Riham Abu Aita.

"Some of my colleagues have been killed or injured, and a lot of them are now in jail," adds Nayef Hashlamoun. "But this is the work of photojournalism in a situation of war and violence. We have to continue to do our job with ethics and credibility.

Sarah Irving is a freelance writer from Manchester, UK. She worked with the International Solidarity Movement in the West Bank in 2001-02 and with Olive Co-op, promoting fair trade Palestinian products and solidarity visits, in 2004-06. She now writes full-time on a range of issues, including Palestine and the wider Middle East.