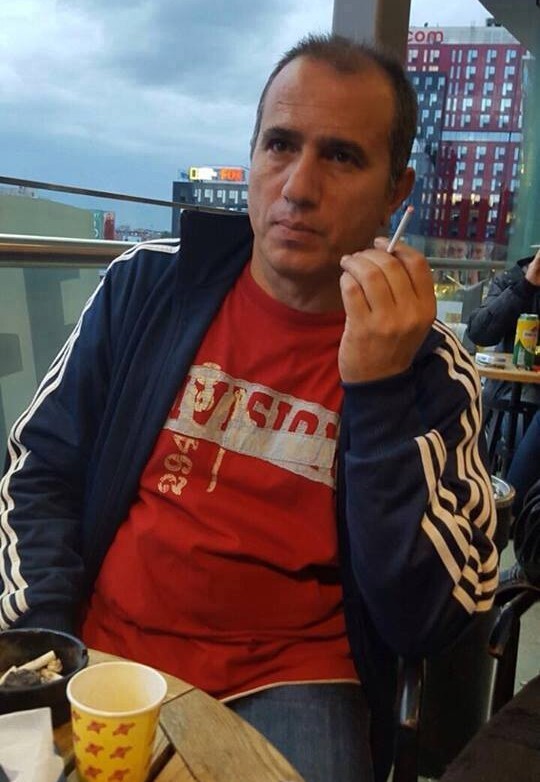 An escaped political prisoner whose extradition has been sought by Israel has taken refuge in the Palestinian Authority's embassy in Bulgaria.
Omar Nayef Zayed escaped from Israeli detention 25 years ago has lived in Bulgaria for more than two decades.
News that the 52-year-old is being sought for extradition by Israel is causing deep concern among Palestinians living in Europe.
Zayed, born in the occupied West Bank city of Jenin, was arrested in Jerusalem during 1986. After a trial in an Israeli military court, he was convicted of involvement in the killing of an Israeli settler and given a life sentence.
In 1990, he launched a hunger strike which lasted 40 days. While receiving treatment in a Bethlehem hospital, he escaped from the hospital and fled Palestine.
After traveling secretly in the Middle East, he entered Bulgaria in 1994. He later married in that country; his wife and three children are Bulgarian citizens.
Zayed runs a Palestinian grocery store in the capital Sofia and is well-known among Palestinians living in Bulgaria.
On 15 December, the Israeli embassy in Bulgaria officially requested the extradition of Zayed to Tel Aviv, labeling him a "fugitive from justice." According to the website al-Araby al-Jadeed, the Bulgarian police gave him 72 hours to turn himself in.
Police came to his home last Thursday, but Zayed was not there; his son was briefly arrested and then released.
"The most important thing for us, his family, and for Palestinians, is that the government of Bulgaria does not extradite Omar to Tel Aviv," said Hamza Nayef Zayed, Omar's brother and a former prisoner himself.
Embassies enjoy protection under the 1961 Vienna convention. Bulgaria has recognized Palestine as a state since 1988.
As a result, the PA's embassy in Sofia has the same status as that representing any other state recognized by Bulgaria.
Political prisoner
The demand to extradite Zayed is based on an extradition treaty between Israel and the 47-country Council of Europe.
Quds Press has reported that Israel claims that the statute of limitations on Zayed's case stretches until 2020, 30 years from the date of his escape.
However, the extradition treaty allows "political offenses" to be excluded from its scope.
As Zayed was convicted in a military court, administered by an occupying power, he can certainly be considered a political prisoner.
He was imprisoned in the context of an anti-colonial struggle. Israel's military occupation has imposed thousands of orders on Palestinians, including the prohibition of demonstrations, political parties and social and cultural unions and associations.
By seeking his extradition, Israel is violating a series of agreements it signed with the Palestine Liberation Organization during the 1990s. Under those agreements, all Palestinians arrested before the formation of the Palestinian Authority in 1994 were to be released.
"What we are demanding is Omar's freedom and safety at home, where we have been living in peace," said Rania Zayed, Omar's wife. "The case is old, expired and invalid. It should have been dropped long ago based on the agreements between the PLO leadership and Israel."
Mass imprisonment
Despite Israel's frequent refusal to acknowledge or respect these commitments, the very existence of agreements regarding the status of prisoners underlines the fundamentally political nature of Israel's imprisonment of Palestinians.
A total of 30 prisoners arrested before 1994 remain in Israeli jails, according to the Palestinian prisoners' rights group Addameer. They are among more than 6,700 Palestinians imprisoned by Israel.
Since the 1967 occupation of the West Bank and Gaza, more than 800,000 Palestinians have been jailed. Dozens of Palestinians are arrested daily, making mass imprisonment a fact of life for Palestinians under occupation.
Palestinians under Israeli military occupation are tried in military courts. In almost every case, these courts rubber-stamp charges brought by the Israeli authorities.
Palestinians face torture on a routine basis in an attempt to extract confessions and other information from detainees under interrogation. This evidence produced under torture is regularly introduced and accepted in Israeli military courts.
Convictions in Israeli military courts fall far short of the international standards for fair trials.
Zayed's case also highlights the right to escape unjust incarceration.
The right of prisoners of war to escape is enshrined in the Geneva Conventions. Palestinians in Israeli jails have long demanded to be recognized as prisoners of war.
Bulgaria and Israel
The current Bulgarian government is composed largely of right-wing parties that are strongly supportive of Israel.
In 2014, the then foreign ministers of Bulgaria and Israel, Kristian Vigenin and Avigdor Lieberman, met. Vigenin stated that "our friendship lies on deep historic roots, which we are now further developing for the people of our nations."
At the same meeting, a "new phase" of increased security coordination between these countries was announced.
Such security coordination is now coming at a potentially high cost to Palestinians in Europe.
Zayed's wife said her husband has already suffered enough.
"Is it not enough that Omar was forced to leave his homeland and his family and live in exile?" she said. "Now he is once again facing prosecution. This injustice must end."
Charlotte Kates is the international coordinator of the Samidoun Palestinian Prisoner Solidarity Network, which is campaigning against Zayed's extradition, and a member of the organizing collective of the US Campaign for the Academic and Cultural Boycott of Israel. She also coordinates the international committee of the National Lawyers Guild.
Tags