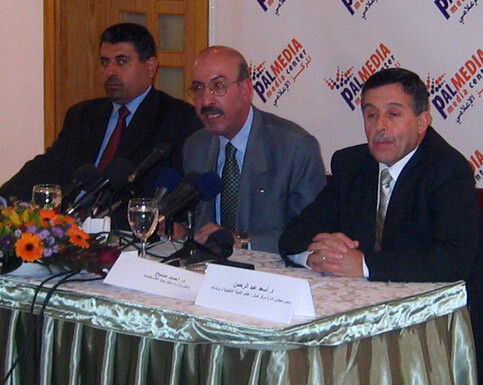 The Undersecretary of the Palestinian Authority Foreign Office Ahmad Soboh called for an immediate stop to the brain drain from the occupied Palestinian territories during a press conference held in in Ramallah on October 31 and organized by Shaml:  The Palestinian Diaspora and Refugee Centre.  Present at the briefing was Asa'ad Abdul Rahman, Director of Shaml Administrative Council and a member of the Executive Council of the Palestinian Liberation Organization. Abdul Rahman is also the Executive Chairman of Palestine International Institute in Jordan.

The press conference was held in order to alert the world to the alarming out-migration trend in the occupied Palestinian territories, which is coupled with Israeli-imposed obstacles that deny and/or complicate residency requests by Palestinian expatriate nationals who wish to work, invest and live in the oPt.

Even though Soboh did not have comparative statistics at hand regarding the number of Palestinian immigrants, he mentioned the figures of 10,000 applications by oPt Palestinians that he believed had been accepted by various countries in the past four months. The rules governing such applications often target university-educated people or potential immigrants able to invest financially in their new country, all of which translate into a severe loss for the occupied territories.

He explained that there were two kinds of factors leading to the brain drain from the oPt. The first was the loss of financial security for highly-qualified public service employees and their desire and that of many other Palestinian families generally to take refuge from Israel's assaults and the resulting loss of social security and social cohesion.

The second was the recent Israeli policy of denying tourist visas to internationals whose purpose of entering is to live and work there and/or be united with their immediate family. At the same time, the Israeli government does not provide a mechanism through which applications for residencies of this nature (short and long-term) could be procured and is currently sitting on over 120,000 applications for family reunification by Palestinians on behalf of their spouses or close family members who hold various other nationalities. Most of these applications are for Jordanian citizens.

In response to a question as to whether it would be possible for the Jordanian government to act (within the framework of its peace treaty with Israel) on behalf of its citizens who are being denied visits to their spouses and family in the oPt as well as residency permits, Asa'ad Abdul Rahman indicated that Arab countries generally, even those that have peace agreements with Israel, do not have clout of this nature with the Israeli government.

Abdul Rahman also said that Shaml will soon be organizing a workshop to come up with solutions, even if partial ones, to deal with these issues and emphasized that such solutions could only be propelled by a strong and unified Palestinian government.

Since Oslo, the Palestinians have been trying to establish and build sustainable institutions that would form the basis of an independent state. This necessitates investment by Palestinians in the diaspora both in terms of money and skills. Such a vital objective for Palestinians is now being severely undermined by the insistence of Israel and western countries on isolating and starving the Hamas-led Palestinian government that came into power in January 2006 after fair and democratic elections.

Israel is currently withholding from the Palestinian Authority millions in Palestinian funds it has collected in the form of taxes and custom duties. Additionally, the US has made it impossible for funds raised from the outside by this government to reach banks in the oPt. Financial aid by UN agencies which had targeted the development of the public service sector, has dried up. One such program administered by UNDP/PAPP called the Transfer of Knowledge through Expatriate Nationals has been undermined.

Related Links

BY

TOPIC

: Banning of internationals and foreign passport-holding Palestinians (25 June 2006 onwoards)

BY

TOPIC

: Cutting Aid to Palestine (30 March 2006)

Rima Merriman is a Palestinian-American living in Ramallah in the occupied West Bank.