There's a first time for everything, and this weekend it was Palestine's first Octoberfest-styled beer festival, held in Taybeh village. Excited local boy scouts and townspeople mixed with foreigners who had made the pilgrimage to the Biblical city of Ephraim, and the entertainment was geared towards all parties - children's performances, live music, and, of course, Taybeh beer.

Taybeh's second claim to fame, apart from its visit by Jesus before he traveled to Jerusalem, is its brewery - the only one in Palestine, and one of only a handful in the Arab Middle East. Taybeh's owner Nadim Khoury opened the brewery after being away from Palestine for some 25 years. After the Oslo Accords were signed, like many other Palestinians living abroad, he returned to invest in his home country. And while the number of families supported by the brewery has dwindled from twelve to five, reflecting Palestine's larger economic collapse from the last several years of increased Israeli belligerency, the Taybeh brewery works to set an example for other Palestinian businesses.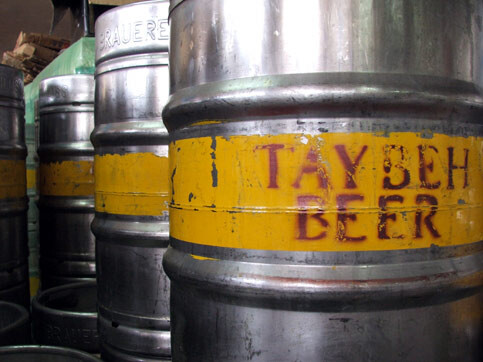 By all accounts, it is so far a success. Because of the difficulties of exporting due to high Jordanian taxes and the Israeli occupation, its market is largely local. And it boasts about half of the market - and the competition is imported beer such as Heineken, rather than Israeli microbrews Maccabee and Gold Star. A member of the Khoury family, who gave visitors a tour of the factory, said that there is even a Tel Aviv restaurant that sells Taybeh as its house beer, but not with the Taybeh label, as it's a Palestinian product.

Though Palestine is 90 percent Muslim, Taybeh beer is popular, and is brewed and bottled twice a week at 5,000 bottles per hour. It is the first Palestinian product to be franchised in another country (Germany) - and it is also sold in the UK.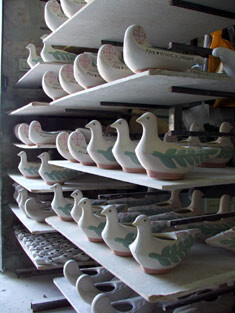 The 1,300-member-strong community's pride in the brewery is evident when walking around the village - Taybeh beer bottle cutout advertisements hang from streetlights, and beer-related imagery is painted on the sides of buildings. I asked a secondary school student giving a group of us foreigners a tour of the village whether there was any opposition from neighboring villages to a beer festival (conveniently scheduled right before the Muslim holy month of Ramadan). The answer was a firm no - and when I mentioned the violence Taybeh has recently seen, he maintained that the problem was between two families, rather than two religions - and that Taybeh has good relations with its neighbors.

Ties between Taybeh and a nearby village were put to the test after a Muslim woman from Deir Jrier was murdered by her family when it was discovered that she was pregnant out of wedlock, and it was alleged that she had a romance with a member of the Khoury family. While the details about what happened beforehand are unclear - some say that the conflict became inflamed when the Khoury family allegedly managed to have the woman's body exhumed without their permission - members of the murdered woman's family took their rage out on Taybeh village, setting fire to 14 houses belonging to the Khoury family.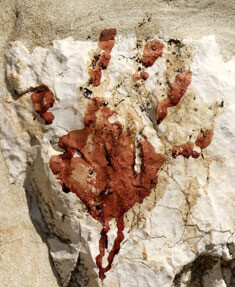 Palestinian security forces were delayed from intervening because of problems coordinating with the Israeli occupying forces (because it is considered part of Area B, uniformed and armed Palestinian security forces can only be present with coordination with the Israelis). There is now an agreement between the two families, and it also seems agreed that the conflict was a tribal family one, rather than one between Muslims and Christians.

Indeed, Christian Taybeh's long history of strong relations with its Muslim neighbors stretches back to the time of Salahdin, and it is boasted that Ephraim was rechristened with the name "Taybeh," derived from the Arabic for "generous" and "hospitable," because Salahdin found the villagers to be endowed with these virtues.

And this weekend, the primary reminders of this conflict were the burnt houses and a play called The Story of Mona, the tale of a young woman who is killed when she refuses to be forced into marriage at the age of fourteen. The Arabic-language play was intended to involve the audience in a dialogue regarding the legal age of marriage (and ultimately the Palestinian Legislative Council). However, it was unable to compete with the din of people wandering into the festival hall looking for beer, and couldn't be said to have achieved its goal because it was inaudible to most of the audience (and the wisdom of having a play of such serious subject matter during a beer festival is questionable).

However, everything else about the Taybeh festival seems to have gone without a hitch. The emphasis of the festival was to support local products, and in addition to beer, local food, olive oil, and crafts were up for sale. The young tour guides gave us parting gifts of olive twigs and spices, and one left with the feeling that Taybeh's hospitality remains a justified point of pride.

Related links:

Taybeh Beer

Currently based in Ramallah, Maureen Clare Murphy is Arts, Music and Culture Editor of the Electronic Intifada