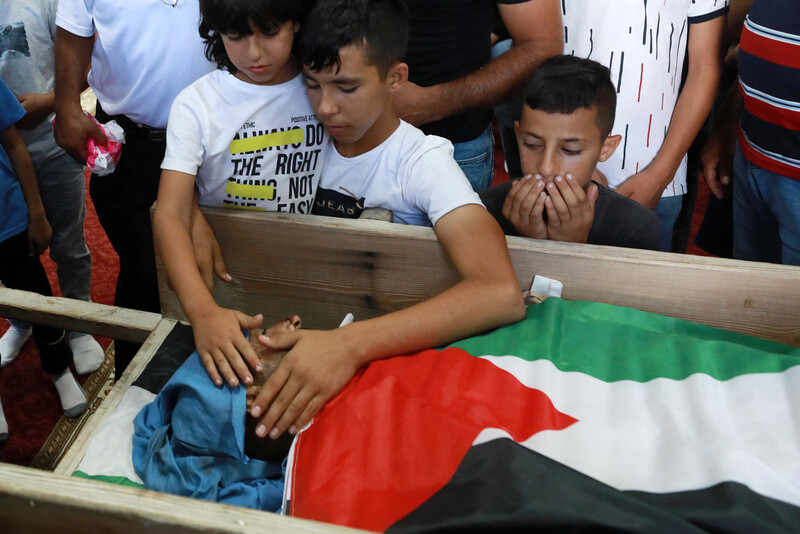 Israeli occupation forces killed 11 Palestinians in the West Bank and Gaza during September.
Around 325 Palestinians have been killed in the context of the occupation so far this year, 260 of them during Israel's 11-day attack on Gaza in May.
Ahmad Mustafa Saleh, 27, was shot in the stomach and killed​​ during protests against Israel's blockade held near Gaza's boundary with Israel on 2 September. Fourteen others were injured, including three children, one of them seriously.
Al Mezan, a human rights group in Gaza, condemned "Israel's use of excessive and disproportionate force against protesters."
Another Gaza man, Muhammad Ammar, 41, was shot and killed near the boundary east of Bureij refugee camp on 30 September. The military claimed the man was digging in the ground while "carrying a suspicious bag." Palestinian outlets said that Ammar was killed while trapping birds.
In the West Bank, Hazem al-Joulani, 50, was shot and killed in Jerusalem's Old City on 10 September.
Video shows al-Joulani being shot at close range after approaching police while holding a knife behind his back.
A statement by Israeli police admitted that al-Joulani, the director of a school of alternative medicine, was shot as a matter of first resort "before he could carry out" his alleged intention to injure occupation forces.
One Israeli officer was lightly injured in the leg from a ricocheted bullet fired by police.
Woman killed
A Palestinian woman was also shot and killed in Jerusalem's Old City on 30 September when she reportedly pulled out a knife after being stopped by Israeli police.
The slain woman was identified as Isra Khaled Khazimiya, 30, from the village of Qabatiya in the northern West Bank.
No Israelis were injured, as in so many incidents during which an alleged Palestinian assailant is killed.
Israeli forces shot and killed several Palestinians elsewhere in the West Bank during September.
Muhammad Ali Khabisa, 28, died after being shot in the head in Beita during protests in the Nablus-area village on 24 September.
Seven residents have been killed by occupation forces since May when a new Israeli settlement outpost was built on land belonging to Beita and other nearby Palestinian villages. Hundreds more have been injured, nearly 300 people between 7-20 September alone.
Israeli forces killed Osama Subuh, 28, during a firefight that erupted during an arrest raid in Burqin village near Jenin, in the northern West Bank, on 26 September. An Israeli soldier and an officer were injured by friendly fire during the raid, according to the Tel Aviv newspaper Haaretz.
Soldiers killed 15-year-old Yousef Muhammad Odeh in Burqin that same night. Odeh picked up a gun that was dropped by a Palestinian fighter injured during a shootout with Israeli soldiers, according to Defense for Children International Palestine.
Soldiers struck Odeh in the leg and head and ran over his body with a military vehicle, the rights group said.
In Beit Anan, in the West Bank's Jerusalem governate, Israeli Border police killed Ahmad Zahran, Zakaria Badwan and Mahmoud Humeidan during another firefight on 26 September.
Another Palestinian, Alaa Nasser Zayud, 22, was killed after allegedly shooting at soldiers during an arrest raid in Burqin village on 30 September.
Prison escape
The deadly raids in the northern West Bank followed the escape of six Palestinians from a maximum-security prison in Israel earlier in the month in an "unthinkable" act of daring.
The men, all from Jenin, were at large for several days following their escape from Gilboa prison on 6 September before eventually being recaptured.
During their manhunt, Israeli forces meted out collective punishment in the Jenin area by conducting mass arrests, including the escaped prisoners' family members, and imposing more severe movement restrictions.
Israeli authorities also retaliated against Palestinian prisoners, imposing a lockdown on all detention centers and preventing all access to prisoners, including visits from family members and lawyers, among other measures.
More than 350 Palestinian prisoners were forcibly transferred from Gilboa to other detention centers, according to human rights groups, and conducted violent raids in multiple prisons, particularly the notorious Naqab desert prison.
Israel is currently holding some 4,650 Palestinian political prisoners, according to Addameer, a human rights group.
Palestinian officials accused Israeli authorities of "medical negligence" in the death of Hussein Masalmah, 39, seven months after being released from prison due to a leukemia-related illness.
Masalmah complained of severe stomach pain for two months before prison officials transferred him to a hospital where he was diagnosed with advanced-stage cancer.
The former prisoner, who had nearly finished a 20-year sentence given in 2002, was released in February and died in a Ramallah hospital on 23 September.
Israeli occupation forces arbitrarily arrested Jamal Zaid, 63, at his home near al-Amari refugee camp in Ramallah on 15 September despite his kidney failure requiring dialysis. Zaid was held without charge or trial for a year beginning in May 2019.
Zaid needs "urgent medical care to prevent his health from deteriorating in light of his struggles with diabetes and complications with his kidneys and glands," Addameer stated.
Palestinians gassed
Meanwhile, three Palestinian men died in a smuggling tunnel along the Gaza-Egypt border on 2 September. Hamas authorities in Gaza "accused Egypt of pumping poisonous gas into the tunnel," the AP news agency reported.
Dozens of students and teachers were teargassed by Israeli soldiers in six schools during the month, according to the UN monitoring group OCHA. In one such incident, Israeli forces fired tear gas into the yards of a school in Anata, a Jerusalem-area town, injuring two girls and a teacher and forcing the suspension of class for the rest of the day.
On 28 September, which marked the Jewish holiday of Simchat Torah, dozens of masked settlers under the guard of Israeli soldiers carried out a "pogrom" against Palestinians in the South Hebron Hills, according to B'Tselem, an Israeli human rights group.
The attacking settlers "invaded Palestinian homes, smashed windows, and caused massive damage to equipment, including many vehicles," B'Tselem added. They also attacked a 3-year-old Palestinian boy who was reportedly hospitalized with a fractured skull.
The raid on the Palestinian communities in the South Hebron Hills has been "described as the worst incident in years," according to Breaking the Silence, a group of former Israeli soldiers who expose the violence of the occupation.
Meanwhile, nearly 400 people died​​ from COVID-19 in the West Bank (excluding East Jerusalem) and Gaza during September as the occupied territories experienced another wave of infections.
The number of confirmed cases decreased during the month and around a quarter of the Palestinian population of those territories is now fully vaccinated.