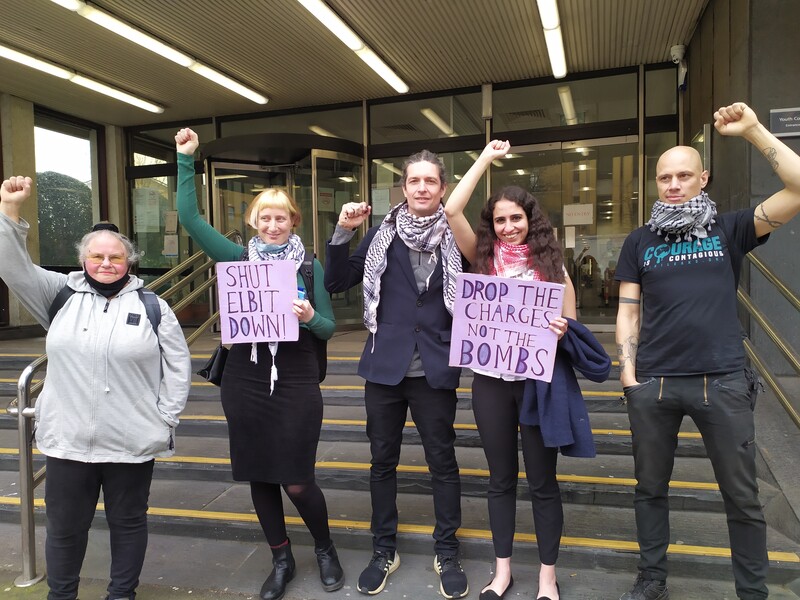 Six UK activists who took direct action against an Israeli arms company have called for charges to be dropped.

Palestine Action campaigners Huda Ammori, Richard Barnard, Jocelyn Cooney, Caroline Brouard, Genevieve Scherer and Robin Refualu have all been charged with conspiracy against Elbit Systems – Israel's largest private arms maker.

The first court hearings in the case were held at Highbury Corner Magistrates' Court in London on 31 March.

Speaking outside court Ammori said that "the real criminals are Elbit Systems who are making weapons which are used to kill people."

A prosecution case summary seen by The Electronic Intifada also accuses the six of conspiracy to destroy or damage property, and conspiracy to commit burglary with intent to commit damage – all "without lawful excuse."

Pleas will be entered on 28 April. But The Electronic Intifada understands that the six are likely to plead not guilty, arguing that they have the lawful excuse of preventing the war crimes Elbit that enables.

A similar case collapsed in January last year when prosecutors dropped it after Elbit declined to make disclosures about its activities in the UK.
Hearings and bail
The Electronic Intifada attended the pre-plea hearings of the "Elbit Six" last week. All six defendants were released on bail and given the condition they don't return to the four addresses they targeted.

In what the activists are saying is a victory, the police also gave back two passports which they say were stolen by police in February.

The charges relate to a series of eight protests targeting Elbit's UK premises between 7 June and 9 September last year.

These include their offices in central London and a factory in Manchester, along with the offices of two of Elbit's landlords, LaSalle in London and Discovery Park in Kent.

The activists are accused of entering Elbit's offices and splashing red paint both inside and outside of their facilities and applying posters outside.

Prosecutors claim the damages amounted to more than $41,000.

"The reason why the Crown are asking for further conditions [is that] those buildings have been targeted a number of times," government prosecutor Louise Ahmed told the court via video link.

She said it was "necessary to protect those buildings and the people working there and effectively this company."

The magistrate told the defendants, "If you break these bail conditions you'll be brought back to court and bail reconsidered, which often means you'll be held in custody until trial".
Support
A group of supporters gathered outside the courthouse to express solidarity with the activists, including Women of Colour in the Global Women's Strike and the International Jewish Anti-Zionist Network.
At the end of the hearings Ammori and Barnard's passports were returned. Police seized the passports during a raid on their home on 3 February.
Detective Sergeant Matthew Hearing was overheard by The Electronic Intifada in court informing the prosecution lawyer that he wanted to keep the passports.
Barnard said that he was planning to sue the police. He said taking the passports had resulted in restrictions on their movement and their access to benefits.
"It just shows that the police align themselves 100 percent with arms dealers and murderers and protect them rather than protect innocent people and children in Palestine and the world over," he insisted.
The case will be heard before a jury at a crown court. The magistrate scheduled the plea and trial preparation hearing for 10am on 28 April 2021, at Snaresbrook Crown Court, in a Northeast London suburb.
Ammori said outside court: "we've taken action against an arms company, Elbit Systems, who literally test their weapons … on Palestinians and exports them to other oppressive regimes across the world."
"Savagery"
She said Elbit "are complicit in war crimes and crimes against humanity … This is savagery, it's barbaric. And if we want to see ourselves as civilized, we have to get rid of these arms companies."
Two further trial dates have been set for Palestine Action campaigners, 17 May this year and 4 January next year.
If the case scheduled for 17 May actually goes ahead, it will be the first such prosecution against activists targeting Elbit to be brought to completion, according to Ammori.
In January 2020, prosecutors dropped a case against seven activists who shut down a factory in Sandwich, in the south of England, after Elbit refused to disclose information to the defence regarding the weapons and components it was producing.
Since 2014, Elbit has been the target of repeated actions by Palestine solidarity activists.
The business has exported drones to at least 31 countries, including Colombia, France, the US, the UK, Mexico, Uruguay and the Netherlands, according to Corporate Watch.
According to Campaign Against Arms Trade, Elbit is Israel's largest arms producer and one of the world's biggest.
Elbit makes the vast majority of Israel's drone fleet. The company also produces surveillance systems and targeting platforms.
Tags