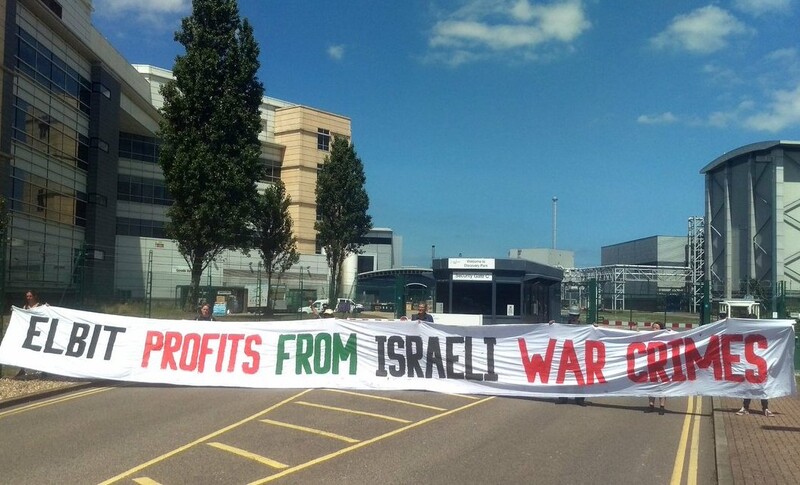 Activists will plead not guilty at a hearing on Wednesday to aggravated trespass at an Israeli arms factory in Britain earlier this year.

If it comes to a full court case, the "Elbit-Instro Seven" are likely to argue that activities by Elbit – a maker of weapons used in attacks on Gaza – are illegal.

"They will be fighting to clear their names and put the spotlight on Elbit," their solicitor Lydia Dagostino told The Electronic Intifada.

The Instro Precision factory in Sandwich – a town on England's south coast – is owned by Israel's Elbit, one of the world's largest arms firms.

The group says it shut down the new arms factory for two days in August, by blockading the main gate.

It had held a similar protest at the factory the previous month.

Elbit is Israel's largest arms producer. The company describes its drones as "the backbone" of Israel's drone fleet.

The drones were used during Israel's 2014 assault on the Gaza Strip, which killed more than 2,200 Palestinians, including 550 children.

Instro Precision makes military targeting systems, and is one of several Elbit subsidiaries in the UK.

Other groups of activists taking similar non-violent direct action against Elbit factories in the UK recently have been released without charge.

Elbit arms other countries with records of human rights abuses, including Turkey, Pakistan and Saudi Arabia, the activists said in a statement.

"The skilled engineers of Elbit-Instro could be working to make the world a better place, yet instead they are employed to build machines that incinerate children," said the Stop Elbit-Instro Defendants Solidarity Campaign.
Political trial?
A factory near London belonging to Carmel Agrexco – an exporter of goods from Israel's settlements in the occupied West Bank – was forced into liquidation in 2011 after a long series of similar protests.
The company eventually gave up trying to prosecute activists who had blockaded the factory, after they were acquitted of any wrongdoing.
They successfully argued that the factory's activities were illegal under international law.
Charges against activists who shut down another factory in 2017 were dropped two days before trial, according to Huda Ammori, campaigns officer with the Palestine Solidarity Campaign.
The activists who blockaded the Instro Precision plant are understood to be hoping for similar acquittals.
The Elbit-Instro Seven, as they have dubbed themselves, are facing maximum sentences of three months each.
They have launched a crowdfunding campaign to cover their legal costs.
Tags