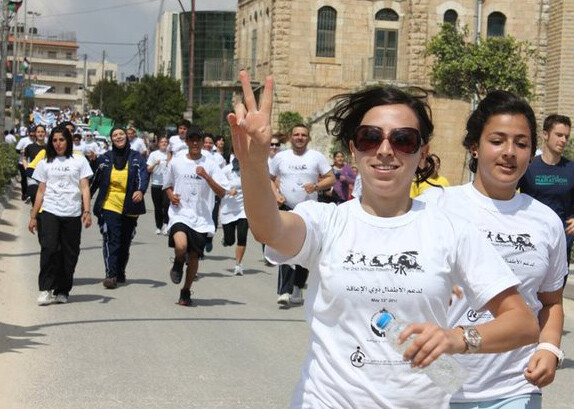 Organizers of the upcoming Palestine 5K Run/Walk through the West Bank city of Birzeit, near Ramallah, have big goals.
They hope the event will not only help build strong, local programs for Palestinian children, but will most importantly create a sense of community and belonging among people.
"A few of us wanted to see more activity in the country, more grassroots activities. We found that we had lost the volunteerism and the community spirit, and so we wanted to roll up our sleeves and do something that's needed and that will bring people together," explained organizer Aisha Saleh.
Scheduled for 27 April in Birzeit, the Palestine 5K Run/Walk is now in its third year. According to Saleh, the response has been extremely positive so far, and interest in the event has only grown since its inception.
"We learned a lot from the first year, from getting more volunteers to be cheerleaders along the route, photographing along the route, giving it more of a community [atmosphere]," she told The Electronic Intifada.
"We don't have many events in Palestine where people can go out and do something together and have fun," Saleh added. "There aren't these kinds of events where people can go out and do something for a special cause. You could tell that people enjoyed it, and we really enjoyed it."
Funds raised through the run every year are used to support to a local cause or organization working on Palestinian children's issues. So far, money has gone to a children's hospital in Ramallah and the Abu Raya Rehabilitation Center, which helps children with disabilities and special needs.
"Read Palestine"
This year, the proceeds will go to the Birzeit-based Palestine Writing Workshop. Founded two and a half years ago, the project hosts a weekly reading and writing workshop called "Cave of Imagination," where children aged five to ten years old are read stories, and encouraged to create and share their own.
"When children don't have the opportunity to play and they don't have the opportunity to develop their creativity, it obviously affects creative expression at an older age as well," Palestine Writing Workshop director Sophie DeWitt told The Electronic Intifada.
"We started working with children through the Cave of Imagination program, and it's been so fabulous and successful that we wanted to take it further."
DeWitt explained that the money raised during the Palestine 5K Run/Walk will go towards a new month-long program called "Read Palestine," where children will be encouraged to read books out loud in pairs, and will receive color-coded cards — displaying how many books they've read and each color corresponding to different levels — as a way to promote reading. The money will also go towards an upcoming children's literature festival in Palestine.
"It's an opportunity to get kids to engage in reading and in creating their own stories and becoming creative individuals. Our work was not with children originally, but because of the community where we live, we've started working with children and supporting them," DeWitt said.
"Up against something huge"
Dealing with physical obstacles in Palestine — from checkpoints dividing cities in the West Bank to the siege of Gaza — has also created challenges in organizing writing workshops. To date, the Palestine Writing Workshop has organized online workshops for people in Gaza where, according to DeWitt, there is a lot of enthusiasm about creative writing.
"Whenever we put a training online or if we have a new writer's circle, people in Gaza are the first ones to ask to join," DeWitt said. "But we're really up against something huge. It's very hard to get original copies of books. They're just completely unaffordable. You don't have a lot of support as a creative writer. Also, how do you join a workshop that's located three hours away, when you live in Hebron and the workshop is located in Nablus?"
Still, she added that getting people to open up to using reading and writing to express themselves and test their imaginations is the most important thing. "It means nothing if the doors [to the community centers] are closed and there's nobody to read the books. It's not about just giving access, but making reading that book something magical and teaching a child that he is allowed to, and encouraged to, imagine and create," she said.
"Storytelling and creative expression is empowering on a personal level, it's empowering in a community and it can be empowering politically as well. In Palestine, storytelling is a cultural imperative."
Building community
The Palestine 5K Run/Walk is also hosting a book drive to benefit the Palestine Writing Workshop and build a library for children. People can register for the race at various locations throughout the West Bank, including East Jerusalem, and can also make donations online if they can't participate themselves.
For race organizer Aisha Saleh, the event's main goal is to support the Palestinian community and bring people together despite the many challenges and hurdles they face under Israeli occupation.
"I think sometimes when you live here, it's easy to not make the effort, and there are so many barriers and so many challenges," Saleh said. "It's so rewarding just to see the community get together. Whether you're living under occupation or not, we're a community."
Jillian Kestler-D'Amours is a reporter and documentary filmmaker based in Jerusalem. More of her work can be found at http://jkdamours.com/.
Tags