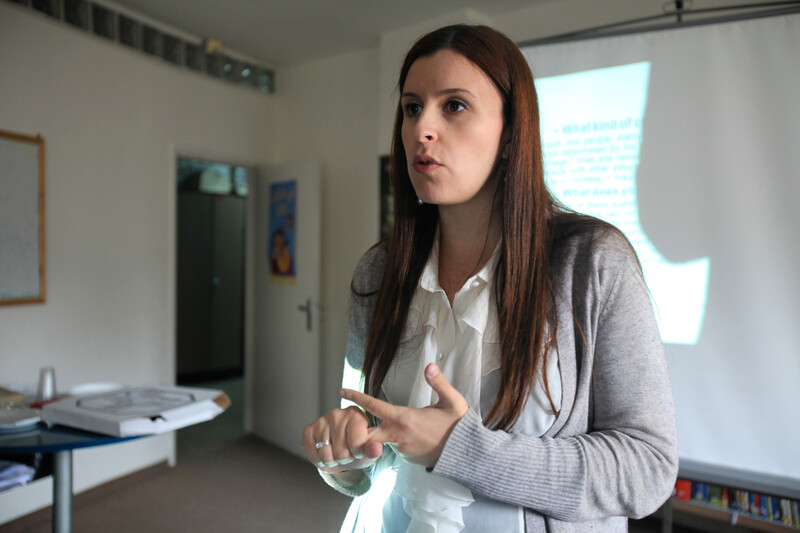 Randa Abdel-Fattah (Randa Abdel Fattah) is the author of five novels for young adults and children. Born in Melbourne and now living in Sydney, she is also a regular contributor to the Australian press, writing on Palestine and Australian Muslims. Her book Does My Head Look Big In This describes one Australian girl's experiences after she decides to start wearing a hijab Abdel-Fattah's Where The Streets Had A Name recounts the adventures of two teenagers from Bethlehem who embark on a dangerous journey through Israel's checkpoints and wall in the occupied West Bank in order to bring one of the girls' grandmother a jar of soil from the Jerusalem she can no longer visit. The Electronic Intifada contributor Sarah Irving spoke to Randa Abdel-Fattah about her writing and activism.

Sarah Irving: Could you start by telling us a bit about your background?

Randa Abdel-Fattah: I was born in Australia, my mother is Egyptian, my father is Palestinian. I grew up in what I would say was a household that was fairly confident in its identity as Australian Muslims of Arab background. So I've grown up with a strong sense of positive identity. But in the context of the first Gulf War I felt very strongly that the saturation of negative images of Muslims in the media, especially Muslim women or Muslims in connection with violence and terrorism, had a direct impact on the way that people perceived or treated me, and that was almost always within a negative discourse. And that impacted on me as a teenager. In a way, it pushed me closer to my faith and my identity and as a teenager, at the age of 13, I started to wear the veil, I became quite passionate about my identity and my faith and it was a mixture of spiritual sort of enlightenment and identity politics all rolled into one.

SI: How did you start writing?

RF: At the age of 15 I decided to write a book about growing up Muslim in Australia as a teenager. I wanted to do it because I love reading; I have loved writing since I was young and I thought it was a great medium to break down stereotypes. I sent it to publishers and they loved the idea because they recognized that most of the books out there with Muslim characters in them, or Muslim or Arab women, are books where the characters were escaping Islam to achieve liberation, or were a "whistleblower" on their faith, and so they liked the idea but ultimately they rejected it because they felt it was too didactic. So I put that aside and got on with writing a lot of articles about growing up Muslim in Australia, and I became a lawyer and then decided I'd have another stab at writing.

It was horrific to read my initial draft; it was definitely the angry rants of a teenager, and this time I decided I'd take a different approach, which was humor. Does My Head Look Big In This was the first book and it's been the most successful. There's lot in it that I've taken from my own life, particularly the experiences I had just walking down the street or trying to find part-time casual jobs wearing hijab, or observations about friends and family. It's not an autobiography — none of my books are — but they do very much draw on my own experiences or those of those around me.

SI: How do you see your writing and activism as related to one another?

RF: In terms of my human rights activism, I've very much used my writing to express my views about Australian Muslims, feminism and Islam, and Palestine. I've been very strong on that, having grown up as the daughter of a dispossessed Palestinian and visited [Palestine] in 2000 with my father, which was life-changing. So I've used my third book, Where the Streets had a Name, to look at the occupation through a child's eyes. What I try to do is take these very contentious subjects, often subjects that people don't think deeply about because they're only exposed to media headlines and sound bites, and get teenagers and adults thinking about things differently and exposing them to a different narrative.

SI: Have you ever faced controversy for addressing issues such as Palestine in children's books?

RF: Surprisingly, no. It's been almost 100 percent an amazing experience. My publishers have all been very much on board. They feel, I suppose, that these are issues that don't get enough attention, and I suppose because I do straddle different worlds, I feel that I am sensitive enough to the details of these worlds to present them to children without being didactic. Also, I respect children's ability to arrive at their own conclusions. I feel very strongly that there are many issues in young adult fiction in particular which some people might say are inappropriate, but I think we've come a long way in the maturity of young adult fiction and the ability of writers to write about a whole range of topics. I suppose Palestine is still very much a taboo issue and people do tend to freak out a little about presenting the Palestinian perspective to young adult, but I've only ever come across that point of view once though, from a UK publisher. Where The Streets Had A Name had won the most popular teenage book of the year in 2010 as voted by teenagers [in Australia], and surprisingly in America it's done very well, it's on the New York Library's top 100 books for 2010, and I thought America would be the scariest place. I think there's a critical mass of young adults who are thirsty for this narrative and they are sick of hearing the usual stereotypes and reports in the media.

SI: Have the very positive reviews you've had come from publications which politically were already open to books about Muslim identity or Palestine, or have you also been well reviewed in more right-wing publications?

RF:: Yes, definitely. I was surprised to get a good review in our local paper, The Sydney Morning Herald. And the [Australian] Daily Telegraph, which is just a rabid tabloid paper, they gave me probably my best review. So, surprisingly, the reception has been very positive. But when it comes to articles, I have a long file of examples where presenting the Palestinian point of view either as an introduction to a topic — putting in the paper without it being a response to something — or responding to something from a pro-Israeli point of view can be quite a challenge.

Sometimes, I've faced obstacles and outright rejection of my efforts, or sometimes my articles have been edited. There have so many examples where we have been shut out from responding to something. The boycott, divestment and sanctions and Marrickville issue [a Sydney city council was attacked for supporting a boycott of Israeli goods] is an example of that, where I think people would have welcomed an explanation of BDS from a Palestinian, but there was that paternalistic attitude where people who support BDS but aren't Palestinian are seen as "sufficient." We say, we have agency, we are quite capable of representing our movement and our own struggle. We would be told "there can only be so much space and that point of view has already been represented."

SI: Do you get feedback from young people about how your books have influenced their views on Palestine?

RF: Part of being a writer is that I visit a lot of schools throughout the year and I do that more than I write, actually. I usually either present talks about my books or give writing workshops. When I speak about Where the Streets had a Name I have this whole presentation because without exception, no class I've spoken to has had more than three or four people who understood what was happening, who even had a conception of what the conflict was about or that the Palestinian people existed prior to 1948. So it gives me an opportunity to get into classrooms and talk to young people — the next generation — about the Palestinian-Israeli conflict back to its roots, but also through a personal perspective. I talk a lot about my own family's experiences, I have photos, I show them what's happening because I think that personal context makes it so much more real to them and so much more than just a history lesson. Almost unanimously, students say to me that reading Where the Streets had a Name or listening to my talk has given them a completely different perspective on what's happening, and that tells me that there is a real failing in our media and our educational system.

SI: Can you talk about your work with the Palestine Writing Workshop?

RF: I was working as a writer in residence workshop in Ramallah, giving a four-day intensive writing workshop with a focus on writing for children. The participants had some wonderful ideas for books tailored to Palestinian children that were just so fresh and innovative and amazing. I also did a video-link workshop with participants in Gaza. That was difficult and I felt that they were completely missing out through the lack of access to the outside world, and they felt the same. But I've also promised to offer online support and look at their work and try to edit online, and they're keen to do that, so that was really encouraging and inspiring. They learned a lot, but I learned so much more than they learned from me.

SI: How strong is the market for writing for children within Palestine? What kinds of books are available for young people?

RF: The sense that I got from the participants is that they have a long way to go. The main issue is that books tend to idealize childhood — the children are always good, they always listen to their parents. So it was about breaking that barrier, getting them to think that when you write for children you have to write as a child and write for a children's audience, not an idealized adult in a child's body, and that was really exciting for them — the ability to be naughty, to break boundaries, and to write about topics that children want to hear about. I think there's a lot of potential there for the women I spoke with, so I'm really excited.

SI: What kind of publishing opportunities are there to turn this into reality?

RF: That's the next thing. I had one participant who had finished a book before the workshop and now I'm trying to help her edit it and look for an agent in the US or the UK. But in terms of the publishing infrastructure, I'm not so sure about the opportunities they'd have within Palestine, and I suppose that's something that neighboring Arab countries are going to have to step up to assist, because there are some amazing, amazing ideas out there.

Sarah Irving is a freelance writer. She worked with the International Solidarity Movement in the occupied West Bank in 2001-02 and with Olive Co-op, promoting fair trade Palestinian products and solidarity visits, in 2004-06. Her first book, Gaza: Beneath the Bombs, co-authored with Sharyn Lock, was published in January 2010. Her new edition of the Bradt Guide to Palestine is out in November 2011, and her biography of Leila Khaled in spring 2012.