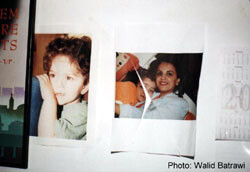 As I sit in my Columbia, Missouri apartment, the phone rings.

"I have very disturbing news," the lady on the phone said in Arabic with a shaky voice. For a moment, I did not recognize the voice, but she continued.

"The Israeli army took over the building where you lived in Ramallah."

It was Buthaina, my sister-in-law.

"It all happened so quickly," she said. "The neighbors told me that the army came, ordered them to go out and asked who was living in your apartment. The neighbor told them that you are in the United States and that you and your wife are journalists."

"Did they break into the house?" I asked.

"Fortunately, no," she said.

"And what about you, where are you now?" I wondered.

"I am now in your apartment, when they came I wasn't at home. I came back knowing nothing, soldiers were all over the place, I pushed my way through saying that I live here. They allowed me to enter, but then locked me in, they…"

"Locked you in, what does this mean?" I screamed.

"Yes, this is what I was trying to say, they took the key and closed the door from outside, giving me the choice to say locked in or leave. And if I wanted to leave I have to knock on the door to let me out" Buthaina elaborated.

"So you are a hostage now," I commented.

"Yes," the shaky voice came in.

"What about the neighbors?" I asked.

"They were ordered to leave their house," she responded.

"Then you have to leave also," I recommended.

"I know, but it is curfew now, and the soldiers are every where around here. I do not want to leave the house with no one in it," Buthaina replied.

"To hell with the house, you care about your safety, you have to leave," I said. I suggested that she pretend to be sick and call an ambulance to get away.

Two hours later, Buthaina was out of the house, emotionally exhausted. Meanwhile, I spent the next hour calling the Israeli Defense Forces (IDF) spokesman's office and the Israeli Civil Administration to make sure that the army didn't break into the house.
The

IDF

spokesman's office called me back saying there is no reason to worry, and recommended that I speak to an officer at the Civil Administration in Beit El, outside of Ramallah

The officer there assured me that "the IDF doesn't take over inhabited houses," a statement I had to argue about since the army had just kicked the neighbors out and took over their house and our building is now under Israeli occupation. The IDF gave no explanation except 'operational reasons.'

The only things I care about are the safety of my neighbors, my house and our belongings. This is the house where I shared with my wife, daughter and friends the best moments of our lives. The house tells much about our life, our tours and love. It is the place where my daughter, Tamar, left behind her toys and stories. She tells me how much she misses them and wonders if her teddy bear is sleeping in peace.

We human beings deserve peace, too. When my family and I decided to leave temporarily to the United States we were trying to seek peace or at least a peace of mind, but seems we cannot find peace even here while occupation is still there.

Walid Batrawi is a Palestinian journalist currently based in Columbia, Missouri.

Related Links:


Israel's War of Terror - Infrastructural destruction of, and human rights violations against Palestinian civil society in March/April 2002. A feature section by the Electronic Intifada.