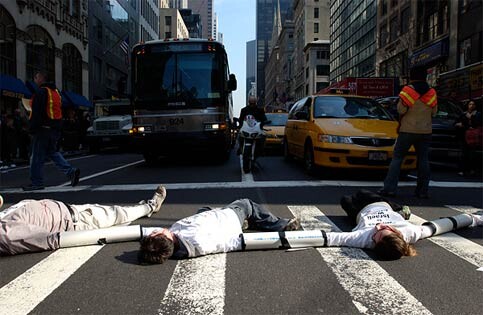 A New York City judge has imposed unprecedentedly harsh penalties on a group of anti-war protesters who blocked traffic on 5th Ave. last spring, in a move activists warn is intended as a message for those planning to demonstrate at the upcoming Republican National Convention. Four of the protesters still await sentencing and may face jail time.

On March 26, 2003, 16 protestors were arrested for blocking traffic on Fifth Ave. at 47th Street—near the New York headquarters of Israel's Bank Leumi—to protest the invasion of Iraq and the recent death of non-violent activist Rachel Corrie in the Gaza Strip by an Israeli bulldozer. On May 12, 2004, citing the defendents' history of activism, the judge in the case imposed unprecedented penalties and fines.

Judge Robert Stoltz called the protest "an imposition" of protesters' opinions on "the people of New York City," and told his courtroom that people attend political demonstrations out of "lack of confidence." Twelve activists were slapped with to a total of 90 days community service, and fines totalling more than $2,000. Four protesters—who face potential jail time—still await sentencing on May 26.

"For our nonviolent protest, we are being punished more severely than the police officers who murdered Amadou Diallo," said defendant Lysander Puccio. "Meanwhile, President Bush is under investigation for the lies and manipulations used to launch the war on Iraq, the war we were protesting."

No comparable protest case has received such heavy penalties in New York City in decades. The DA's refusal to plea-bargain with activist defendants also marked a first.

In the closely-watched case, Judge Stolz refused the DA's request for jail time for any defendant with past arrest records—a recommendation also deemed unprecedented by New York attorneys, many of whom called it a violation of ethics and criminal procedure.

But Judge Stolz did focus his invective on defendants with a history of protest. Stolz said he singled out two defendants for $500 fines and longer community service requirements—ten days cleaning city parks—because they had also protested the forced federal registration of Muslim and South Asian immigrants last May. Although the two were arrested at that protest, their cases were conditionally dismissed and sealed.

Activists say they believe the severity of the penalites, as well as the unusual intensity of the DA's prosecution, was intended to scare protesters away from the city in advance of the Republican National Convention. They also cited partisan opposition to the message of their protest.

"Our protest voiced criticism of Israel in front of an Israeli bank in a neighborhood that is financially and politically supportive of Israel and aggressive US foreign policy," said defendant Eric Monse. "In the US, we have the right to vote, to freedom of movement, while we supply Israel with billions of dollars annually to deny those rights to Palestinians. We protested as Americans who bear the heavy responsibility of our government's ill-conceived policy of war and occupation. We are at fault not if we choose to speak out, but only if we remain silent."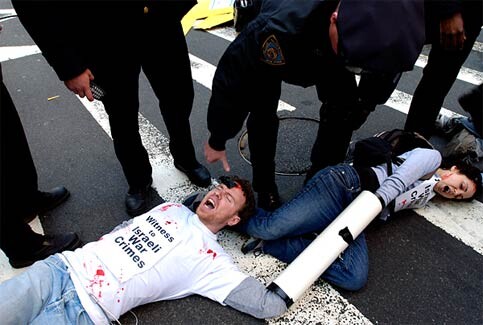 Communities around the city view the District Attorney's effort to paint protest as criminal activity as setting the stage for an estimated 1,000 arrests a day during the Republican Convention, slated for Madison Square Garden starting Aug. 31. At a press conference with the defendants, City Councilmember Margarita Lopez refused to be deterred by City efforts to chill dissent, stating: "If that's what it takes to protest the Republican National Convention, I am ready to be arrested."

Related Links

Rachel Corrie-inspired protest shuts down

NY

's Fifth Avenue (27 March 2003)

BY

TOPIC

: Rachel Corrie

David Bloom is a co-editor of World War 3 Report (worldwar3report.com) and a member of New York City's Jews Against the Occupation.