ARABS, JEWS AND OTHER CONCERNED NEW YORKERS MARCH TOGETHER TO PROTEST ISRAEL'S "SEPARATION FENCE"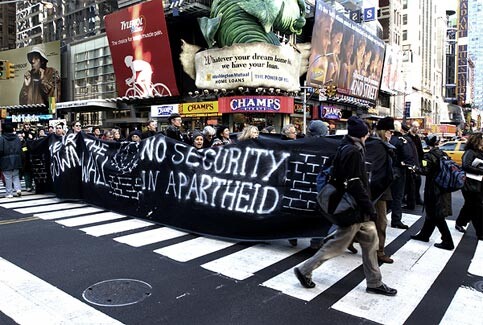 New York City, Nov 9th —
Approximately 150 New Yorkers converged at Bryant Park, Manhattan, carrying three sixty-yard mock "walls" depicting the 25-ft.-high wall enclosing the Palestinian people in the West Bank. The protesters marched down 42nd street to Grand Central Station where they carried the wall inside to display it for passer-bys, while chanting "Tear Down the Wall."
"We are sending a message to our governments to stop their support of this hideous act of ethnic cleansing veiled behind 'security' rhetoric," said Omar Jamal of SUSTAIN-NYC. "Because the wall separates between Palestinians and their land, their source of livelihood, they are forced to leave their villages to find new sources to feed their families."
The "Separation Wall" is being built deep inside the Green Line, the 1948 armistice line which is internationally recognized as Israelis eastern border. According to a United Nations Special Rapporteur, the construction of the wall amounts to "de facto annexation" of Palestinian land. As the building of the Wall progresses, Palestinians may lose more than 50% of the lands in the West Bank, including much of its most fertile agricultural land.
The concrete wall averages 25 feet high, with armed watchtowers, and a wide "buffer zone," including electric fences, trenches, cameras, sensors, and security patrols. The wall is being built only yards from homes, schools and farms. So far, 36 groundwater wells have been confiscated, 3,500 acres of land has been razed and 102,000 trees have been uprooted.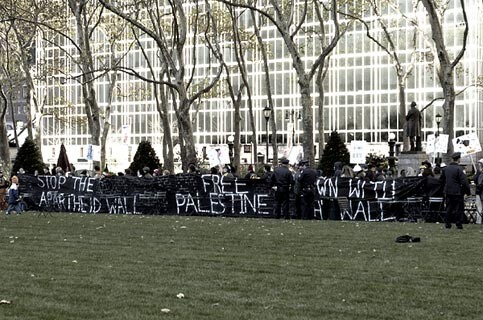 "The fall of the Berlin Wall, which also took place on November 9th, teaches us that walls constructed on the back of human suffering can and will fall" said Martin Cohen of Jews Against The Occupation-NYC. Cohen recently returned from the West Bank. "Any device designed to trample on the most basic of human rights, such as the right to life, is doomed upon its inception."
Protesters said that the building of the wall mirrors Kristallnacht, "the night of broken glass," the pogrom in 1938 in which the Nazi Regime confiscated Jewish property, the anniversary of which also is November 9th.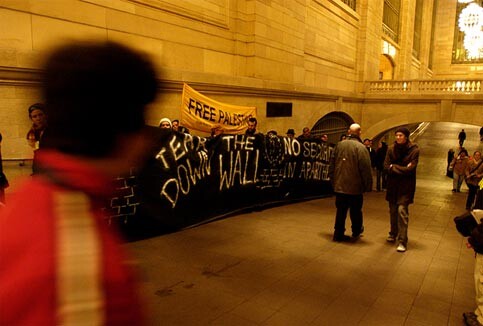 The protest was endorsed by: Palestine Action Forum of New York (PAFNY), A.W.A.R.E., NY-NJ Al nAwda, New York City Labor Against The War (NYCLAW), Arab-American Anti-Discrimination Committee-New York (ADC-NY), Direct Action Palestine (DAP), Stop U.S.Tax Aid to Israel NOW-NY (SUSTAIN-NY), Jews Against The Occupation, New York (JATO-NYC). For more information about the protest, contact (917) 562-3358. For more information about Israelis construction of the Apartheid Wall, visit: www.stopthewall.org.