Optimism for a period of peace following the elections has been misguided. In Nablus, Israeli military aggression continues as usual.

The army made a special effort for Eid celebrations. On 18 January, at 9pm, a large number of troops entered Nablus in unmarked vehicles and took up positions in the area. Soon after, a group of medics and internationals reached Old Najah Street near the Old City. More army also arrived, in about twenty military vehicles. If anyone approached the soldiers, the result was "access denied" at gunpoint.

As time passed, the real extent of the military operation became clearer: troops were operating in the Ras al-Ein area, in the area near the Ittihad hospital, around al-Ein camp and in the eastern and western parts of the Old City. In the course of the night, international volunteers worked with the medical teams and ambulances as best they could, however, all were more or less limited in their action and movement by the Israeli Occupation Forces (IOF).

Old Najah Street

The core of IOF activity appears to have been an operation to capture Hamas activist Amjad Hanawi at the western end of the Old City. Soldiers on foot controlled this area and there were many army vehicles. Houses were temporarily occupied and access blocked.

Medical volunteers and internationals tried several times to gain access to an allegedly injured person in the area, but failed. Two women wanted to reach their flat, as one of them had left her six-month old baby alone with her neighbours for a short while, but they were sent away. At half past midnight, negotiations were carried out that allowed the woman permission to get her baby out of the house.

During the operation, Hittin Sports Club and several neighbouring houses were searched and inhabitants and visitors detained. Many of them were transferred to the nearby Ibn al-Haytham School, were they were interrogated and detained for several hours. When questions about the welfare of other neighbours were asked, a soldier answered that they were sleeping and therefore fine.

We found out this morning that many neighbours had not been evacuated and had found themselves amidst bursting windows at 4.30am as the IOF blew up the house belonging to Aiman Shaka'. Before doing so, soldiers had unsuccessfully looked for Amjad Hanawi in the house, instead arresting his father, Abu Hilme Hanawi, in a building a few hundred meters away at around 2am.

During the operation many explosions and gunfire were heard. The explosion at Shaka's house flattened it completely, also causing severe damage to several of his neighbour's houses.
Near Ittihad Hospital
In the hours before midnight, approximately 20 military vehicles, supported later on by a tank, surrounded a small building close to the hospital on the northern mountain of Nablus. They were looking for a Hamas activist, Ahmed al-Bireh. Soldiers occupied several houses around the targeted building and lightly damaged some flats before they entered the building and sent more than a dozen women, children and men away.
Ambulances, medical teams and internationals were kept away and were not allowed to come close to the house. At Around 2am, the army withdrew from this area and soon after, gunfire intensified in the nearby al-Ein refugee camp. From this camp, we do not have clear information about what happened. However, the army was definitely surrounding the camp and heavy shooting was heard for several hours after midnight.
Ras al-Ein
In the late evening, military vehicles surrounded the home of Ahmed and Hamed Amoudi, two Hamas activists. Both of them were arrested. Their mother, whose husband died as a shaheed ("martyr"), was told by the soldiers to take care of her remaining son so that he wouldn't become a terrorist.
Eastern Old City
IOF troops arrested Kamal Ratrout of the Al-Aqsa Brigades in Hittin Street and 16-year old Hamza Kadri from the Zafer Masri School area.
Besides the reported six arrests, Hamas activist Omar Musleh was also arrested. Although Al-Jazeera talks of 14 people being arrested, we are unclear as to their identities.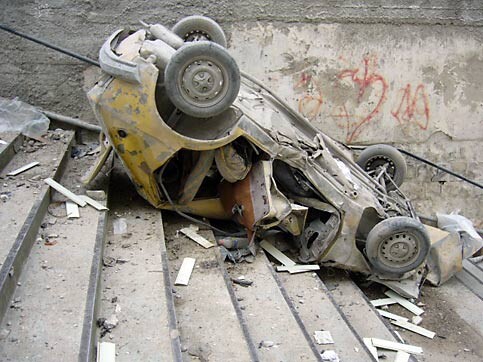 Ray Smith is a psuedonym.