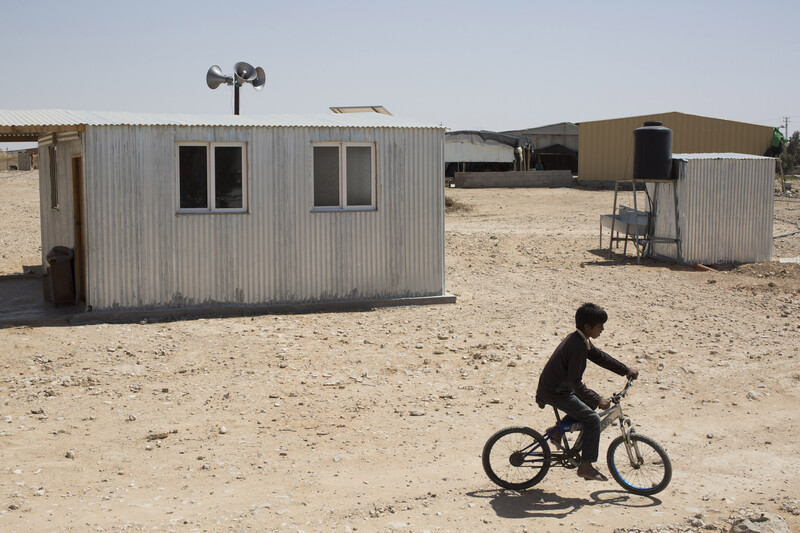 Sami Mgerh worries about his son's education. Hearing and speech impaired, the 8-year-old needs functional support at school. But none is forthcoming.
"I tried to find a class suitable for him," said Mgerh, an attorney. "I was told that it did not exist. There is no support. There is no money."
Mgerh's is not a special case. The Bedouin town of Shaqib al-Salam, or Segev Shalom, in the southern Naqab region, is — unlike many other such towns in Israel — officially recognized and was government-planned. However, like so many members of their community, the Bedouin residents of Shaqib al-Salam are subjected to institutionalized neglect from the Israeli government.
The town of some 7,700 people is home to 13 children with disabilities, who are missing out on their education due to a lack of resources. For all children in the community, there is a complete lack of educational frameworks for pupils in grades 1-3.
The absence of suitable educational facilities, such as specialized teachers, assistance services and psychological services, for children with disabilities means that many families from the town prefer not to send their children to school at all. Many fear that their children will fail to integrate into the classroom, and that this will be exacerbated by the teachers' lack of ability to provide them with the necessary support.
Separate and unequal
Educational discrimination in Israel is all too common. The education of Palestinian citizens of Israel is often undermined by policy, like the 2015 Israeli government decision to further cut funding for elementary church-run schools, which led to a school strike.
But more broadly, two education systems operate, with Palestinian schools in Israel historically denied equal funding, disadvantaging a student body that makes up approximately 25 percent of all school students in Israel. Although it is not illegal for Palestinian citizens of Israel to enroll their children in Jewish schools, very few choose to do so.
But while discrimination in schools is a broad and systemic problem, the current situation in Shaqib al-Salam is a direction violation of students' very right to education. The lack of resources for children with disabilities has a severely detrimental effect on their personal and learning potential, as well as their ability to socially integrate, including at school — should they be able to access one.
The dearth of educational facilities in Shaqib al-Salam is in contravention with Israel's own Special Education Law 1988, which states that the purpose of such education is to support students with disabilities and to assist them to integrate into society.
Sawsan Zaher, the director of the Social and Economic Rights Unit at Adalah, a legal rights center based in Haifa, described the lack of facilities for children with disabilities in Shaqib al-Salam as an "infringement" of rights.
"The Ministry of Education and local council are obliged according to the law to provide the adequate framework for disabled kids and if they don't, they violate their legal obligation," she said.
Ignored
However, efforts to draw attention to the case have so far been ignored. "We spoke to the relevant officials, but they did not reply," Mgerh said, who, along with other residents, has tried to pressure government and local officials to take action.
Adalah has similarly been scorned. A letter the rights organization sent to the Ministry of Education in early December last year has yet to receive a response.
Such official indifference has only increased residents' frustration.
"I just want a solution for the children. It is not just my son who is affected by this. If the children can't go to normal classes, they have no future," said Mgerh.
Palestinian Bedouin are the most disadvantaged segment of Israeli society and the poorest community in the country. Less than half of children aged 3 to 4 living in government-planned towns, such as Shaqib al-Salam, and the more common unrecognized villages, have access to adequate educational facilities.
Everyday discrimination
"The neglect … is related to the systematic political and institutionalized discrimination against the Bedouin. The character of the state as a Jewish and democratic state naturally cannot protect equal citizenship for Arabs in all fields," said Zaher.
The case of Shaqib al-Salam is illustrative of the disparities of budget allocations in Israel's education system. Like the other six Bedouin villages officially recognized by the Israeli state, Shaqib al-Salam is still allocated less funding than other towns in Israel.
"The budget allocation to such towns is known to be lower than other towns and all 7 [government] established [Bedouin] towns are in the lowest socio-economic cluster among all local councils in the country," Adalah's Zaher said. "It is part of the general institutionalized discrimination against Arabs in all fields."
This disparity is clear to Mgerh. "Jewish towns have all the resources they need. The schools in Beer Sheva have everything. There is no equality … The resources are there, why not for our village? Let us have proper resources," he said.
"The situation saddens me," Mgerh added. "This is not what I want for my son. Israel claims that it is a democracy, but in reality, it is a kind of dictatorship. It is hard to have hope for the future. But I hope for a better one. Where everyone has the freedom to educated."
Alia Al Ghussain is a British-Palestinian born and raised in Dubai. She holds an MA in human rights from the University of Sussex.
Tags