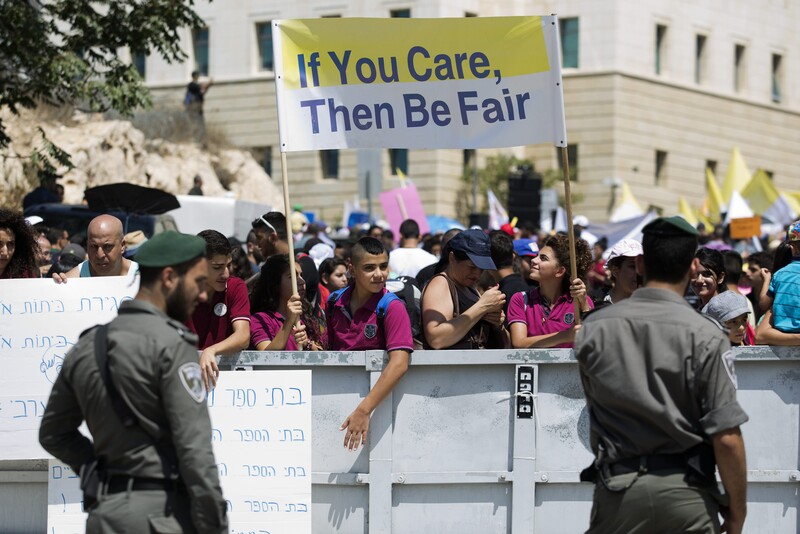 Staff in 47 Christian schools serving Palestinians within present-day Israel have gone on strike to protest against funding cuts imposed on them by the government.
They say they may escalate their protest by seeking the closure of Christian holy sites that attract thousands of tourists each year.
While the State of Israel previously funded up to 70 percent of the budget for these schools, it has sharply reduced its contribution during the past few years. Today, the state pays only 29 percent of their operating costs.
Palestinian citizens of Israel perceive the cuts as an attack on their culture and identity.
The Christian schools — which teach 30,000 children — are among the few Palestinian institutions in present-day Israel that survived the Nakba, the ethnic cleansing conducted by Zionist forces during and after Israel's establishment in 1948. Run on a semi-public basis, they follow the core Israeli curriculum but also give lessons on religion and Palestinian history.
The funding cuts appear discriminatory. Schools for ultra-Orthodox Jews in Israel have similarly been run on a semi-public basis, even though they focus on religious instruction, rather than the Israeli curriculum.
Yet the Israeli government has steadily increased its funding for such schools in recent years to the extent that they are almost totally financed by the state's budget.
Palestinian Christians comprise less than 2 percent of Israel's population. Their schools — which accept Muslims and Druze students, too — are high-performing, with a large number of their pupils later attending university.
Rani Khoury, a Palestinian from Nazareth, went to a Christian school. He said that the Christian schools have "allowed Palestinians to retain their education and they created a lot of leaders in Palestinian society."
Khoury described his school as "very political."
"I learned about the Nakba at school, as well as Israeli history, but from a Palestinian perspective," he said.
Protests against the funding cuts have taken place in various towns and cities in present-day Israel such as Haifa, Nazareth, Ramleh and Shefa Amr.
In June, hundreds of Palestinian high school students protested at the Israeli education ministry, accusing the government of trying to force Christian semi-public schools into the state system.
"If the schools continue like this, they will go bankrupt," Khoury said. "We should do more than just the strike. The government doesn't care. You don't see this on Israeli news channels; only Arabs know about it."
In total, one-fifth of Israel's inhabitants are Palestinians. Yet the state spends an average of 24 percent less on each high school pupil who is a Palestinian citizen of Israel than on his or her Jewish counterparts.
"Divide and conquer"
Rabea Fahoum, who attended a Christian school, said that such schools have struck a balance between meeting the needs of Palestinian students and the requirements of the Israeli state.
"In our school, we had many projects that were designed by the students and we could decide. We closed the school once. We also had a radio, which played political songs. When the state inspector came to the school, the principal would come to us and say 'Don't put any political songs on today, okay?' And we would say, 'okay.'"
"The students were from middle class families, all very educated and with a high level of political consciousness," Fahoum said.
"This funding cut is not about the money," Fahoum added. "There aren't that many Christian schools, and most of them are in Nazareth. It's a tactic to divide and conquer. The most important institutions that don't allow Palestinian identity to be eroded are these schools. Today, you have a specific curriculum for Druze [in Israel] but you don't have one for only Christians or only Muslims. They want to continue dividing us. "
By accepting Muslim and Druze students, the Christian schools forged a sense of unity among Palestinians in Israel, according to Fahoum.
"Fragmenting our identity"
"For the Muslims who went to these schools, it's personal," Fahoum said. "The Christians gave us services. It [the Christian school system] prevents them from fragmenting our identity, and I believe that is why they are attacking these schools."
As well as reducing funding for Christian schools, the Israeli government has placed a strict limit on the amount that parents may contribute towards their children's education.
That cap has been set at 2,500 shekels ($645) per year, according to one school administrator. The Christian schools estimate that they would need to charge twice that amount to compensate for the cuts in state funding.
After the strike began in early September — the start of the school year — the Israeli government responded by offering a 5 percent increase in spending and by allowing the Christian schools to raise their fees.
Representatives of the Christian schools rejected the offer. The schools are recognized by Israel but are not fully registered in its education system. Schools with that status are entitled to 75 percent state funding, the representatives have pointed out.
Burhan Kanj, a past-pupil of a Christian school in Nazareth, argued that Israel is striving to "make it impossible" for these schools to function.
"You can see they're not doing this for private schools in general," Kanj said. "They are only attacking the Arab Christian schools."
Alia Al Ghussain is a British-Palestinian born and raised in Dubai. She holds an MA in human rights from the University of Sussex and is currently based in Haifa.
Tags