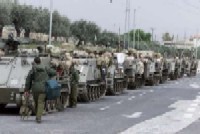 I had to return back to the office. In particular to check on unconfirmed and confusing reports from Ramallah about the situation of around thirty Palestinian policemen. I had just returned back to our appartment in Dahiya al-Barid after visiting Sheikh Jarrah with Annet. We visited the hotel where a part of the group of international solidarity activists have been, had dinner, and bought an international phonecard.

On the way back we saw a huge line of trucks with armored personnel carriers on the way south, most probably in the direction of Bethlehem, Beit Jala. When I called a colleague in Beit Jala, he already confirmed that a curfew was imposed on the town and that tanks had already rolled in the city. Earlier today, it was already reported that a huge number of tanks were standing next to Tantour, that is located just before the checkpoint dividing Jerusalem from Bethlehem.

When we reached the checkpoint near Dahiya al-Barid, a white van approached the checkpoint and Israeli soldiers who were present at the checkpoint pointed their guns at the van. We moved to the other side of the road. A soldier who sat with his knee on the floor and was shouting at the van. Immediately Israeli soldiers ran towards the van, pointing their guns on the passengers. It seemed that soldiers positioned at checkpoints are on high alert. Earlier, on our way to Sheikh Jarrah, we saw Israeli soldiers searching at gunpoint three Palestinians, who were holding their hands up, near the French Hill bridge.

Recent reports have come in at the office that Israeli forces have entered Qalqiliya. More than one hundred tanks and armored personnel carriers have entered the city and are in the city center. Electricity has been cut off to the town.

- picture, tanks at Bethlehem, REUTERS/Nir Elias.