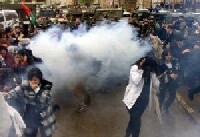 I need water. I was just caught in teargas. We were at a demonstration before the checkpoint (the one that was previously known as the Ram-checkpoint). Thousands of protesters, Palestinians (a huge number from "inside"), Israeli's, Italians, French, Dutch, Belgians, Swiss, and other foreigners, and a lot of international media (probably because they are prevented from covering Israel's assaults on Palestinian cities) were present.
The whole street was packed with people, calling for the end of occupation, international protection, freedom, justice, "libra Palestina" (the Italians wrote this on a former Israeli road sign warning people to "prepare documents for inspection"), and an immediate end to human rights violations. Among the protesters were many Palestinian and Israeli human rights and peace activists, members of the Knesset, student organisations and others. More and more busses arrived, I saw some friends from Haifa, and other friends I didn't see in a long time, due to the pressing situation.
[click here for a report from Dutch TV about the demonstration (realaudio)]
Israeli Border Police, known for their brutal response to demonstrations, with clubs in their hands, and Israeli soldiers were preventing people from passing. The march was supposed to reach Qalandia checkpoint in the direction of Ramallah. Trucks of food and medical supplies destined for the Union of Palestinian Medical Relief Committees and women's organisations were supposed to be reaching Ramallah.
Suddenly, we heard the sounds of blasts, white smoke, which made me conclude: "teargas!" People started running back, even while more protesters arrived.
We walked in a side road from where you could see the demonstration and the checkpoint clearly. Two armored personnel carriers were blocking the road on the other side of the checkpoint. An Israeli soldier on one of the carriers, behind a 500mm heavy machinegun was following persons aiming his machinegun on them.
More blasts, more teargas, I hear Israeli women shouting: "fascists, fascists!" People start running, more blasts, white smoke and tears. I felt it in my throat, tears follow, I was afraid for my asthma. Annet and I walked up to the direction of the Ne've Yacov colony, which is next to Dahiya al-Barid, where we live. From there up the hill, you can walk pass the checkpoint and come down to the other side, which we did. More sounds of teargas, people running in various directions. Back at the office, I went on the roof, I could see the Israeli soldiers, hear the blasts and see white smoke up to Beit Hanina, people running in various directions.
Hanan, one of our lawyers, just came back from the demonstration. With a tissue in her hand she tells me that she helped someone who was choking and entered a home, telling the residents that she escaped for the teargas. A number of protesters have been injured through teargas inhalation.
Later Safwat entered the office. "They beat the shit out of some protesters!" he says. He still catching some air, while talking about what he had seen. I saw an Israeli policeman pushing down an old woman who climbed up a hill. She fell a couple of meters down. I saw a member of an Israeli special unit dragging a guy out of the group and just start beating him. When other protesters started to interfere, more Israeli soldiers started to beat the crowd. Some Knesset members got injured and there have been several arrests of Palestinians.
- picture REUTERS/Mafouz Abu Turk