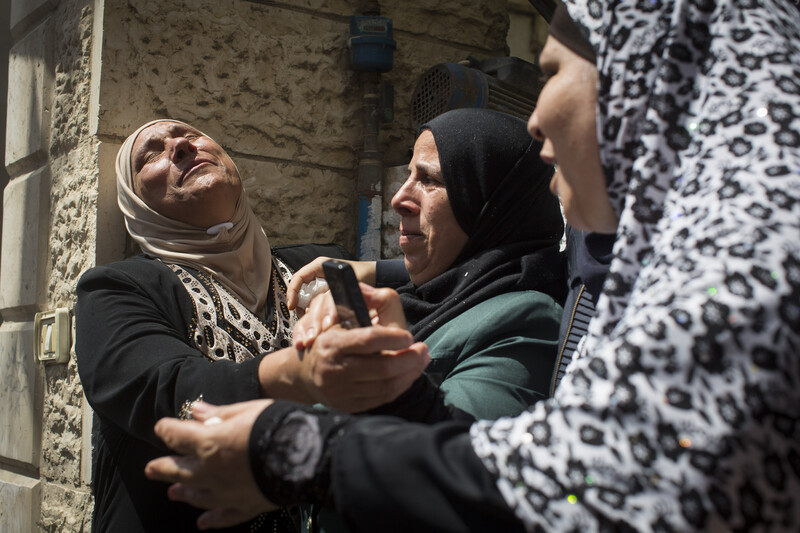 Muhammad Atta Abu Latifa had only been engaged to his fiancée Nour Taha for little more than a month. But they had been in love for years.
The couple — aged 19 and 18 respectively — had encountered opposition to their relationship from family members. They nonetheless decided to persist and succeeded in overcoming that opposition. They were looking forward to moving into their new home, which was under construction.
Israel has destroyed their plans. Ten days before they were scheduled to hold a party celebrating their engagement, Muhammad was shot dead by Israeli troops at Qalandiya refugee camp in the occupied West Bank.
Nour visited Muhammad's grave this week, so that she could place flowers on it.
"Just a few days before we were supposed to celebrate his engagement, we had to walk in his funeral procession," said Maryam, Muhammad's mother. "And instead of congratulating me, people are coming to pay their condolences."
Muhammad's family hails from Saraa, a village near Jerusalem. They were forced to leave their homes by Zionist forces during the Nakba, the 1948 ethnic cleansing of Palestine.
Muhammad is the second of three children. Like his elder brother Lafi, he was born while his father was imprisoned by Israel.
Muhammad himself served six months in Israeli detention during 2013. He was charged with firing a gun in the air during a funeral.
Firing a volley of shots as a tribute to locals killed by Israeli forces is a common practice in Palestinian refugee camps.
Muhammad was a supporter of Fatah. Yet, according to his father, Muhammad was not involved in the al-Aqsa Martyrs Brigades, a militia linked to that party, or any other armed group.
He had, however, taken part in confrontations between Palestinian youths and the Israeli military. He was especially eager to defend locals during Israel's frequent raids on the camp.
"Rather than dissuading my sons from actively resisting the Israeli occupation, I instilled resistance in their minds," Atta, Muhammad's father, told The Electronic Intifada.
Dawn raid
Known in Qalandiya for being highly energetic, Muhammad was a gifted swimmer. He had earned several medals and represented the camp's swimming club in West Bank competitions.
Muhammad was asleep when Israeli soldiers conducted a dawn raid in Qalandiya on Monday. The soldiers "stormed our home after breaking the gate and the door," said his father Atta. "His brother Lafi warned him that soldiers are coming for him so he quickly got up jumped from our home's rooftop's to his uncle's and then to his neighbor's."

The Israeli authorities have claimed that Muhammad died because he fell off a roof. But his father insisted that he was shot by the Israeli forces. The first bullet hit Muhammad while he was on his uncle's roof, according to Atta.

The family is convinced that Muhammad bled to death after being struck by a number of bullets.

Maryam, Muhammad's mother, said: "When I saw stains of blood on the roof, I knew that my son was injured. Neighbors also told me that after finally seizing him, Israeli soldiers cuffed his hands and bound his legs. His body was bruised because they also kicked him."

Jamal Abu Latifa, Muhammad's uncle, told The Electronic Intifada that after detaining Muhammad, the Israeli forces covered him with a blue blanket and carried him to Ofer, a military prison. Eventually, the Israeli forces allowed the Palestine Red Crescent Society to take Muhammad to hospital in Ramallah, where he was officially pronounced dead.

The soldiers who broke into the Abu Latifa house turned Muhammad's room upside down. They were accompanied by police dogs.
"Executioner can never be trusted"
"They said they were searching for guns, but they obviously found nothing," said Atta, Muhammad's father. "I'm convinced that they did not come to arrest Muhammad but rather to assassinate him."
Atta does not believe that his son's killers will be brought to justice by the Israeli system. It would be futile, he feels, to litigate in Israel's courts.
"The executioner can never be trusted to judge himself," Atta said.
Recent events suggest that his reservations are well-founded.
The Israeli military has not taken any disciplinary action against Yisrael Shomer, a colonel who shot dead the teenager Muhammad al-Kasbeh near Israel's military checkpoint at Qalandiya. A video of the killing proves that al-Kasbeh was running away at the time.
The video debunks Shomer's claim that his life was in immediate danger because of al-Kasbeh's stone-throwing.
Muhammad al-Kasbeh's mother was among those who expressed sympathy to the Abu Latifa family this week. So, too, did the mother of Muhammad al-Araj. Then 17, he was killed by Israeli forces during a July 2014 march at Qalandiya checkpoint.
"Resistance is an obligation"
Muhammad Abu Latifa was the third Palestinian to be killed by Israeli forces in the West Bank during a seven-day period.
The raid that preceded his killing was by no means a novel experience for the residents of Qalandiya camp. They are accustomed to being harassed and terrorized by the Israeli occupation.
Local youth displayed their anger at Israel by throwing stones at the Israeli forces following Muhammad's funeral.
The Israeli army responded by firing tear gas and skunk water, a chemical weapon that leaves a foul odor wherever it is used.
"Clashes inevitably happen after each raid," said one of Muhammad's cousins, who asked not to be identified. "Most youth in the camp do not hesitate to clash with Israeli occupation even if the gun is pointed to their chest."
"This is because we feel that we have nothing to lose. Life in the camp is intolerable. It cannot be even called life. We feel choked: no jobs, no hope, no breathing space."
Maryam, Muhammad's mother, expressed a similar view. "Muhammad is in a much better place right now," she said.
"Everyone in the refugee camp — even those who are not politically active — is forced to resist the Israeli soldiers. How can they not clash with the army that regularly raids the camp and makes their lives unbearable? Here, resistance is not a choice but an obligation."
Budour Youssef Hassan is a Palestinian writer and law graduate based in occupied Jerusalem. Blog: budourhassan.wordpress.com. Twitter: @Budour48
Tags