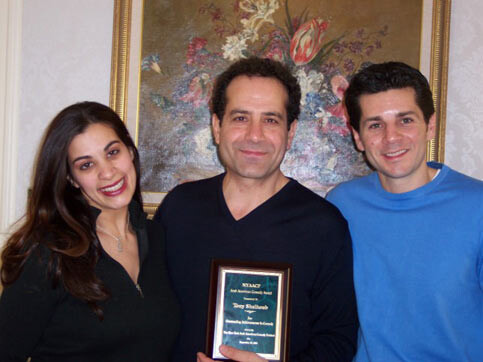 The New York Arab-American Comedy Festival is seeking submissions from Arab-American artists for its 2nd annual Festival, which will take place in New York City from October 10 -13, 2004. The Festival will be divided into three parts: comedic theater, stand up comedy and comedic films.
The details for the submissions are as follows:
Comedic theater: We are seeking comedic theater pieces not to exceed 30 minutes in length. The works can be one acts or excerpts from a longer work. The pieces do not have to be Arab themed. Please included with your submission:
Contact information and short bio
Script, with character breakdown
One paragraph blurb about the play
Optional, video tape of the play if it has already been staged
Stand up comedy: Please submit a

VHS

or

DVD

of 8 - 10 minutes of your act, plus a headshot and short bio. The comedy does not have to be Arab themed.
Comedic Films: We are seeking any length, from shorts to features, of comedic films that have been made by Arab-Americans. You can submit the film on

VHS

or

DVD

. The films do not have to be Arab themed. Please include contact information, short bio and a one paragraph blurb about the film.

All submissions must be RECEIVED (NOT POSTMARKED) by August 15, 2004. Due to time constraints, any submissions received after the deadline will not be considered for this year's Festival. Submissions should be sent to the New York Arab-American Comedy Festival and addressed to the attention of the Festival's General manger Elias EL-Hage at 317 West 95th Street, Suite HG, New York, NY 10025. If you would like your submission returned, please include a self-addressed stamped return envelope.

We will be informing artists about the Festival's selection by September 1, 2004. If you have any questions, please contact Dean Obeidallah at DObeidallah@aol.com or Maysoon Zayid at zeitoonah@yahoo.com. In addition, you can check our website periodically for updates at www.arabcomedy.org.

We look forward to your submissions!

About last year's Festival:

Last year was an overwhelming success, with the entire Festival playing to standing room only crowds. The Festival showcased a diverse group of Arab-American comedic plays, stand up comics and short comedic films, with the participation of over 40 Arab-American artists.

The Festival received positive media coverage in numerous national and local publications including The Village Voice, the nationally syndicated radio program Democracy Now, and in various international and national Arab-American publications. In addition, representatives from various casting agencies and television networks attended the Festival in search of fresh and new talent, including NBC, CBS, and Comedy Central.

Many of the participants of last year's Festival have already benefited form the increased visibly they received. The plays Browntown and Live with Pascal and Chantal had their world premiers at the Festival and were recently selected to be a part of this summer's prestigious New York International Fringe Festival. Actor Omar Metwally, who appeared in our theater night, was recently nominated for a Tony Award for his role in the Broadway play Sixteen Wounded; actor Piter Fattouche will be co-starring in the new upcoming TNT mini-series The Grid; and comic Helen Maalik will be seen regularly this summer in the new Oxygen Network television program Nice Package. In addition, since January, Festival co-founders Maysoon Zayid and Dean Obeidallah have been co-hosting a new radio show in NYC on WBAI radio 99.5 FM that focuses on Arab-American artists.

Related links