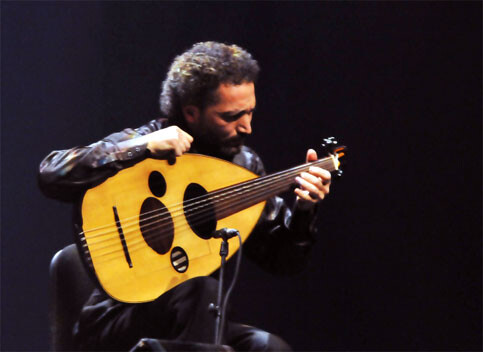 Celebrated Iraqi musician Naseer Shamma plays emotive compositions in beautiful tones on the oud to major audiences across the Middle East, stirring musical reflections on human realities in US-occupied Iraq. Although Iraqi current affairs are clearly interwoven into Shamma's sound, it is also unique musical talent that has earned Shamma a reputation as one of the world's preeminent oud players.
As war continues to fragment Iraqi society and sectarian violence impacts daily life, Shamma's music offers a profound acoustic reflection on the country's agony. In addressing this tragedy, Shamma's work contributes to contemporary Iraqi culture, a musical narrative on living history.
"Reconstructing Iraq also means rebuilding from the impacts of the war that have seriously damaged the arts," Shamma told The Electronic Intifada. "Try to imagine that more than one million Iraqis have died now in this war, so most people actually are now focused on survival in Iraq but also we are fighting to retain our culture. Through culture now we are refusing to be silent against injustice."
Stretching back to the first Gulf War, Shamma's oud articulations on an Iraqi tragedy from American "smart bombs" caught ears and hearts across the Middle East. Shamma's "Happened in al-Amiriya" is a moving musical commemoration of Iraqi civilians killed in a US bombing raid that struck an underground shelter in Baghdad's Amiriya district, killing more than 400 Iraqi civilians in 1991.
The song begins in gorgeous tones and suddenly drifts into siren-like, mad oud strumming, a musical emulation of the US bombing raid. Shamma's famous piece is a fascinating contemporary reference to Jimmy Hendrix's famous rendition of the "Star-Spangled Banner" which he performed at the Woodstock festival in 1969 to protest the alarming military violence of the US war in Vietnam.
"War has a major, major impact on culture in Iraq," explained Shamma after a performance in Montreal this fall at Festival du Monde Arabe. "It will take Iraq generations to heal from the US invasion and a major part of our national healing will happen through the continued development of Iraq's artistic heritage."
Beyond present-day Iraq, Shamma's music speaks to a deep cultural history, rooted in musical traditions extending back more than 5,000 years to Mesopotamia. Indeed, the first known images of the oud were drawn in an ancient city that is today Nasiriyah, Iraq. Shamma shines today over an expansive history with ancient roots tied to the origins of human civilization.
Iraq is widely viewed as the birthplace of the oud, an instrument that has traveled across countries and continents, a cultural fixture throughout the Middle East and into Asia. Celebrated songs on resistance to colonization and oppression in the region during the past century often have been popularized on the oud.
Take Lebanon's oud master Marcel Khalife, whose haunting melody on Palestinian exile, "Jawaz al-Safr" ("passport"), remains a popular poetic expression on Palestine. In Egypt, popular singer Sheikh Imam spoke out for Egypt's working poor and put oud music to the words of celebrated poet Ahmad Fouad Najm. It is upon this incredible history, interlacing the oud and popular resistance, that today Shamma builds upon.
Shamma's role as a socially conscious Arab artist stands in contrast to cookie-cutter pop singers common today in the Middle East. As sugar-coated melodies blare on TV screens at cafes across the region, music often marketed by Saudi-based music corporations, independent and politically-rooted artists such as Shamma play an important role in maintaining that critical connection between culture and political struggles for freedom in the region.
On Palestine, Shamma has consistently spoken out as an artist.
"Actually without culture there is no life and in Palestine the [Israeli] occupation works in different ways to erase Palestinian culture," said Shamma. "As an artist the Palestinian cause touches me, but also inspires me because the Palestinian people have retained their culture in a strong way despite the extreme pressure on Palestinian society [stemming] from the Israeli occupation."
In expressing open support for Palestine, Shamma's words are meaningful as they rest on years of dedicated musical development and a cultural career in the Middle East that has led to Shamma become one of the few contemporary classical artists celebrated at a popular level in the region.
It is not without political risk that Shamma speaks out for Palestine from Egypt, a country held under the political grip of President Hosni Mubarak, whose political moves in recent years illustrate unwavering political backing for successive Israeli governments. Today in Egypt public positions in solidarity with Palestine expressed by celebrated artists like Shamma, present a strong challenge for other prominent cultural figures in Egypt and the region to publicly advocate for the Palestinian cause.
Shamma is regarded as a contemporary cultural guardian over Arab musical heritage and in recent years has opened multiple music schools across the Middle East called Beit al-Oud al-Arabi or The Arab Oud House. In Cairo, students from around the world gather to learn about Shamma's unique style at Beit al-Oud al-Arabi, while there are plans to open additional schools in Doha, Qatar and Khartoum, Sudan.
"Now we are building a new musical generation through Beit al-Oud al-Arabi," Shamma explained. "In the youths' eyes we see our future. We are building peace through music, maintaining our culture despite incredible violence against our people, in Baghdad and also in Gaza, sustaining our culture is also resistance."
Stefan Christoff is a journalist and community organizer in Montreal and contributor to The Electronic Intifada and can be contacted at: christoff A T resist D O T ca.
Related Links