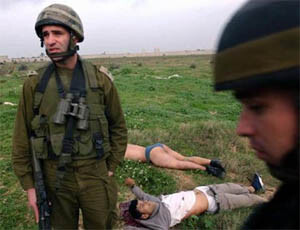 "Two Palestinians threw grenades Monday at an Israeli bus in the Gaza Strip and were shot dead by Israeli troops," the Associated Press (AP) reported on 13 and 14 January. AP stated that in the incident,
"the two attackers charged the bus as it left the Jewish settlement of Netzarim, a senior army officer said. Troops opened fire, killing the assailants. A pistol and six more grenades were found on the bodies, said the officer, who gave only his first name, Yoel. The Islamic Jihad claimed responsibility." ("Two Palestinians Killed in Gaza Strip," Associated Press, 13 January 2003)
According to its caption, an AP photo showed "Israeli soldiers guard[ing] the bodies of two Palestinians that were killed as they were trying to infiltrate to the northern Gaza Strip Jewish settlement of Netzarim on Monday, Jan. 13, 2003." The photo caption repeats the claim that "the Palestinians threw grenades at an Israeli bus before being killed by Israeli troops." AP named the men as Jamal Abu Qumbaz and Karam Al Maghani.
Reuters news agency reported that "the Israeli army said troops in the Gaza Strip shot and killed two Palestinian men armed with grenades and pistols as they ran toward a bus carrying Jewish settlers." (From "Sharon regains ground in new poll," Toronto Star, 14 January 2003)
The BBC website said, "Israeli troops have killed two Palestinians as they ran towards a bus of Jewish settlers south of Gaza City, according to Israeli military sources. Israeli radio described the Palestinians as children, but the military sources said they were young men in their twenties, armed with home-made grenades and a pistol." ("Two Palestinians shot dead in Gaza," BBC News Online, 13 January 2003).
As AP, in particular, is one of the world's leading news agencies, its report of the "grenade attack" on the settler bus, and the subsequent killing of the two assailants made it into newspapers all over the world. But it appears that significant details of the incident, stated with such certainty in AP's reports, are far from clear.
The Israeli army's ("IDF") own website failed to mention any attack on a bus prior to the killing of the two men, and said only in a short item scrolling across the top of its site that:
"An Islamic terror squad was identified by security forces preparing to carry out a terror attack in the northern Gaza Strip.

IDF

soldiers opened fire towards the gunmen, killing the terrorists and preventing the attack from taking place. A large quantity of weapons was found on the terrorists' bodies during searches of the terrorists and the area."
This item disappeared from the site, and no description of the incident has been posted among the "

IDF

spokesperson's announcements," where all alleged incidents, no matter how minor are usually, reported. The office of the

IDF

spokesperson failed to respond to two emails requesting further information about the incident.

The Israeli newspaper Ha'aretz reported on 14 January that "The Israel Defense Forces yesterday killed two armed Palestinians who tried to attack a civilian convoy near the settlement of Netzarim in central Gaza." ("IDF thwarts terror attack in Gaza, kills two," Ha'aretz, 14 January 2003).

But the rest of the Ha'aretz report offers a vague account in which it is far from clear that the two Palestinians actually did anything or were capable of doing anything prior to being shot dead. According to Ha'aretz,
"The incident began at about 2:30 P.M., when soldiers stationed at an outpost near the settlement heard an explosion, apparently caused by the firing of an anti-tank missile. A few minutes later, they saw two Palestinians approaching the convoy, which was ferrying civilians from Netzarim to the Karni crossing between Gaza and Israel. The soldiers opened fire and killed both Palestinians. Five hand grenades and a pistol, from which about 10 bullets had been fired, were found near their bodies."
The report continues,
"The

IDF

believes the two were planning a terror attack in the Netzarim area - though it is not clear why they had only a pistol instead of rifles. One possibility is that they were acting on their own rather than under the auspices of a terror organization and could not obtain ammunition for a rifle. There is currently a severe shortage of light ammunition in Gaza due to the army's success in destroying many of the tunnels in the Rafah area that were used to smuggle arms in from Egypt."
In this contradictory account, the soldiers were alerted by a sound "apparently" but not certainly caused by an anti-tank missile. A few minutes later they see two Palestinians and shoot them dead. They discover that the two Palestinians are armed with "grenades" (which according to the

BBC

were "home made"), and may not even be able to obtain sufficient bullets for a rifle, let alone an "anti-tank missile."

Neither the Ha'aretz report, nor the "IDF," made any mention of a grenade attack on the bus. What actually happened is impossible to tell. What is clear is that AP and perhaps others relied solely on the initial, self-serving Israeli army account of the killings. Exactly what the men were doing when they were killed, and whether weapons were really found "near" them, cannot now be independently verified.

On 15 November 2002, the Israeli government falsely claimed that Palestinians had carried out a "massacre" of "Jewish worshippers" in the occupied West Bank city of Hebron. In fact, Palestinian fighters had carried out a careful ambush targeting only armed occupation soldiers.

The duty of reporters is to alert readers to the inadequacies of the information available, to emphasize that Israeli army reports, which are often false and self-serving, are unverified, and avoid reporting such claims as uncontested fact.

Ali Abunimah is one of the founders of the Electronic Intifada.

Related Links:


Israel falsely claims "massacre" of "worshippers" in Hebron, The Electronic Intifada, 16 November 2002