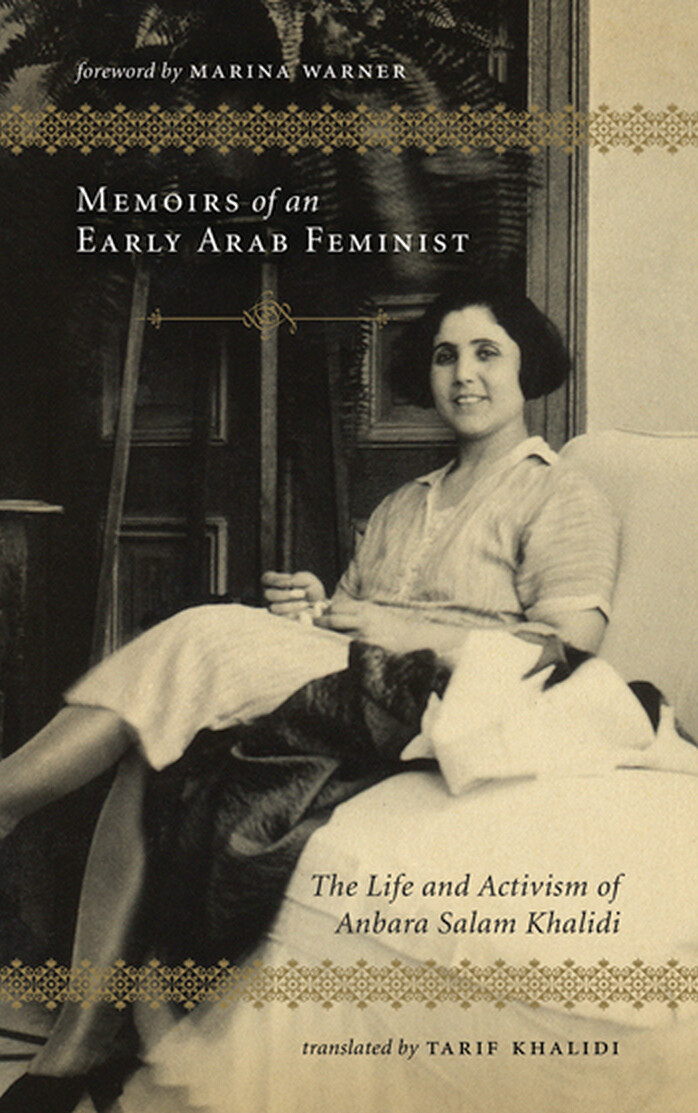 Anbara Salam Khalidi's Memoirs of an Early Arab Feminist was published in Arabic in 1978, and tell a life story which spans Ottoman, British and Israeli colonialism. Finally available in English — translated by Anbara's son Tarif — this slender autobiography challenges many stereotypes about the place of women in Arab society, as well as being a reminder of the artificial and cruel ways in which the modern Levant is fragmented.
Anbara Salam was born in Beirut in 1897, one of 12 children of an affluent Muslim merchant. Her family was deeply religious and valued education; her mother came from a family of scholars and, when not managing the family home, read Arabic history, religious books and literature (15).
Two of Anbara's brothers served as ministers in various Lebanese governments, and one as prime minister. Of her sisters, the youngest, Rasha, devoted much of her life to the Palestinian struggle (6-10).
One fascinating aspect of this book is that, although Anbara Salam lived until 1986, her life spanned some of the most intensive social and technological change seen by humanity. Her memoirs include, for example, detailed descriptions of Lebanese Muslim wedding traditions which, in the 1970s, she set out in detail so that young Lebanese could learn about practices which had almost died out (28).
Rebellion
She also recounts her amazement at seeing electricity, lifts and cars on her first visit to Cairo, and notes that she felt Egyptian women to be more "liberated" at the beginning of the twentieth century. As an upper-class Lebanese woman, Anbara and her mother wore full-face veil with black net sections covering their eyes; Egyptian women, on the other hand, had openings through which they could see, and their eyes be seen (38).
As a woman, Anbara Salam Khalidi's memoirs also include details which are missing from male autobiographies. She notes that her mother breastfed all 12 of her babies (5) — at a time when many American and European infants of similar class were wet-nursed or bottle-fed — but that the younger children were subject to fashionable, strict new ideas of timed feeding and naps, whereas the older siblings had a freer upbringing (8).
Her mother, she recounts, was "attached" to her veil, and at the dentist would wrap a scarf around her head so that only her mouth was showing (20).
Anbara herself, though, says that she rebelled against the veil from an early age, and it is clear from her memoirs — in which the incident is mentioned a number of times, and trailed from early in the book — that her public unveiling for a lecture in 1928 was a key point in her life (113). The act replicates the famous removal of their veils by Egyptian feminist Huda Shaarawi and her companions in 1923.
Jerusalem years
Along with her questioning of other gendered practices in Lebanese society, Anbara Salam Khalidi mentions that she refused multiple offers of marriage. Indeed, she remained unwed (by choice) until the age of thirty, and it was her marriage which involved her intimately in the Palestinian cause and the Nakba of 1948 (129).
Her choice of husband was Ahmad Samih Khalidi, a scion of a famous Jerusalem family. Ahmad's brothers included Husayn, mayor of Jerusalem during the 1930s and one of several Palestinian nationalists to be deported to the Seychelles by the British, and Ismail, the future father of the eminent Palestinian historian Rashid Khalidi (Ahmad and Anbara's own children include the historian Walid Khalidi, co-founder of the Institute for Palestine Studies in Beirut).
Anbara's account of her married life is almost entirely taken up with tales of the struggle to organize Palestinian civil society in the 1930s and 40s, under harassment from the British Mandate and growing Zionist immigration.
Anbara was particularly active in the national women's movement, while her husband was an educator who ran the Arab College in Jerusalem and founded a school for the sons of martyrs of the Palestinian resistance. As members of the elite, Anbara's Jerusalem years are peppered with such figures as the poet Ibrahim Tuqan and Hind Husseini, who founded Dar al-Tifl to provide homes and schooling for the orphans of the Deir Yassin massacre.
Catastrophe
Despite their status and their social circles of journalists and diplomats, the Khalidis, like 750,000 other Palestinians, were forced to flee in April 1948. Anbara wrote that "our hearts were very heavy and our nerves near breaking point … tears filled my eyes. I would go out of the door, the walk back in again to examine the rooms … as if to bid them farewell and promise them that I would come back soon" (160).
Of course, she and her family never did.
The book is translated in a formal, slightly old-fashioned, sometimes ornate style which, one suspects, is pretty true to the original (which I haven't seen). While political criticisms are leveled in strong terms, personal and family issues are treated in a somewhat idealized manner — the most dramatic tensions we see amount to no more than childhood pranks.
We don't get to see far behind the scenes of Salam-Khalidi family life. With the exception of her observations on women's changing roles, Anbara's memories are interesting and important not for what they reveal about home life through the "long twentieth century," but for how ordinary life for people in the Levant intersected so inescapably with politics and imperialism.
In her 1978 introduction, Salam Khalidi notes that many of the papers which might have given more precise details have been lost or destroyed — some by the family to keep them from Ottoman authorities seeking to incriminate her Arab nationalist father, some by the French Mandate regime cracking down on political resistance, and some lost when Anbara and her family had to flee Jerusalem in 1948.
Three different phases of occupation and colonialism, each of them robbing people not only of their land and liberty but also of their personal mementos and memories. Anbara Salam Khalidi lived through all three, to tell her story of struggle and change.
Sarah Irving is a freelance writer. She worked with the International Solidarity Movement in the occupied West Bank in 2001-02 and with Olive Co-op, promoting fair trade Palestinian products and solidarity visits, in 2004-06. She is the author of a biography of Leila Khaled and of the Bradt Guide to Palestine and co-author, with Sharyn Lock, of Gaza: Beneath the Bombs.
Tags