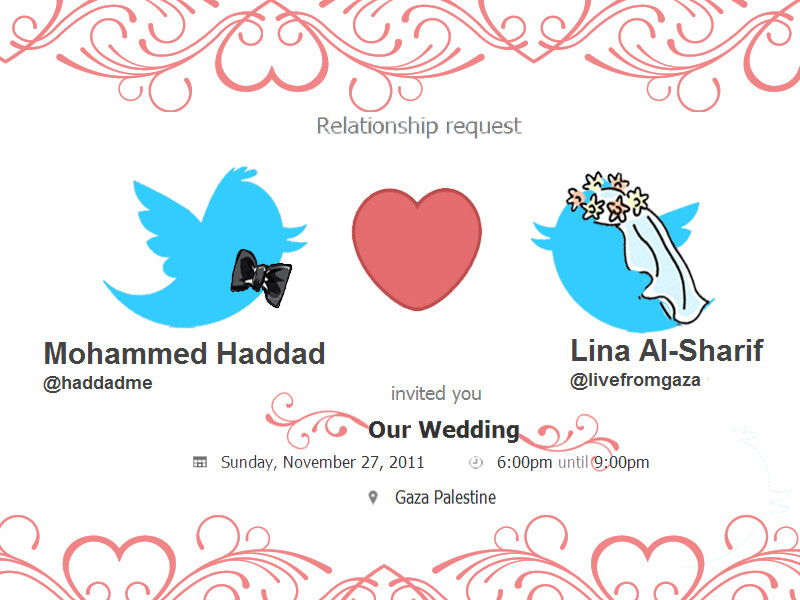 The idea of writing about something very personal is haunting me. As a Palestinian, it's really hard to know where to draw the line between the political and the personal. But, in Palestine, the personal is political and the political is the personal. For now, I'll keep the political away and dig down into the personal.
My blog Live from Gaza has been an outlet for me to write some simple and humble accounts coming from a very ordinary person living under extraordinary circumstances.
Being a woman from Gaza formed the person that I am today. I proudly consider myself born and raised in Gaza even though I was actually born in Kuwait and moved to Bolivia before coming to Gaza. I discovered my voice on the electronic pages of my blog, where I've written a digest of my life.
Now that I am getting married, it's the time to share my story — a life story, a love story, a Palestinian story.
In the past few months, I've been living through some very fast-paced events. I'd be lying if I say that I understand all of them 100 percent. But all I know is that they look like everything I hushed to myself in my sleepless dreams but never actually thought would happen. But they did happen!
I'm a few days away from reuniting and getting married to a man who I really respect, admire and love. Our story proves that love knows no borders, no siege, no time and no occupation. It all started by a tweet debating whether the loud bang that was heard across Gaza was an Israeli bomb or just some thunder.
Building a future
We started as friends who shared the same interests. We tweeted together as Egyptians were toppling Mubarak in Cairo's Tahrir Square. After chatting online for a while, Mohammed became my best friend. Long chats about Palestine, the world and the future dreams led us to believe that we can build a future together.
Mohammed is Palestinian South African working in Qatar. God brought us together through the social media tools we used to communicate: Twitter, WordPress, Facebook and G-chat, then later on Skype. He left Gaza just a few days before I first knew about him. The last thing I expected in my life is to be engaged and married to a Palestinian South African!
Even when I first told my parents (yeah, I am a Muslim woman who didn't have an arranged marriage, get over your stereotypes), they were surprised to hear that I was in love with someone from South Africa. But love knows no difference between South Africa and Palestine. Actually, between South Africa and Palestine, there's the common love of freedom and dignity.
Meeting Mohammed
In April, we were officially engaged. But I had still not yet met Mohammed in person. From April to September, our chats were often cut by the electricity outages, bad Internet connection and the Israeli siege on Gaza. Hearing the ghastly stories of Rafah crossing, the continuous closures and the difficulty of going out and in Gaza, made us more determined to meet. But there were times when I used to tell Mohammed: "being engaged to a Palestinian is a pain, isn't?" To which he would answer: "I love you all the more because you are a Palestinian." That answer was enough for me to stand the days, weeks and months of talking on Skype.
Palestinians don't have airports to travel anywhere, so I had to endure a six-hour trip though Sinai to Cairo then from Cairo's international airport to the intended destination. So, a trip to South Africa took about six hours by car and eight hours by plane, but the result was totally worth it.
Finally I met my future husband. I enjoyed South Africa for the richness of its history. We visited the Apartheid Museum in Johannesburg where similarities between the Israeli occupation and the former South African apartheid regime are striking. I felt like I was home in South Africa. Indeed, now it's my second home.
After a forty-day trip between Gaza, Cairo, South Africa, Cairo again, Jordan, then Cairo again, I returned back home to my parents. Mohammed went back to Qatar. Going back to Gaza was like sending me back to prison. We both felt the fear of not being able to go out again. But I'm from Gaza, Palestine, and our wedding must be in Palestine, too.
A difficult good-bye
Time flew by, and very soon I'm uniting with the man that I love in the country that I love here in Gaza. But I'm also a few days away from leaving my family here. Though I'm moving, I know that no matter where I go, I'll carry Gaza, Palestine and the struggle along with me. Home is where my heart is. And my heart, mind, and roots will be in the country and the city where I grew up.
As I anticipate starting my new life in Qatar, I've been buying Palestinian crafts, Gaza mugs, Palestinian embroidery, Palestinian traditional dress and kuffiyehs (traditional checkered scarves). I am moving a part of Palestine that I really cherish into my small house. And I know that I'll be telling stories about the sea, the war and the contradictions of life in this part of Palestine.
The good-bye will be difficult. Leaving my family, especially my mother, will be the hardest thing I'll do in my life. The fact that Gaza is not free makes it difficult to visit it whenever I want. Any trip would require me to cross a desert and withstand the humiliation of the Rafah crossing, let alone the possibility that it can be closed anytime. So, I'll live with the hope that I'll be seeing them again, God willing.
Lina al-Sharif is a 23-year-old blogger from Gaza, Palestine. Follow her on Twitter at http://twitter.com/livefromgaza
Tags