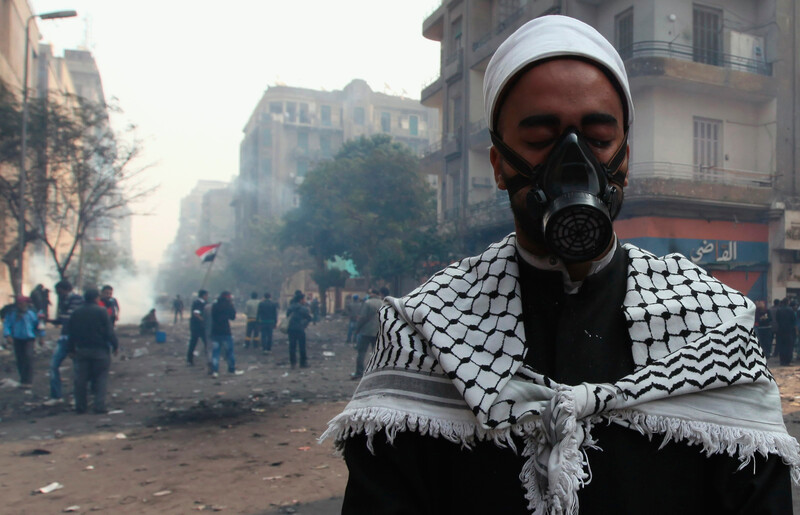 Today I felt I should do my job as a journalist by heading for Tahrir Square. I have been here in Cairo for the past four weeks, fighting my own battle at a Cairo hospital to which my wife was referred from Gaza.
At Tahrir Square, demonstrations peaked today with tens of thousands mobilizing after police killed dozens of protesters and injured hundreds more in recent days.
At around 11:30am, I was standing right in front of the huge office building in Tahrir Square, known as Mujama al-Tahrir. There were thousands of young people protesting in the street just next to the building, while hundreds of Egyptian riot police met them with tear gas canisters and rubber-coated steel bullets.
At that moment, I had competing thoughts; on the one hand, my main concern — my reason for being in Cairo — was my wife's health condition, as I was expecting her medical papers to be completed at any time. And on the other hand, I was thinking of the best angle to cover the mounting demonstrations in Tahrir Square.
An acquaintance of mine from the Cairo-based al-Ahram Center for Strategic and Political Studies suddenly popped out from among the crowd at Tahrir Square. Saniya is a young Egyptian woman whom I have recently gotten to know.
"Hi Ustaz Rami, ezzayak," how are you, Saniya asked me in Egyptian dialect. I told Saniya that I was there trying to shed light on the first responders treating wounded protesters, and those who bring in food and drink to them and the others who seem to be keen to protect the 25 January revolution.
"Mr. Rami, I am here to bring in some medicines from nearby pharmacies to help treat on the spot those who inhale tear gas. I have heard that the gas is poisoned and that's what some local newspapers have suggested as well. Have you heard about this Ustaz Rami?" asked Saniya.
Saniya and I talked very briefly near the Tahrir Square subway station while some people on motorcycles carried away people suffering from tear gas inhalation.
Suddenly, while we were chatting, my mobile phone rang. It was the doctor who treats my wife at the hospital. She informed me that papers for my wife were now ready and that my wife can start her needed treatment.
Of course, it was welcome news for me and for my wife as we have been waiting so long for her therapy to start. Since the end of July 2011, my wife and I have come to Cairo twice, hoping that she would eventually undergo treatment for a tumor she has long suffered from.
At this moment, my mood changed completely, and while I was talking with Saniya about a possible human interest story about Egyptians like herself who help protect the January revolution, I stopped talking and my attention diverted from Tahrir Square to another battlefield.
Saniya went to sit down on a bench nearby after having excused me, while I hardly said good-bye to her and found my legs taking me straight down to the subway, heading for the nearby Nasser Institute Hospital of Cairo, where I wanted to kick off my — and my wife's — personal battle that doctors expect will take approximately six weeks, starting Saturday.
Am I strong enough to handle two human struggles — my family's battle with a disease and that of Egyptians defending the gains of their revolution?
There is a proverb in Arabic that goes "One cannot handle two things at once."
Rami Almeghari is a journalist and university lecturer based in the Gaza Strip.
Tags