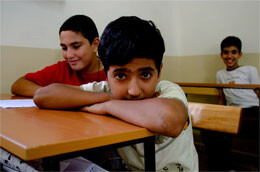 BEIRUT (IRIN) - Of the 10 million refugees worldwide, half are children, estimates UK-based World Vision — children who will grow up as a "lost generation" unless more is done to address their needs.
"To preserve the young generation growing up today, we need to shield children from violence, enhance humanitarian access and provide more resources targeted to children's specific needs," World Vision said in a report highlighting the plight of Iraqi refugee children in Jordan, released to coincide with 20 June, World Refugee Day.
Such problems are clearly evident in Lebanon, where the UN refugee agency, UNHCR, estimates half the 50,000 Iraqi refugees are children.
Ali, 14, came to Lebanon two years ago with his parents and five brothers after fleeing when their lives were threatened in Baghdad.
"The conditions were very bad," said Ali. "The crime — they would slaughter people in front of our eyes."
Education
Residing in a mainly Shia suburb of Beirut, Ali is one of the few Iraqi children with access to education. A July 2007 study by the Danish Refugee Council (DRC) found that of 590 Iraqi refugee households interviewed, only 38 percent sent their children to school.
"I am learning to read, write and how to use the computer here in Lebanon," said Ali. "We can go outside and play in Lebanon. In Iraq we couldn't. I would rather go back to Iraq though because here the kids pick on us because of our refugee status."
Since opening in September 2007, the Norwegian Refugee Council's (NRC) Education Resource Centre in southern Beirut has helped around 800 Iraqi children integrate into the Lebanese education system through intensive catch-up learning and psycho-social programm.
A further 250 children have recently begun courses in satellite projects in the Lebanese countryside, including English language, life skills and some basic vocational training.
"The centre is serving an extremely valuable function in educating young people who might otherwise be exploited through child labour or, in the case of young women, confined to the domestic environment until marriage," said Robert Beer, NRC Lebanon Education Project Coordinator.
Scars
The DRC study found that around one in 10 Iraqis interviewed said they were kidnapped, threatened or experienced traumatic events.
Sitting in the courtyard of her school, Hanin, 14, said she fled Baghdad with her mother and brother after witnessing the death of her father, a Christian.
"I'm neither happy nor sad," says Hanin. "They poured gasoline on my father and set him on fire." The girl's trauma has been compounded in Lebanon by the constant fear of arrest or deportation.
"My brother was detained in prison because he didn't have the legal papers to stay," said Hanin. "I was so afraid for him." Hanin's brother was released and now lives with her and their mother in a Christian-majority neighborhood of Beirut.
Uncertain status
As a non-signatory to the 1951 Refugee Convention, Lebanon has no domestic refugee law and does not recognize the status even of the 10,000 or so Iraqis registered by UNHCR.
Iraqis are therefore treated as illegal immigrants and if they come into contact with the authorities, they risk arrest for lacking residency or work permits. Once they have served their short sentences, they face the ugly choice of deportation or staying in jail, a December 2007 Human Rights Watch report said.
In October 2007, UNHCR said up to 584 Iraqis were in jail for violating immigration rules. Many had served their sentences and were being held arbitrarily.
In February, Lebanon's General Security intelligence body gave Iraqi asylum-seekers three months to regularize their status, which entails giving them residency and work permits that were previously denied.
But as of 16 June, when an extended grace period ended, only 13 Iraqi prisoners had been released, according to the UNHCR and Caritas, a leading Lebanese rights non-governmental organization (NGO), while few Iraqis had been successful in finding a employer needed to legalize their status.
"Iraqis have to find a sponsor that would be willing to pay the $4,000 in fees for work papers and sponsorship," said Lala Arabian of Amnesty International in Lebanon. "This is a lot of money and so many Iraqis after this trial period found themselves illegal again."
Caritas is now running a job sponsorship program, in an effort to legalize more Iraqi refugees.
This item comes to you via IRIN, a UN humanitarian news and information service, but may not necessarily reflect the views of the United Nations or its agencies. All IRIN material may be reposted or reprinted free-of-charge; refer to the copyright page for conditions of use. IRIN is a project of the UN Office for the Coordination of Humanitarian Affairs.
Related Links