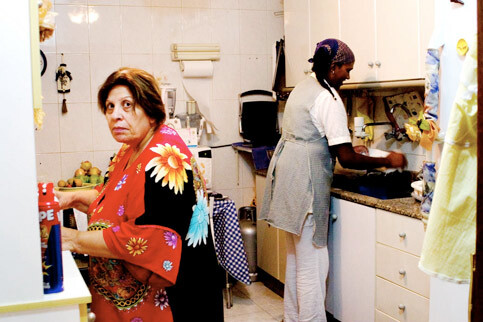 BEIRUT

(

IRIN

) - Loud screams break the quiet of a Beirut neighborhood in the early hours of Sunday 15 June: It's Angelique, a 26-year-old domestic worker from Congo, crying for the police as she runs to the balcony.

From inside the apartment, a man's voice yells her name, swearing in Arabic and French. There are the sounds of fists and slaps and more screams, before all falls silent.

"I have only six months left and then I will go back to the Congo," says Angelique, speaking to IRIN from across the balcony the next morning. "You see, Madame has cut off all of my hair. Every day I clean and cook. I sleep on the floor in the kitchen and I can't take any more of this life."

Angelique escaped the conflict in her country and traveled to Lebanon on a six-year contract to work as a house maid. Woken daily at 5:30am, she works 18 hours confined to the apartment, without any time off.

"Even the dogs are allowed to go out but we're stuck," says Angelique, who did not want to give her real name for fear of retribution. "We're like slaves here." Angelique earns just US $100 a month, three times below the minimum wage, and sends all of it home to Congo.

Abused and unprotected
Estimated at some 200,000 people — about five percent of Lebanon's population — rights groups warn that migrant domestic workers, most of them women from the Philippines, Sri Lanka and Ethiopia, remain unprotected by labour laws and subject to a range of abuses by their employers.

"Domestic workers represent a large segment of laborers who are not being recognized as such. Over a third of the domestic worker population is denied time off," said Nadim Houry, Beirut researcher for Human Rights Watch (HRW), which this month re-launched "Put yourself in her shoes" — a campaign to highlight abuses against domestic workers.

"They suffer nonpayment of wages, delayed payment of wages, lack of a day off, restriction of movement and poor conditions where they work; either they are not being provided with adequate food or adequate housing," said Houry.

Remittances

Remittances from domestic workers in countries like Lebanon are a key pillar of the workers' national economies. Foreign remittances currently account for about 13 percent of the Philippines' total gross domestic product, according to the Philippine's Overseas Employment Administration, POEA.

Sri Lanka received $3.4 billion in remittances last year from migrant workers abroad, while according to the International Monetary Fund, between 2000 and 2005, remittances to sub-Saharan Africa increased by more than 55 percent, to nearly $7 billion.

Travel bans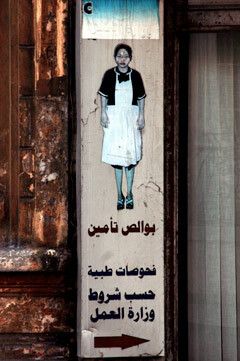 But the absence of protection for their nationals has prompted key labor-source countries to restrict travel to Lebanon. Ethiopia officially bans its citizens from coming to work in Lebanon, while since November 2007, migrant Philippine workers are only legally permitted to travel to Lebanon if paid a minimum of $400 per month. Currently, the set rate is $200 for Philippines, $100 for Africans and $150 per month for Sri Lankan workers.

Sri Lanka is now considering banning women migrant domestic workers from going to many countries in the Middle East, including Lebanon, starting in 2009, according to HRW.

Shelters full

Shelters at the Philippine and Sri Lankan embassies, as well as those run by Caritas, accommodate dozens of women who have run away from abusive employers and are waiting to obtain their unpaid wages and a ticket home.

Hundreds of others, who have fled their employers or remain in the country illegally, are kept in a deportation center waiting to retrieve their passports, according to Father Augustine, a Philippine priest sent to Beirut 10 years ago to help the now 25,000-strong Philippine community.

Employment agencies in Lebanon charge an average $2,000 to import the workers and commit them to a tightly binding two-year contract, often seizing the worker's passport to ensure they cannot travel home before their contract expires.

Reform stalled

Government efforts to improve labor laws, backed by the UN, Afro-Asian embassies, the Labor Ministry, employment agencies and Caritas (the Roman Catholic non-profit organization), have stalled.

Domestic workers remain excluded under Article 6 of Lebanese labor laws and though many are treated kindly by their employers and stay with them for years, stories of abuse, including sexual harassment, abound. Last year at least four domestic workers reportedly committed suicide.

Rights organizations have documented widespread abuse of domestic workers across the Middle East.

However, unlike Lebanon, some countries have successfully changed their laws and practices.

In 2003, Bahrain established temporary shelters and a hotline to assist abused foreign workers, while guides to rights and duties are now available in embassies, recruitment offices, and points of entry. The government is also looking at ways to organize work permit procedures for domestic workers.

HRW is calling on Lebanon's Ministry of Labor to sign and ratify the international Convention on the Protection of the Rights of All Migrant Workers and Members of their Families.

This item comes to you via IRIN, a UN humanitarian news and information service, but may not necessarily reflect the views of the United Nations or its agencies. All IRIN material may be reposted or reprinted free-of-charge; refer to the copyright page for conditions of use. IRIN is a project of the UN Office for the Coordination of Humanitarian Affairs.