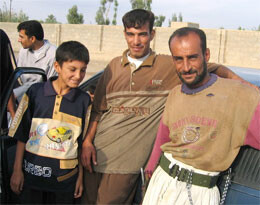 BEIRUT, 21 February (IRIN) - The UN Refugee Agency (UNHCR) welcomed Lebanon's steps this week to issue work and residency papers to the estimated 50,000 Iraqi would-be refugees in the country, hitherto considered illegal and subject to imprisonment and deportation.
Starting this week Lebanon's General Security intelligence body has given Iraqi asylum-seekers three months to regularize their status, which entails giving them residency and work permits that were previously denied.
UNHCR spokeswoman Laure Chedrawi told IRIN none of the hundreds of Iraqi would-be refugees in Lebanese prisons for violating immigration rules had yet been released, but the administrative process had started and the agency was waiting for a list from the General Security Directorate of all those who had served their sentences and were therefore eligible for the process.
The Iraqi embassy in Beirut also needs to issue passports to those who do not have them, she said. Along with non-governmental organization Caritas, UNHCR is to support the detainees, including giving them legal aid to apply for their new papers.
"This is a very positive step, as so many refugees will be affected," Chedrawi said. UNHCR does not yet know how many are in prison in Lebanon, but said in a statement that in October 2007 up to 584 Iraqis were in jail for violating immigration rules. Many had served their sentences and were being held arbitrarily.
Lebanon hosts about 50,000 Iraqi asylum-seekers, comparatively few of the estimated 2.2 million across the region, mostly in Jordan and Syria. According to a study in late 2007 by the Danish Refugee Council, three-quarters of Iraqi asylum-seekers in Lebanon had entered the country illegally.
Refugee status politically sensitive
Lebanon has tense relations with its large Palestinian refugee population and a fragile sectarian balance that makes any step that could be interpreted as naturalizing refugees' status politically sensitive. A civil war tore the country apart from 1975-1990.
Lebanon is not a signatory to the 1951 Refugee Convention, has no domestic refugee law and does not recognize the status even of the 9,939 Iraqis registered by UNHCR.
Iraqis are therefore treated as illegal immigrants and if they come into contact with the authorities, they risk arrest for lacking residency or work permits. Once they have served their short sentences, they face the ugly choice of deportation or staying in jail, a December Human Rights Watch report said.
A UNHCR statement said that in 2007, 1,462 Iraqi refugees in Lebanon were referred for resettlement in third countries.
"Courageous decision"
"The Lebanese decision benefiting Iraqi refugees is of particular significance given that it has been taken during a time when the country has been facing political turmoil and volatile security. This is a courageous decision," said Stephane Jaquemet, UNHCR representative in Lebanon, in a statement.
"UNHCR's priority over the next few months will be to assist detainees upon release, as after several months of detention, many of them will be destitute. We will also assist as many Iraqis as possible to obtain work permits as a means to becoming self-sufficient and leading a dignified life," Jaquemet said.
This item comes to you via IRIN, a UN humanitarian news and information service, but may not necessarily reflect the views of the United Nations or its agencies. All IRIN material may be reposted or reprinted free-of-charge; refer to the copyright page for conditions of use. IRIN is a project of the UN Office for the Coordination of Humanitarian Affairs.
Related Links