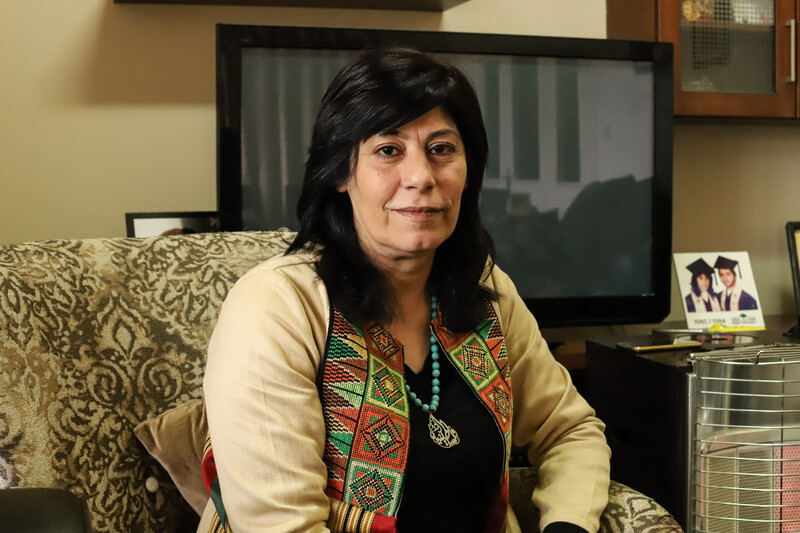 Khalida Jarrar leaned back in her chair, legs crossed, and puffed on a cigarette.
She was sitting in a quiet and spacious living room in her home in central Ramallah in the occupied West Bank, where the lawmaker has only recently returned after being released from a 20-month stint in Israeli prison.
Despite being held for almost two years, she was never charged with a crime.
The prominent leftist lawmaker and civil society figure who was in charge of the Palestinian Legislative Council's prisoners committee when the parliament was still nominally active broke into a deep-throated chuckle when asked whether she was worried that Israel might arrest her again.
"Why do all of you [journalists] ask me that?" she queried, before answering herself.
"This question is for the occupation, I think," she said, her hands gesturing with a lit cigarette between her fingers. "Will the occupation continue demolishing Palestinian homes? Do they plan to continue denying us our rights of national determination?"
"If the occupation continues, then I will never stop speaking out on these issues."
"We have no right to defend ourselves"
Jarrar was arrested in July 2017 and spent 20 months in administrative detention.
This form of detention – without charge or trial and based on secret evidence – is almost exclusively used against Palestinians in the West Bank and Gaza Strip and is illegal under international law when used in the sweeping manner Israel applies it.
As of December 2018, nearly 500 Palestinians were held in administrative detention, which can be renewed for up to six-month intervals and can continue indefinitely under Israeli military law.
In total, according to Addameer, a rights organization for prisoners, 5,440 Palestinians were being held in Israeli prisons, of whom 48 were women, as of February this year.
International law prohibits an occupying power from transferring prisoners outside of occupied territory. Holding Palestinian prisoners in jails in Israel is therefore also a contravention of international law.
Jarrar, a women's rights activist, had previously endured spells in Israeli prison, and in total, the mother of two has spent more than two years in administrative detention.
During her most recent stay in prison, Jarrar, along with hundreds of other Palestinians held under administrative detention, boycotted the Israeli courts for almost a year.
"The entire situation is unfair," she told The Electronic Intifada. "We have no right to defend ourselves or even be made aware of why we are being imprisoned. So why should we show up to the courts?"
Advocacy in prison
Jarrar's time in prison only reinvigorated her advocacy for women's rights. During her prison stay in 2015, she said she coordinated with the Palestinian ministry of education and the ministry of prisoners affairs to allow women detainees to take secondary school matriculation exams for the first time behind prison walls.
Since then, she estimates, some 30 women in Israel's HaSharon prison have passed the exam, including prominent teen activist Ahed Tamimi and her mother Nariman.
Jarrar has also spent years documenting various violations against Palestinian children and injured prisoners, both as a parliamentarian with special responsibility for prisoners, and in a previous role as director of Addameer. She has also collected hours of testimony from prisoners during her time behind bars, she told The Electronic Intifada.
Helping women detainees to better themselves in prison through education is the most important aspect of her work, she said. When women receive education in prison, "They realize that when they are released they can actually do something, and they didn't just waste their time waiting for their sentences to be up," she told The Electronic Intifada.
It is also central to the development of women who are in prison due to "social reasons," she added in reference to women who in some cases reportedly intentionally get arrested in order to escape problems at home.
"For example, if a woman is facing violence from her husband, we can give her education and hope that she has something to look forward to. We try and give her the knowledge and strength to get out of prison and demand a divorce," Jarrar said.
"If she's educated, she can realize that she is strong enough to face these issues at home, and that there is a solution that does not involve running away to prison."
Out of prison, Jarrar continues her support for the prisoners. She reaches out to the families of prisoners who are facing issues at home and makes sure the women are safe and protected once they are released.
A frequent guest on local radio stations that can be picked up in Israeli prisons, Jarrar is always careful to try to communicate with prisoners and to speak about prisoner issues or other matters to which they can relate. Through their families, she sends them books to read. Each prisoner is allowed two books each month, according to Jarrar.
During her last confinement in administrative detention, she initiated training for prisoners on international law and human rights, including studying the UN Convention on the Elimination of All Forms of Discrimination against Women.
The Palestinian government has ratified the convention though it is yet to be enshrined in law, something for which Jarrar is advocating.
Jarrar said about 32 women in HaSharon prison took the training and received a certificate of completion from the Palestinian ministry of prisoners affairs.
More generally, the training programs enable prisoners to stand up for themselves, Jarrar told The Electronic Intifada.
"When they [prisoners] realize the specific ways Israel is violating international law, then they become more confident to speak out and demand their rights," she said.
She is now advocating for women prisoners to continue their education past secondary school while inside the prisons.
All of this is done without the approval of the Israeli prison authorities. "They try to prevent me from giving the women an education, but I just do it anyway," she said with a shrug.
"Prison life is all about the small details"
Last year, Jarrar participated in a prisoner-led sit-in against Israeli prison authorities installing surveillance cameras in the prison yard.
Israeli guards surveilling the prison yard means that religious women have to cover their hair and bodies and are often too uncomfortable to play sports or exercise while they are being watched.
"I am not even a religious woman," Jarrar said. "But I still want to play sports without someone monitoring me. You can't possibly feel comfortable when prison guards are sitting and watching you on the cameras."
For more than two months, some 34 women prisoners, including Jarrar, refused to leave their cells and enter the prison yard in protest of the cameras. However, instead of listening to the prisoners' concerns, Israeli authorities transferred the women involved in the protest to Damon prison in northern Israel – where Jarrar said the conditions are exponentially worse than in HaSharon.
Jarrar believes Israeli prison authorities transferred her and the other women to Damon to "teach us a lesson." In HaSharon, she said, the protesters had secured some rights, including free access to showers, a library and a kitchen. But in Damon, "we basically went back to zero and had to struggle once again to have even a normal life."
Still, said Jarrar, they continued to demand their rights.
"In prison, life is all about the small details. Because these details have huge impacts on your everyday life," she told The Electronic Intifada. In Damon, women do not have any rights to privacy, she said, and there are only two damaged plastic chairs in cells that hold at least seven people.
The cement floors of the cells are old and moldy, she added, and at times the noxious smell becomes so overwhelming that prisoners have difficulty breathing. In addition, in Damon the prisoners are only allowed to exit their prison cells for four hours each day.
At one point, Israeli prison officials needed to do maintenance on the cell Jarrar was being held in, and told her and her cellmates to stand in the public shower area until they were finished.
"We refused," she said. "It's inhumane to make us wait in the shower area. They should just let us wait outside in the prison yard."
This small challenge to the prison guards resulted in Jarrar and her cellmates being isolated in their cell for two days.
Prison officials confiscated all of their electronics in the cell – including a radio, TV, an electric stove and water boiler – and barred them from family visits for a month.
"We did all of this to stand up for the women who they [the Israeli guards] will do the same thing to next," Jarrar said.
"The prisoners become like family"
Jarrar told The Electronic Intifada that she experienced and witnessed numerous other rights violations in the prisons, particularly related to Israel's use of the bosta – a prison vehicle that separates prisoners into metal cages.
Prisoners are transferred in the bosta to and from their court sessions, which are usually held in Jerusalem or in Israel's Ofer prison outside of Ramallah in the occupied West Bank.
Prisoners' hands and legs are shackled during the hours-long journey – regardless of injuries or age. Prisoners are not allowed to exit the vehicle, even to use the toilet.
Jarrar reflected on one incident she witnessed in which a girl arrived to the Ofer military court with her clothes soaked with blood. She had begun menstruating during the journey in the bosta, but the Israeli authorities refused to allow her access to a toilet to clean herself.
"It's completely inhumane," Jarrar said. "These journeys make you so tired. You really need another two or three days until you can walk again. It's exhausting."
On top of this grueling trip, prisoners feel little reprieve once they arrive to Israel's military courts. For instance, at the Ofer military court prisoners are kept in a freezing cold cell – nicknamed "the refrigerator" by prisoners – before and after their court sessions.
Despite the court sessions only lasting a few minutes, the prisoners spend hours in the cell and Israeli officials refuse to provide blankets.
"Prison is very hard," Jarrar explained. "Your whole life is condensed into a cell and you are surrounded by metal. If you don't find a way to balance your mind, you could go crazy."
"And on top of the harshness of just being in prison, you have all of these violations constantly occurring."
It can be particularly difficult for children, Jarrar said, especially those with injuries.
"It can be very difficult for them in the beginning. They are suffering and in shock. But we try and be mothers for them. We help them and include them in decision-making in the prison. Most importantly, we listen to them."
Life in prison is isolating, she said. Prisoners have to support each other.
"We become like a family."
Jaclynn Ashly is a journalist based in the West Bank.
Tags