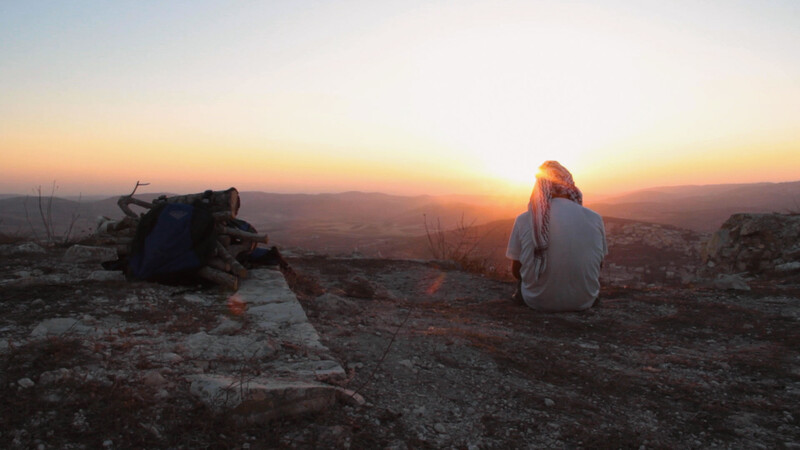 The irony of releasing a new film about trying to backpack with a Palestinian passport amid a global pandemic is not lost on Bethlehem filmmaker Sameer Qumsiyeh.

Palestinians know only too well what it's like to be under lockdown or prevented from traveling, hemmed in by walls, checkpoints and bureaucracy, themes Qumsiyeh tackles in Walled Citizen, which premiered at the Galway Film Fleadh in Ireland last month.

The festival was moved online due to the pandemic and, as a result, Qumsiyeh was unable to travel to the screening of his debut feature-length film.

Walled Citizen chronicles three years of Qumsiyeh's life in which he travels to Europe, the Canary Islands and Ecuador, as well as parts of the West Bank.

"The walls surrounding my life are not just the physical ones," Qumsiyeh says in the film. "It's the papers, bureaucracy and visas. Therefore, if you decide to backpack around the world with a Palestinian passport, it does not work."

Qumsiyeh's profession as a film editor has allowed him to meet many international travelers to the West Bank, but he does not enjoy the same freedom to wander freely.

"The friends and other internationals I meet in Palestine come and go whenever they want, wherever they want, but I stay, like a station in their ongoing adventure," he states in the film. "It breaks my heart, because I'm stuck. I am only growing older."

A scholarship enables Qumsiyeh to study in Denmark for four months, during which he travels as much as possible and meets like-minded free spirits – but not before being singled out by airport authorities on the way due to his Palestinian passport.
Escape
In Denmark and Sweden he meets with fellow Palestinians seeking to escape Israel's brutal occupation but finding harsh treatment in Europe.
"If I go back I will say goodbye to my loved ones and then kill myself," a fellow scholarship student from the West Bank city of Ramallah says. "Back home you are imprisoned by Israel and its wall. There's no life back home. I honestly can't go back. Seriously."
A fellow Palestinian in Sweden has been waiting for two years for residency papers and tells Qumsiyeh "I had more freedom back at home."
Those who run away from Palestine, because they feel stuck, find themselves mired once more in the bureaucracy of asylum application systems, at great cost to their mental health.
Two brothers whose grandparents were expelled from Palestine in 1948 have become refugees twice over because of the war in Syria.
"Danes get surprised when they hear that I'm a Palestinian but I have never been to Palestine," says one of the brothers. "I don't know how I can describe the feeling but it's a bad feeling. Foreigners can go [to Palestine] but I am not allowed."
The other brother asked a Danish backpacker to take a photo of Palestine for him because he isn't allowed to enter the country of his roots.
Privilege
Ecuador is one of the few countries in the world Palestinians can travel to without a visa. Qumsiyeh went there to finish filming, financed by a crowdfunding campaign organized by his friends in the West Bank.
He told The Electronic Intifada that "I wanted to show the normal human experiences. We want to have adventures, meet people from all over the world, swim naked, do things that people do all over the world."
He also aimed to address freedom of movement – denied to Palestinians living under Israeli occupation – in a universal way.
"Traveling is a privilege anyway, whether you have a Palestinian passport or not, and this is something I wanted to talk about," Qumsiyeh said.
The pandemic has been something of an equalizer in that regard. But the sentiment behind Qumsiyeh's film still stands.
"It's a picture of how things can be if you can transcend walls and barriers," he said.
Ciaran Tierney is an award-winning blogger and a former newspaper journalist. Twitter: @ciarantierney. Website: ciarantierney.com.
Tags