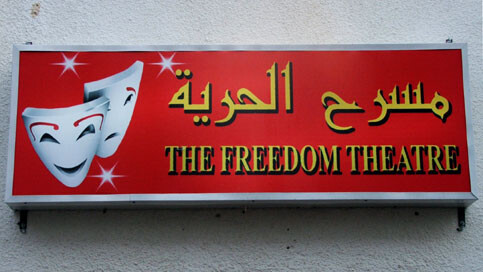 Break a brick in the wall… Join the exhibition in Jenin Refugee Camp!
Walls of Hatred are being built in the Middle East. In the West Bank and Gaza these walls are built with concrete, whereas another Wall of Hatred has been constructed through Aerial Bombs in Lebanon.
Within the Occupied Palestinian Territories, Jenin is also turning into a big prison, surrounded by an electronic fence and guarded by Israeli army patrols. As peasants are being cut off from their land, students cannot reach their universities and children are unable to get to school, the separation ideology and policy are becoming daily reality. The biggest ghettos of the 21st century are emerging on the land of Palestine. The winding wires and concrete walls shadow the life of the Palestinian people.
The Freedom Theatre in Jenin Refugee Camp and The Freedom Theatre Foundation of Sweden therefore call upon artists around the world to join the children of Jenin in their struggle to Break the Walls of Hatred through Art.
We invite artists to join the children of Jenin in an art exhibition titled: "Do not forget - Lebanon, July 2006!"
The exhibition will reflect on the war in Lebanon and its relations and implications on the Palestinian cause.
Artists are invited to send their works (paintings, animations, video-art, sound-installations, poems, letters, songs) to The Freedom Theatre, by e-mail or by post (address below), no later then the 15th November. The Freedom Theatre will be responsible for printing, delivery and installation.
A committee consisting of prominent artists and children of the camp will select the exhibits to be displayed.
The art works will be exhibited in The Freedom Theatre compound, along with chosen works by the children of Jenin, and subsequently tour the world with Stockholm-Sweden as the starting point. The exhibition is expected to open on the 1st of December, 2006.
All works will be shown on our web site: www.thefreedomtheatre.org/lebanon
For further information please contact: donotforget@thefreedomtheatre.org
Juliano Mer Khamis, Dror Feiler and The Freedom Theatre Team
Post address:
The Freedom Theatre
Allenby 169a
Haifa, 355 14
ISRAEL
Related Links
Photostory: Freedom Theatre in Jenin aims to plant seeds of dignity, Maureen Clare Murphy (24 February 2006)