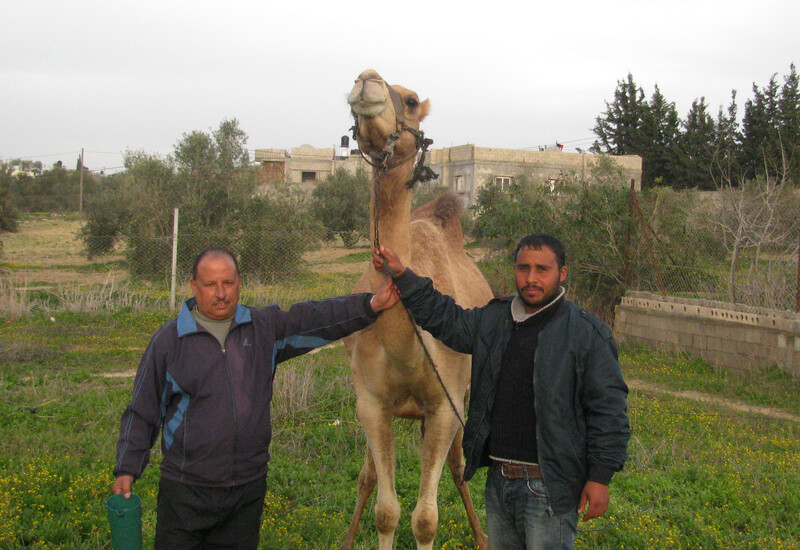 Surrounded by camel owners in al-Mosadar village in the central Gaza Strip, Talal al-Talbani cheerfully described what an effective remedy he found camel's milk to be in helping his 14-year-old son Hamza recover from a surgery on his spinal cord several years ago.
"His immunity got better when I started giving him camel's milk," al-Talbani said. "In 2006, I accompanied my son to the Tel Hashomer hospital inside Israel," he explained.
"In the months that followed the surgery, we had to take precautions as my son's condition was unstable." al-Talbani decided to follow local advice and feed camel's milk to his son: "We went back to the same hospital and found that Hamza's immunity had doubled."
Adnan al-Mosadar, who owns the camel whose milk helped Hamza, welcomed me at his family home. He owns two female camels — the naqa. One is currently pregnant and cannot produce milk before it gives birth.
"The naqa has been my obsession since I was 12 years old. Throughout my life as the son of a rural local family, I have been taking care of camels to the extent I am their friend," says the 45-year-old local farmer.
Camels in Gaza have been reliable since ancient times, he said while holding his camel. "Reliable in terms of their meat production and good-quality milk that helps cure a number of illnesses, especially stomach conditions," he added. "It is also used as an antidote for poisons."
Al-Mosadar added that camels in Gaza are mostly of local stock. They produce an estimated quantity of between eight and ten liters of milk per day. Al-Mosadar says that people from his village and nearby areas often ask for camel's milk. "Camel's milk is sweet, light and has much less fat than that of cows or sheep," he said.
Large grazing areas
In the southeastern village of al-Qarrara on Saturday evening, a few kilometers away from the Israel-Gaza boundary fence, local municipality board member and farmer Abdlerahim al-Smairy began milking his naqa for the second time that day. al-Smairy owns arable land in the village.
"I began taking care of camels several years ago," he said. "You need large areas of arable land that are filled with various grass types. Prior to 1948, my [father's] family alone used to own tens of acres of farmland, but almost 60 percent of those lands were seized [by Israel] after the 1948 Arab-Israel war," he explained.
More of the family's land was stolen after the breakout of the 1967 War. The number of camels the family could raise was reduced due to Israeli restrictions. "In the past several years, for example, the restrictions got higher than before, due to Israel's creation of a buffer zone along the eastern borders of Gaza [farmers could not enter]. What we need is muddy land in which grass can grow plentifully."
Camel breeds
Jamal al-Smairy, a relative of Abdelrahim, described the different types of camels found in Gaza.
"We have five breeds of camels here in Gaza including, red, white, majaheem, woddah and bakra. I estimate that the number of camels in the Gaza Strip is in the several thousands. I can say that the Qarrara area is the most fertile and widest rural area of Gaza, where camels are plentiful."
The Qarrara-based farmer added that camels "are calm creatures and friendly if they are allowed to roam around large areas, so they can eat plenty of grass. Camel-raising does not require us to bring them fodder, they just need wide grazing areas. Fodder will affect the quality of camels' milk, and they will start losing the blessing that God has put in camels, according to some Quran verses."
Dr. Adnan al-Wehaidi, a prominent nutrition expert in Gaza, said that camels' milk is healthy in many ways. But the doctor cautioned that in Gaza, more detailed lab testing is yet to be done.
"If we want to say whether such nutrition or medicine is effective, we need to make the needed tests first and foremost. There needs to be experiments based on international standards before we decide that camels' milk is an effective remedy for certain diseases," he said.
"It is okay to market camel's milk as a useful remedy, given the fact it has proved to be effective in some environments," he said.
"In the Arab environment, for example, Arabs' nutrition has depended mainly on fruits, like dates and some other vegetables, especially in the Gulf regions," he said. "Camel's milk is very rich in zinc, selenium, vitamin A, vitamin D, with high rate of protein. This milk is more concentrated than that of other animals. Fat in camel's milk is much less than in any other milk," he said.
Buffer zone
Dr. Zakariya al-Kaffarna, director general for veterinary medicine with the Gaza agriculture ministry, told The Electronic Intifada his ministry has been watching camel-rearing and following up with their medical care throughout the Gaza Strip for the sake of public health.
"Camel-rearing depends on families who have had taken care of camels for decades or even centuries. However, in our strategic planning for the upcoming three years, we plan to pay more attention to camel-rearing across the Gaza Strip. We will make sure large grazing areas will be made available for camels. We just hope that the Israel-created buffer zone on the eastern and northern borders of Gaza will be narrowed," al-Kafarna said.
According to Dr. Nabil Abu Shammala, director general for planning with the agriculture ministry, the Israeli "buffer zone" has meant that 6,000 acres of farmland in the territory, constituting almost 20 percent of cultivated lands across Gaza, are no longer accessible.
The 300-meter-deep "buffer zone" along the fertile boundary line dates from 2000, and has prevented farmers from cultivating their lands. After the November 2012 ceasefire, Israel began allowing some farmers to return to their lands in those areas. But farming along the "buffer zone" remains various dangerous; earlier this month Israeli forces shot and killed 21-year-old Mustafa Jarad while he was tending his land.
Despite Israel's violence and restrictions, agriculture remains the top industry in Palestine and an essential part of Palestinian culture, and its traditions live on. Indeed, camel-rearers will hold a camel race in Gaza next month — only the second of its kind since 1967.
Rami Almeghari is a journalist and university lecturer based in the Gaza Strip.
Tags