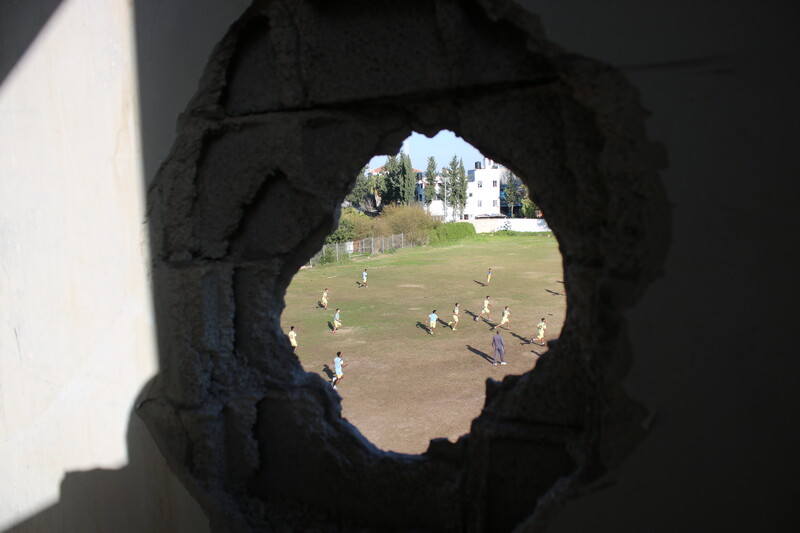 The football player Sadiq Lulu was awoken by a big explosion. He could sense that the houses in his neighborhood were shaking.
It was 26 December and at that early hour Gaza was under a curfew introduced in response to the COVID-19 pandemic. Despite the curfew, Lulu decided to check on al-Tuffah stadium, the headquarters of his club.
Lulu – the team's 30-year-old captain – was shocked to see the destruction wrought by Israel, which had attacked the grounds.
"It broke my heart to see the damage to our stadium," he said. "Al-Tuffah stadium is like a second home. Unfortunately, the bombing of our stadium shows that nowhere is safe in Gaza."
Ashraf Humied, the team's goalkeeper, also went to visit the stadium following the attack. Humied was taken aback when he noticed that its pitch was covered with shrapnel and other debris.
"There were gaping holes in the walls of the changing rooms," he said. "There was an abandoned feeling about them. We have nothing to do with politics so why should we be targeted?"
The stadium is of huge importance to the people of al-Tuffah, an area east of Gaza City. As well as hosting football games, it is a popular venue for weddings.
Its wedding hall had been closed because of the pandemic but there were hopes that it would reopen before long.
Those hopes have now been dashed. The wedding hall was severely damaged in Israel's attack.
Terror targets?
Israel presented its 26 December airstrikes as a response to rockets fired from Gaza. Its military claimed that it had hit "Hamas terror targets."
The military did not mention that three Palestinian civilians – one of them a girl aged six – were injured in the offensive.
Nor did it refer to the damage of the football stadium and to other civilian infrastructure – including a mosque, a children's hospital and a school run by the United Nations.
The attack on al-Tuffah stadium meant that the local club had to call off its training sessions. The pitch was not in a suitable condition for the following few weeks.
Yet the team went ahead with matches that had already been arranged, playing in other grounds.
"We were not physically ready to play so we lost two matches badly," said Hassan Marzouq, a member of al-Tuffah's team. "It was sad and embarrassing for us and for our fans."
The bombing of al-Tuffah should not be viewed in isolation. Israel has on many occasions behaved aggressively toward Palestinian football players and the facilities they use.
Israel has bombed a number of other football stadiums in Gaza during the recent past.
In 2019, the stadium in the Beit Hanoun area was targeted in an airstrike. And during the major Israeli bombardment of Gaza in November 2012, both the Palestine and Yarmouk stadiums in Gaza City were badly damaged.
Numerous football players in Gaza were wounded during the Great March of Return – weekly protests held in 2018 and 2019.
Human rights groups have documented how Israeli snipers shot demonstrators below the knee with high-velocity rifles and bullets that expand on impact. Those affected often required amputations.
Ordeal
Israel's blockade of Gaza has affected the running of football competitions, along with so many other things.
One consequence is that it has forced the Palestinian Football Association to hold separate leagues for the occupied West Bank and Gaza.
Since 2015, the winners of each league have vied for the Palestine Cup. The title is awarded to the team which scores the most over two games, one at home, the other away.
Because Israel denies Palestinians freedom of movement, holding that annual championship has proven an ordeal for players and administrators alike.
Muhammad Abu Musa has been directly affected by the ordeal.
In 2016, his club Shabab Khan Younis qualified for the final stages of the Palestine Cup. "I was very excited that I was going to leave Gaza for the first time and visit the West Bank," he said.
His excitement soon turned into frustration. Along with five teammates, Abu Musa was denied a travel permit for the West Bank and therefore could not take part in the cup final.
"I was shocked that I was rejected," he said. "I did not understand why. I am just a football player."
Two years later, Shabab Khan Younis again qualified for the final stages of the Palestine Cup.
Abu Musa was somewhat luckier that time.
He was issued a travel permit for the West Bank. But before he could actually begin his journey, he was made to wait for 11 hours at Erez, the military checkpoint separating Gaza and Israel.
"We had to go through inspections, interrogations and checkpoints," he said. "It was very exhausting."
While he was in the West Bank, Abu Musa signed a contract to play with the Hebron-based club Ahli al-Khalil.
"That was the chance I had always been waiting for," he said. "It was like a dream come true. It would have been a real chance for me to be selected for the [Palestinian] national team."
Abu Musa returned to Gaza after the 2018 Palestine Cup final. From there he applied for a permit to visit the West Bank so that he could join his new club.
After a three-month wait, his application was turned down. He has not been able to play even one game for Ahli al-Khalil.
"Football has always been my passion," Abu Musa, now aged 28, said. "Losing this opportunity made me feel as if all my dreams had collapsed. I got very depressed."
The Palestine Cup has effectively been at a standstill for the past few years.
In 2019, Israel blocked most players with the Khadamat Rafah team from leaving Gaza for the West Bank. The cup final – between Khadamat Rafah and Markaz Balata – could not take place because of Israel's intransigence.
COVID-19 has had adverse effects on football, too.
Inside Gaza, many players have been infected with the virus and many training sessions were called off. The local league was suspended for lengthy periods.
And when matches went ahead, they were usually held without spectators.
"Football puts happiness into my life," said Sadiq Lulu from al-Tuffah. "For the past 15 years, I have spent most of my time in stadiums, playing football myself or coaching younger players."
He added: "Staying away from the stadiums and from training has made me feel sad and lonely."
Abdallah al-Naami is a journalist and photographer living in Gaza.
Tags