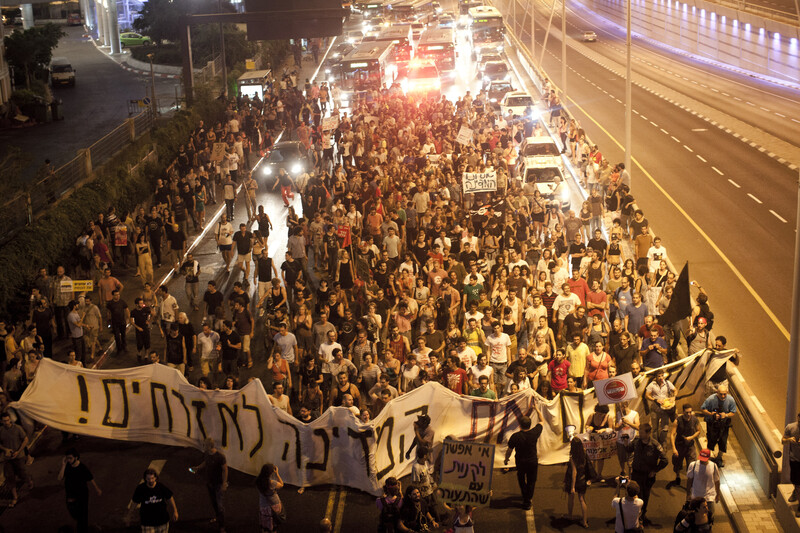 For the last two years, Israel's J14 movement — supposedly for "social justice" — has appeared in ebbs and flows. After several months of hibernation, it has again taken to the streets in Tel Aviv, Beersheba, Jerusalem, Haifa and Ramat Gan in recent weeks.
According to Israeli daily Haaretz, the movement's presence was felt "during a large demonstration in Tel Aviv against the government's austerity measures. Some 10,000 Israelis marched in central Tel Aviv" ("Thousands of Israelis protest against austerity measures," 18 May).
Passionate chants denounced the right-wing Prime Minister Benjamin Netanyahu and Finance Minister Yair Lapid. Protesters bore placards that read "It's time to tax the rich" and "instead of giving to the poor, they give to the rich, what a corrupt government."
Liberal Zionists and vaguely class-conscious moderates patted themselves on the back for keeping up a struggle.
Reporting on the most recent protest, +972 Magazine blogger Haggai Mattar wrote: "There was a feeling of anger in the air, much greater than in 2011, which might indicate that this will not be a one-time event" ("Masses demonstrate against austerity measures in Israel," 12 May).
He added: "It will be interesting to see what happens next with the #J14 movement … if it takes on the occupation and the regime's inherent racism — or limits its focus on the social justice struggle for (mostly Jewish) citizens."
Absent amid this "feeling of anger in the air" was any mention of Palestinians, who recently staged protests and demonstrations to mark the 65th anniversary of the Nakba ("catastrophe" in Arabic), the 1948 ethnic cleansing that destroyed more than 500 Palestinian villages.
It might be asked how social justice can be achieved without struggling against this "inherent racism." What are Palestinians to make of a movement appalled by a new tax on fruits and vegetables but with nothing to say about ethnic cleansing?
Contradictions
Resounding contradictions were apparent as soon as J14's demonstrations began. Seizing momentum from protests over a price increase on cottage cheese, the movement first emerged in July 2011 ("Israel's cottage cheese protest is anything but civil revolt," Haaretz, 22 June 2011). Activist Daphne Leef sparked fury across the country when she pitched a tent on Tel Aviv's posh Rothschild Boulevard after being evicted from her apartment.
Inspired by this solitary act, a several kilometer-long stretch of the boulevard was enveloped with solidarity tents within weeks, and similar encampments sprouted in more than 40 locations. Mainstream media were immediately saturated with comparisons to the "Arab Spring," a bizarre insinuation that the quest for cheaper housing in Israel was somehow tantamount to courageously toppling brutal Western-backed dictatorships in Egypt and Tunisia.
In August 2011, the Guardian reported that the rallying cry was "the people demand social justice." It observed grievances that persist until today: "Wage disparities are big, wealth and corporate power are highly concentrated, food prices have increased almost 13 percent since 2005, and many people spend 50 percent of their incomes on rent or mortgages" ("Israelis plan million-strong march as protesters call for social justice," 7 August 2011).
Less than a month earlier, on the other hand, Palestine solidarity activists aboard the Dignité al-Karama yacht were prevented from reaching the Gaza Strip. Three warships surrounded the yacht, and weapon-yielding Israeli naval commandos arrested the unarmed passengers.
Like many other activists who have tried to reach Gaza by boat, the passengers were also seeking social justice by breaking an Israeli-imposed siege. The ongoing siege on Gaza has translated into a grim reality for its population of 1.6 million people, some 1.2 million of whom are already registered as refugees, according to the UN agency for Palestine refugees (UNRWA).
Horrifying
The UN Office for Coordination of Humanitarian Affairs released a report that same month detailing their economic conditions. Its findings were horrifying: 38 percent of Palestinians in Gaza were below the poverty line; 54 percent didn't have reliable access to food; more than 75 percent were completely aid-dependent; the unemployment rate hovered around 31 percent; economic output had plummeted 20 percent since 2005; and over 90 percent of the water supply was undrinkable.
Additionally: "50-80 million [liters] of raw and partially treatable sewage [were being] dumped in the sea each day," and "35 percent of Gaza's farmland and 85 percent of its fishing waters [were] totally inaccessible due to Israeli military measures" ("Humanitarian situation in the Gaza Strip," July 2011 [PDF]).
Following the immense destruction inflicted on the encaged population during Israel's November 2012 military offensive, the situation has declined even further.
Meanwhile, in the occupied West Bank, state-subsidized settlements continue to swallow Palestinian land at an unprecedented pace. This process costs an enormous amount of state resources and inflicts pain on more than 2.5 million Palestinian residents.
At the peak of J14 in September 2011, more than half a million Israelis overwhelmed city centers across the country ("Israelis hold 'march of a million protest," Al Jazeera English, 3 September 2011). Ignoring their unique opportunity to reach out to a mass audience, protest leaders presumably didn't think violations against Palestinian human rights qualified as social injustices.
Apolitical?
Supporters and analysts have tried to paint a picture of J14 as independent of Palestinians. It's difficult not to pick up on the irony: while Tel Avivians were camping in tents on a chic boulevard and discussing the finer points of justice, only a short drive away dispossessed Palestinians — many of them Bedouin citizens of Israel — were still living in tents as a result of home demolitions.
There has been virtually no talk about the utter absence of Arab representation, and even less about the direct relationship between Israeli privilege and Palestinian suffering, a keystone consequence of the colonizer-colonized paradigm. The assertion that J14 keeps Palestinians off the agenda in order to stay apolitical is absurd — nothing could be more political.
It is essential to acknowledge that the relative modernity, comfort and quiet enjoyed by most Israelis are directly sustained by forcefully outsourcing poverty and violence to millions of Palestinians. Protesting for the improvement of living conditions in cities like Tel Aviv — the movement's throbbing heart and home to very few Palestinians — is a quiet endorsement of Israel's right to disseminate privilege and impose oppression according to ethnicity.
Hundreds of thousands of Israelis came out of their houses to scream "Bibi go home!" But Palestinians, have been chanting the same thing using different words for 65 years.
Unless the movement's leaders decide to turn their struggle against the institutions of occupation, colonialism and apartheid, the movement's revival offers little hope for the advancement of genuine social justice.
Patrick O. Strickland is a freelance journalist whose writing has appeared on Al Jazeera English, Al Akhbar English, Middle East Monitor, and others. He writes regular dispatches for Socialist Worker and Palestine Monitor. Find him on Twitter: @P_Strickland_.
Tags