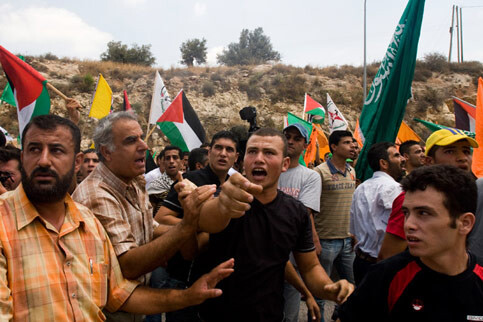 The following is a transcript of
Flashpoints
, hosted by Nora Barrows-Friedman, broadcast on 31 July 2008:
We continue our drumbeat coverage of the ongoing ethnic cleansing by Israeli occupation forces in the West Bank, specifically in the village of Nilin. As we reported yesterday, Israeli forces shot and killed a ten-year-old boy, Ahmed Mousa, in the head with live ammunition fired from an M16, on Tuesday evening. Around the time of the funeral procession for Ahmed Mousa last night, Israeli occupation forces returned to the village and opened fire on villagers, shooting another young Palestinian teenager in the head. Eighteen-year-old Yousef Ahmad Amira went into a coma after he was shot twice in the head, according to Palestinian news agencies and eyewitnesses. The Mayor of Nilin village said that six other young men were also shot and injured by rubber-coated steel bullets after clashes broke out between Israeli occupation soldiers and villagers defending their land. US-made Israeli bulldozers reportedly destroyed barricades built by villagers at the entrance to Nilin, as Israeli forces began firing tear gas and sound grenades, followed by indiscriminately opening fire.
Flashpoints spoke with Hindi Mesleh, a community organizer from Nilin. Mesleh just returned from the local hospital where 18-year-old Yousef Ahmad Amira went into a coma and died just hours ago.
Nora Barrows-Friedman: First off, Hindi, talk about the scene at the hospital. You just returned from seeing the body of Yousef Amira … what did it look like at the hospital? What did Yousef look like after being shot twice in the head by Israeli forces?
Hindi Mesleh: I could not recognize Yousef. I knew Yousef for the last few years because I am from the village. And I met Yousef quite often, maybe once a week. But today, when I saw him in the hospital, I could not recognize him. He looked different. Two bullets in his head — they've exploded his head. His face was bigger because he was in a coma and his brain was totally dead. I talked with the doctor today about Yousef, and he said that within a few hours he would pass away — his blood pressure yesterday was at 70, and earlier today it was at 45, then 50, but it will go down again. Yousef would pass away within a matter of hours.
NBF: Yesterday on the show, we had an activist describe pretty much the same scene … he was at the hospital and described the scene after the ten-year-old boy, Ahmed Mousa, was shot and killed, the back of his head completely blown off. What is your response to the Israeli occupation military, killing two young boys in two days?
HM: I saw both of them. I also saw Ahmed. It was horrible, the way he was killed. Half of his head was broken into two parts. Even during the funeral, the [Israeli] army went into the village and shot tear gas and rubber-coated steel bullets at the funeral. When the army closed the entrance to the village, automatically the youth go, and with very simple tools — like throwing stones and protesting — in a peaceful and nonviolent resistance, and the army responds in their usual way, with rubber-coated steel bullets, tear gas, and even live ammunition.
NBF: Hindi, these kinds of lethal and illegal attacks on behalf of the US-supported Israeli occupation military are designed to destroy the will of the protesters especially in Nilin. Are the people of Nilin going to give up their resistance? Are they going to just let the Israeli occupation military and the Israeli government steal your land and construct the illegal apartheid wall? I mean, how does this affect the nonviolent protests in Nilin?
HM: Israel doesn't want Nilin to be an example. It doesn't want this nonviolent peaceful struggle to spread all over the West Bank, because they know how it will affect them. I will tell you that the village will never give up, because there is nothing else they can do. They can't leave their place. It's the place they have been all their lives. Them, their grandfathers, their whole families. There is nowhere we would leave to. It's our place. Today, I met one of the guys [in the village], and he was saying, "who's next?" — because it's their right, they're going to stay there.
NBF: If you had five minutes with Ehud Barak, the Israeli defense minister, who is ultimately responsible for the military's actions in Nilin, across the West Bank, in Gaza and East Jerusalem, and five minutes with the current US presidential candidates who continue to support Israel's actions in every speech related to the Middle East, what would you say about your life, the life of your community in Nilin, the life of these boys who were killed in the last 48 hours?
HM: For everyone who doesn't know what's going on — I know that Ehud Barak and the US supporters know what's going on. But for those who don't know what's happening in Nilin, imagine yourself, in your city, and someone is kicking you out, or making a huge wall and fence, and taking your land and putting you in jail, what would you do? I just want everyone to imagine their life — how it would be in your house, jailed in your neighborhood. And if you go out, you can only leave from one gate that is controlled by Israeli soldiers. It's a miserable life. And, you know, I just want everyone to imagine those kids who were killed as if they had been your kids. Eighteen years these families have spent, days and nights, to raise these kids. And at some point, for one second, an Israeli soldier shoots him in the head … dead. So everyone should imagine their kids, being killed by an Israeli soldier. Why? Because they were defending their land. Because they were protesting, saying no to stealing our land, and no to stealing our rights.
Related Links