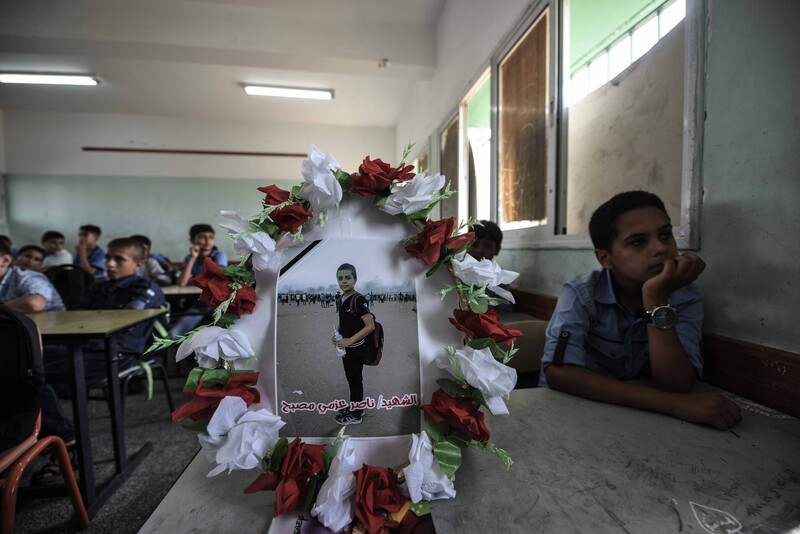 Every Friday for the past few months, Nasir Musbah insisted that he accompany his two older sisters to the Great March of Return. Both women are medics; Nasir used to carry their first aid bags.

Nasir's mother, Samah, allowed him to go on the condition that he would stay at a tent east of Khan Younis city from where the medics worked. It was around 500 meters from Gaza's boundary with Israel.

On 28 September, Nasir was at that tent when Islam, one of his sisters, called over to him, asking for the first aid bag. Nasir did as requested, then ran back towards the tent. On his return, he suddenly fell to the ground.

Nasir had been hit in the head with a bullet fired by an Israeli sniper. He was only 11.

"I saw a laser beam passing us and directed at the child's head while he was running," said Yasser Abu Khater, a protester who witnessed the killing. "I'm sure that it wasn't random. Nasir was targeted directly."

Islam and her sister Duaa were busy tending to the injured at the time Nasir was killed. When his sisters went to the medical tent, they were concerned that they could not find Nasir anywhere.

His body had already been brought to the European Gaza Hospital. Two hours later, they had to identify his body in the morgue.
"My little man"
"Nasir didn't miss a day since the Great March of Return demonstrations were launched," said Samah, his mother.
"He was a child with a big brain, he memorized the Quran, did kung fu and played football, loved to talk to adults, and helped us with the housework. He was my little man."
"I have no idea why Israel killed him," she added. "He wasn't holding a weapon. All he did was to help people who had been injured."
Samah has a back complaint. "Nasir wanted to be a doctor so that he could help me get better," she said. "He was a very kind child."
Wisam, 12, used to sit beside Nasir at school. "I miss everything about Nasir," Wisam said. "He was like the scientist of the class. He used to explain the lessons to us and help everyone. He was everyone's friend."
Another child, 14-year-old Muhammad al-Hawm, was among the seven people shot dead during the Great March of Return on 28 September. In total, six children were killed in the boundary area between Gaza and Israel last month. A seventh died of injuries sustained in August.
Carte blanche to kill
At least 34 children have been killed by Israeli forces while participating in Great March of Return protests since they began on 30 March.
Amnesty International has criticized Israel's newly announced "zero tolerance" approach to Palestinian protests in the boundary area.
Saleh Higazi, an Amnesty representative, expressed alarm that the policy would give Israeli forces "carte blanche authorization to carry out large-scale, unlawful killings escalating the bloodshed."
Higazi noted that Israel has already "repeatedly used lethal force unnecessarily and excessively against unarmed protesters in shameless violation of international law."
Higazi added: "It is now time the international community shows 'zero tolerance' towards Israel's flagrant contempt for Palestinian lives and disregard for its obligations under international law."
The September killings took place shortly before the anniversary of another child victim: Muhammad al-Dura. Aged 12, Muhammad was shot dead in Gaza on 30 September 2000. Filmed by the television channel France 2, his killing became synonymous with the second intifada.
More than 2,000 Palestinian children have been killed by Israeli armed forces or settlers in the past 18 years. Approximately 1,600 of those killings occurred in Gaza.
"I'll shoot you"
The bloodshed is continuing.
On 3 October, Israel killed 15-year-old Ahmad Abu Habil by firing a tear gas canister into his head.
Ahmad, a resident of the Jabaliya refugee camp, was the youngest child in his family. "Our mother spoiled him," said his sister Kifah. "He was funny. He loved to tell jokes."
Two days later, Faris al-Sarsawi became yet another victim of Israeli state violence. He was 13.
Faris hailed from the Shujaiya neighborhood of Gaza City. His grandmother Mutia has watched ambulances pass her home since the Great March of Return protests began in late March.
She had seen a number of ambulances on 5 October and, as usual, said prayers for the people inside them. "I never expected that one of those ambulances would carry the body of my lovely grandson," the 74-year-old said.
Faris had been named after his uncle who died during an Israeli offensive against Gaza in 2004. "My son Faris was killed in 2004," said Mutia. "And now they have killed my other Faris."
Maher Zaqoul, a neighbor, was standing near Faris at the 5 October protests. They were about 200 meters from the fence separating Gaza and Israel.
"An Israeli soldier deliberately killed Faris," Zaqoul said. "The Israeli soldier said on a loudspeaker 'you, with the white T-shirt, I'll shoot you' – pointing at Faris."
Within minutes of that threat, Faris was shot in the chest. He died immediately.
"My son was innocent," said his father Hafiz. "He had a lot to do in his life but Israel ended it very early."
Sarah Algherbawi is a freelance writer and translator from Gaza.
Tags