Janat al-Atar only knows her dad from photographs and stories told by her mom. The girl has long been prevented by Israel from visiting him in prison.
Four-year-old Janat was born after Husam, her father, was jailed. Israel has used that fact as a pretext to deny Husam the right to see his own daughter.
Husam and his wife Farhana married in August 2008. They had only been living together for a short while when Israel mounted a major attack against Gaza in the last week of that year.
As a member of the Qassam Brigades – the armed wing of Hamas – Husam took part in the resistance to that attack. He was arrested in January 2009 – after Israeli troops had undertaken a ground invasion of Gaza.
As Husam was sentenced to 18 years in prison, it seemed that he would be unable to become a father until his release. But when Husam's mother visited him in 2014, she succeeded in smuggling some of his sperm out of the jail.
Following an in vitro fertilization procedure, Farhana became pregnant, giving birth to Janat in February 2015.
According to Farhana, Husam was "overwhelmed with happiness" when he learned that she was expecting a baby. The news was delivered to him through a mobile phone that had been brought into the prison, in defiance of Israeli rules.
Before then "we had lost hope of living a dignified life," Farhana added.
Farhana had visited her husband every three months. Yet she stopped going to see him while pregnant so that she could avoid the searches which Israel carries out on family members visiting prisoners.
"Ambassadors of freedom"
She did not bring Janat to the prison until the girl was one year old.
The guards she encountered then were extremely hostile. They insulted Janat by calling her "the daughter of a terrorist," Farhana said.
It was only after other prisoners threatened to riot that the guards relented and allowed Farhana to enter the jail, along with her daughter. Husam was eventually permitted to see Janat – from the other side of a partition.
"I collapsed from crying," Farhana said. "Husam was holding the glass; he wanted to hug and kiss his child but couldn't. The guards showed no humanity."
Since that time, Israel has rejected all of the family's requests for Janat to visit her dad.
The absence of her father had caused confusion. At one point, Janat believed that her uncle Ghassan was her dad. That prompted Farhana to tell Janat about her father's situation.
"Every day, Janat kisses his photo and speaks to it as if he was with her," Farhana said. "When she gets a new dress she asks the photo of her dad if it is beautiful."
In recent years, a number of Palestinian prisoners have fathered children by smuggling sperm out of jail. The prisoners have thereby displayed a determination to continue raising families despite being deprived of liberty.
Abdullah Qandeel, an activist for the rights of Palestinian prisoners, described children born to jailed fathers as "ambassadors of freedom."
"It was a great achievement for their parents to bring these children into the world," he added. "They have proven that imprisonment doesn't make them lose hope."
Israel has adopted a racist attitude toward prisoners and their families. While Jewish Israelis are allowed to conceive children even when they are behind bars, Palestinian prisoners are banned from doing so.
Israel's cruelty continues once the children are born. The testimony of families suggests that Israel systematically refuses to allow children born as a result of IVF – and using smuggled sperm – from seeing their fathers in prison.
One such child, Asad Abu Salah, has not been allowed to see his dad for the past three years. Asad is 5.
His dad, Fahmi, was arrested in the spring of 2008 when Israeli forces raided the northern Gaza town of Beit Hanoun. Fahmi's brother Salah and their father Asad were arrested at the same time.
While their father was released because of a prisoner exchange deal three years later, Fahmi and Salah remain in prison. Fahmi has been sentenced to 22 years behind bars for involvement with the Qassam Brigades, an organization banned by Israel.
Accompanied by his grandmother Muna, the child Asad saw his father twice in 2016. During the second visit, a prison guard asked Muna details about how Asad was born. She refused to answer the question.
"Born to give us hope"
Since then, the Israeli authorities have turned down all requests for Asad to see his dad. The family has been told that the authorities regard Asad as "illegitimate."
"The child looks at us, whenever we talk about his father," said Asad's grandfather. "He does not know why he is deprived of seeing his dad."
In 2013, the only child of Ahmad al-Sakani and Shireen al-Atal was killed in a traffic accident.
Ahmad was in prison when he learned about his son Tariq's death. Devastated by the loss, he nonetheless developed a determination to father another child.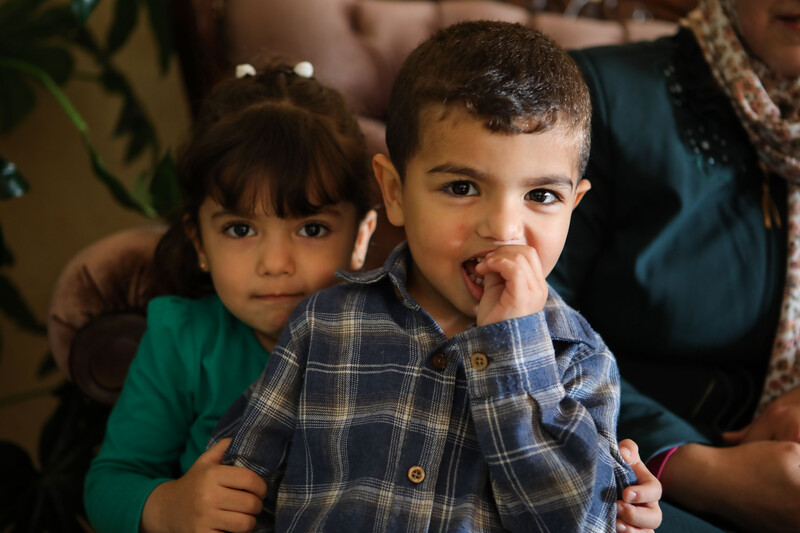 Using sperm Ahmad smuggled out of prison, Shireen was able to become pregnant again. In July 2015, she gave birth to twins.
Ahmad has been in jail since 2002. He has been sentenced to 27 years behind bars for allegedly training Islamic Jihad fighters.
Shireen has made multiple requests – via Palestinian lawyers in Israel – for the twins to see their dad.
"Each time I contact the lawyers, they tell me that the occupation considers the children to be illegitimate and a danger to Israel," she said.
"Our children are not terrorists or a danger to Israel. They were born to give their mothers hope."
Ola Mousa is an artist and writer from Gaza.
Tags